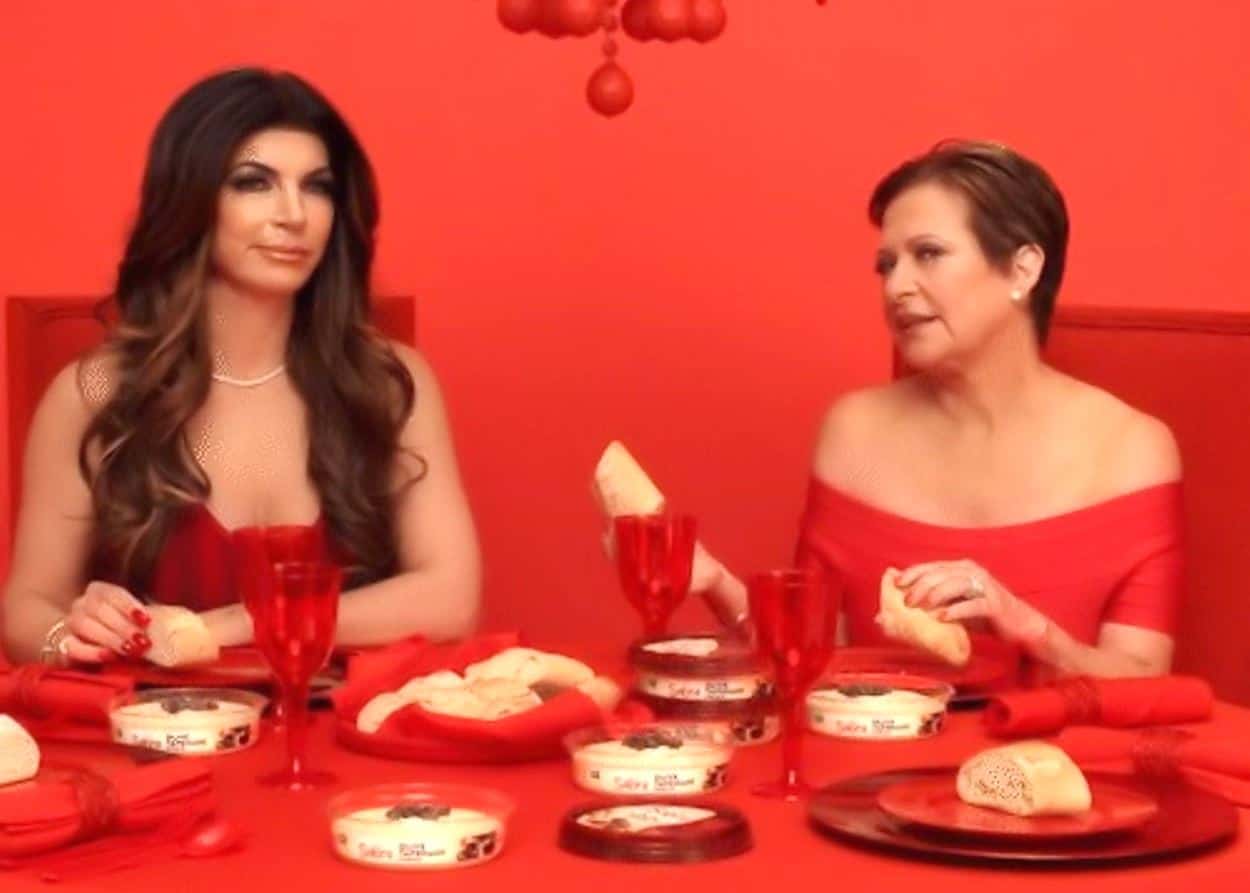 Teresa Giudice and Caroline Manzo caught the attention of fans when they traveled to Los Angeles in December to film a then-unnamed project with one another and chronicled their travels on Instagram. Weeks later, it has been confirmed that the former Real Housewives of New Jersey co-stars were taping a Super Bowl ad for Sabra hummus.
In a sneak peek at the upcoming commercial released on Thursday, Teresa and Caroline, both in red dresses, are seen sitting beside one another at a red table with a red background behind them as they dip slices of bread into the brand's new olive tapenade flavor.
"Teresa," Caroline begins in the teaser shared by AdAge.
"Caroline," Teresa replies.
While the two women are straight-faced at the beginning of the clip, they give off a couple of smirks after looking each other in the eyes as the ad continues. After a slight eye roll, Caroline is seen tossing one of her pieces of bread aside as Teresa adjusts her hair.
Just you wait! #HowIHummus pic.twitter.com/cRqgJYhvip

— Sabra (@Sabra) January 23, 2020
While it's unclear whether or not a reconciliation took place between the ladies, it seems appropriate that they would reunite over food. After all, Teresa is a a cookbook author and Caroline just launched her own cooking series on YouTube.
Last month, sources told the Hollywood Life that while filming went well for the ladies, they aren't exactly back to being BFFs.
"They spoke on the phone before they saw one another where they said what they needed to say to move on," an insider shared. "This really helped clear the air for them to see one another and it was peaceful and respectful with zero issues."
"It's safe to say they won't be friends anytime soon, but there were no issues," the source continued. "Things went well during filming and they were cordial and respectful to one another despite everything that went on in the press…"
As RHONJ fans will recall, Teresa and Caroline have been feuding for years. In October of last year, while appearing on Joe and Teresa: Unlocked, Teresa suggested Caroline was the "rat" who turned her and her husband, Joe Giudice, into the federal government for their crimes of bank and wire fraud. Then, weeks later, Caroline slammed Teresa for her comments and told TooFab she looked like she "was on like a couple of Xannies" during the Bravo special.
The Real Housewives of New Jersey season 10 airs Wednesdays at 8 p.m. on Bravo.