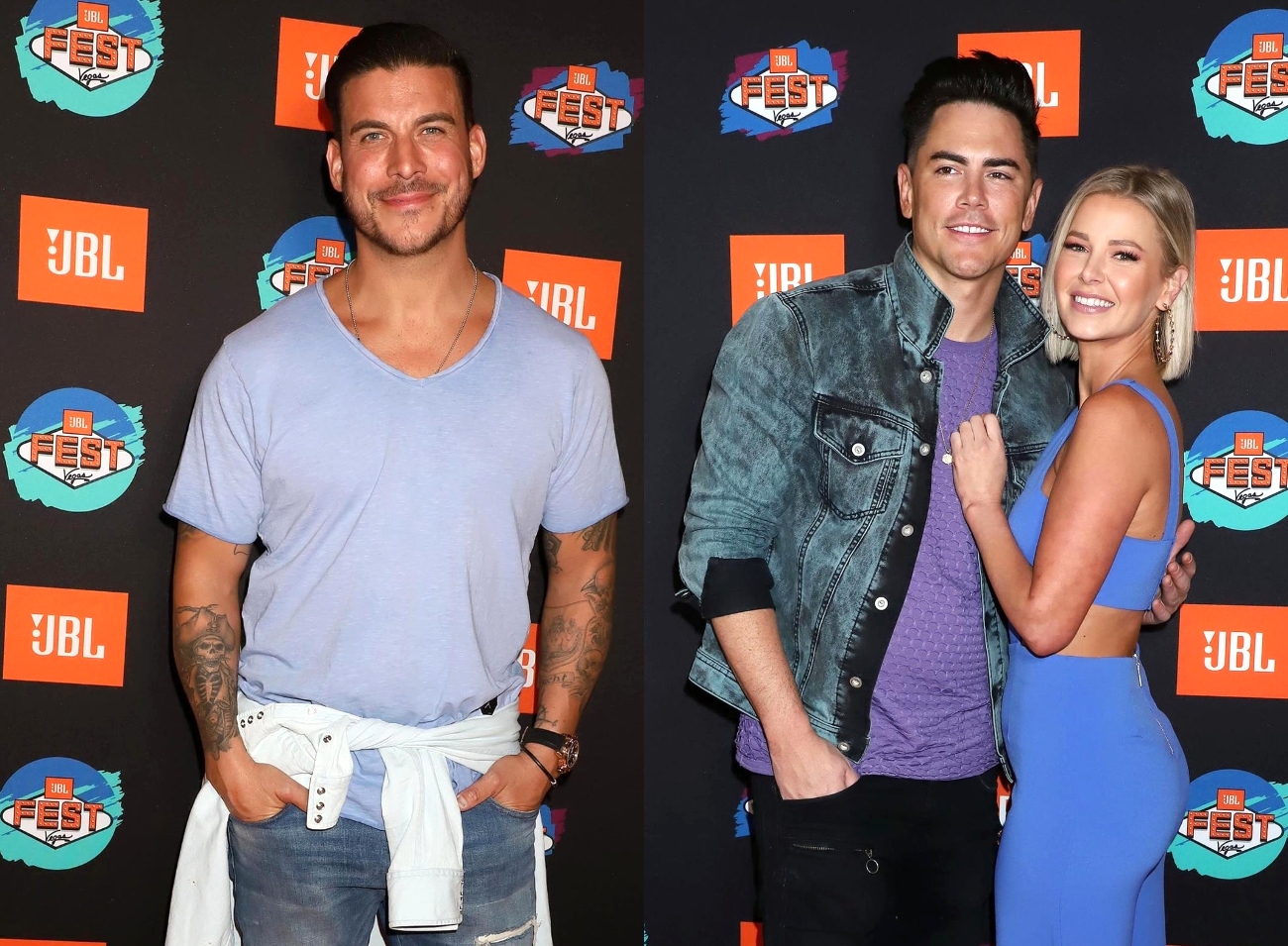 Jax Taylor doesn't understand Tom Sandoval and Ariana Madix's relationship.
During a recent interview, the Vanderpump Rules cast member revealed why he believes Tom and Ariana are nothing more than "glorified roommates" before explaining why their romance won't last. He also declared that the $1.9 million house he shares with wife Brittany Cartwright is better than the homes of his co-stars.
"I think they're glorified roommates," Jax admitted on The Daily Dish podcast. "I think they're both good people [but] I think they want different things. Tom wants to be out every night. Ariana wants to be in her bedroom every night watching movies. Nothing adds up… I don't think they're compatible [and] I don't think it's going to last forever."
According to Jax, there's two things in life you can't cheat, "taxes and time," and when it comes to time, Tom, who he believes is secretly yearning for marriage and children, which Ariana doesn't want, isn't "getting any younger."
"I personally think that Tom Sandoval wants to get married. I think he wants to have kids. If you want kids, now is the time to do it. If you don't, that's fine. But make sure you really don't. Don't just stay in a relationship because you've got the house and you've got the dog and, well, it's easier. You'll look back and regret, regret, regret," he warned.
During the debut episode of Pump Rules earlier this month, Tom accused Jax of attempting to one-up him by purchasing a new home shortly after he and Ariana bought their $2 million place. However, as Jax explained, doing so was simply the next step in his relationship with wife Brittany.
"[Tom] was like, this was the one thing he wanted on his own. So, I'm not allowed to buy a house," Jax said, sarcastically. "I wasn't even trying to buy a house. Brittany had to talk me into it. I got married. I want to start a family. The next thing is to buy a home."
"You're going to make fun of me for that when you're not even in a… I don't what your relationship is considered anymore. I never really understood their relationship and then to buy a home together? It doesn't make sense to me," he continued.
Another thing that doesn't make sense to Jax is Tom and Ariana's lack of furniture at their home.
"They don't have furniture. They rent furniture weekly when they have people over. It's hilarious," he shared. "You have a 5,500-square-foot home, beautiful home. Bigger than ours. Two people, which is another weird thing to me. Why do you need a six-bedroom house for two people? It's weird… to me."
While Tom and Ariana's home may be bigger, Jax believes his home is better.
"My house is the best. I have a great backyard. We have a cool pool. I've got a barbecue. I'm not interested in a lot of what they do," he stated.
Although Jax and Tom's relationship isn't what it once was, Jax confirmed he and his former best friend are "cordial."
"I saw him at the premiere party. We chat about industry things here and there but it doesn't go in depth anymore. It's sad that that part of our friendship is gone but I want different things," Jax explained.
Meanwhile, his relationships with fellow Pump Rules stars Tom Schwartz, Katie Maloney, Stassi Schroeder, Beau Clark, Lala Kent, and Randall Emmett are going strong.
"That's my core. I see them everyday," he revealed.
As for his June wedding, Jax admitted to having regrets about his wedding party.
"I think I folded to be a good guy. I have regrets. I think certain people should have been in attendance, not standing next to me," he said.
Photos Credit: PA Images/INSTARimages.com