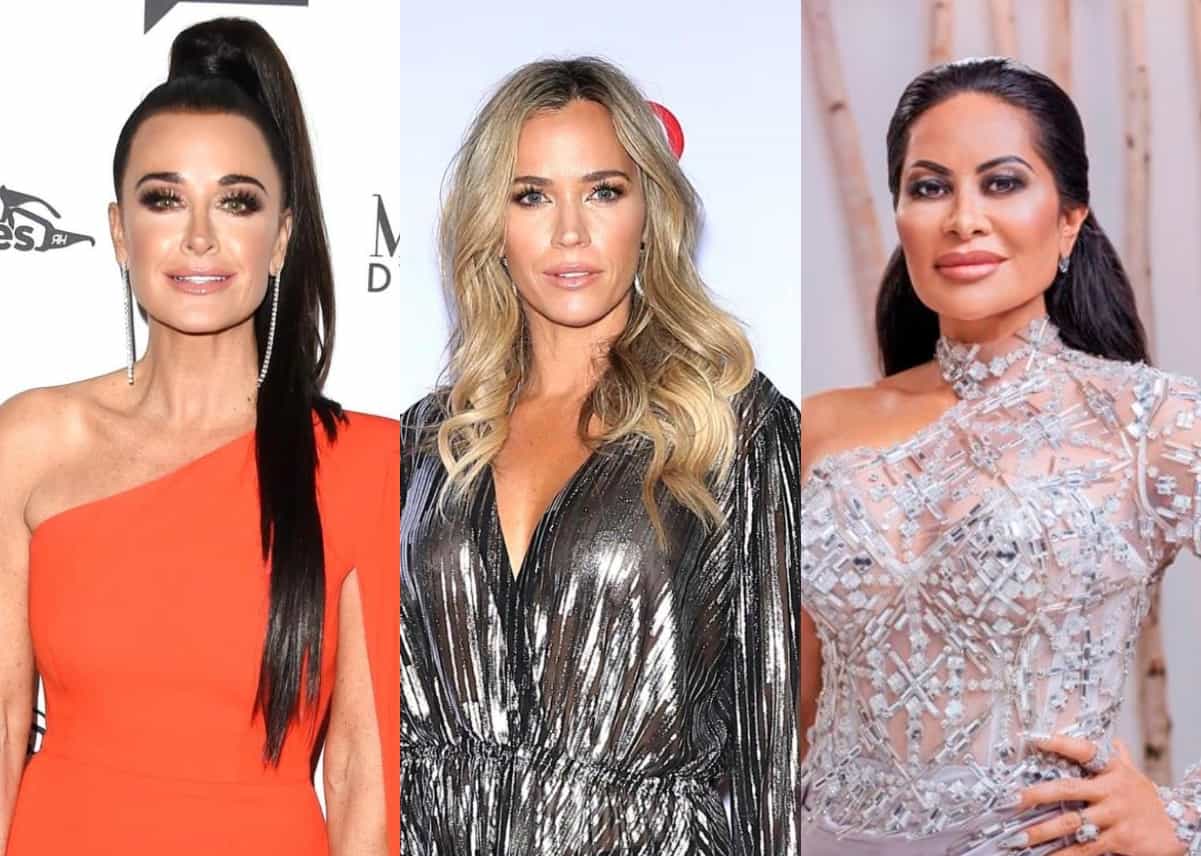 Kyle Richards offered a comment on the legal drama Jen Shah is facing after seeing a photo of the Real Housewives of Salt Lake City cast member leaving court on Instagram.
As chaos erupted during a federal court arraignment on Wednesday in regard to the wire fraud and money laundering allegations against her fellow Real Housewives star, The Real Housewives of Beverly Hills cast member joked with her former co-star, Teddi Mellencamp, about heading to Utah to do some reporting.
"Is that you [Teddi Mellencamp] with the [microphone]?" Kyle asked after an image was shared in which Jen was confronted by a blonde reporter, as seen in a screenshot shared by Comments by Bravo on Instagram.
"I truly wish it was. Maybe I can report from the trial," Teddi replied.
At that point, the RHOBH star made it clear that she and Teddi were extremely invested in the ongoing updates regarding the case against the RHOSLC cast member.
"The way we have been reporting back and forth today I am thinking maybe we should just head over there," Kyle admitted.
"I just booked the tickets. Pack your bags we are headed to [Salt Lake City]," Teddi joked.
As Kyle and Teddi exchanged information online, a federal court arraignment was suddenly halted as several guests attempted to join the virtual hearing, preventing Jen from joining the arraignment herself.
"This is inadequate," Judge Sidney Stein said, via Fox 13 Now, in response as she opted to reschedule the hearing for Friday.
According to the report, the judge canceled the hearing to give IT staff more time to deal with the number of people included.
Jen and Stuart, who are represented by Gil Athay, were scheduled to appear virtually due to COVID-19 restrictions after being indicted by a federal grand jury in New York and arrested in Salt Lake City.
Prior to the start of Wednesday's hearing, a number of people were heard unmuted as they attempted to participate in the arraignment.
"I'm on for the Housewives trial," one person admitted.
"Do you watch Bravo?" asked another.
Simms says Shah is trying to call in but there's so many participants, she cannot get in.

Judge says there's now 253 participants and the system can't handle it. Clerk says she cannot do anything about it. @fox13 #Utah #RHOSLC

— Ben Winslow (@BenWinslow) March 31, 2021
As court clerks attempted to locate the attorneys representing Jen and Stuart, they demanded people mute their microphones. Still, Jen, as well as her lawyer, Clayton Simmons, were unable to connect.
The Real Housewives of Salt Lake City season two is currently in production.