Erika Jayne is reportedly furious with her Real Housewives of Beverly Hills co-star Kyle Richards and is ready to confront her at the upcoming reunion, which she's currently gearing up for with a little help from her attorneys.
Though Erika initially believed Kyle was supporting her amid her divorce and legal woes, she's apparently not happy with her longtime pal after watching the show back.
As RHOBH fans well know, the cast is trying to keep up with the constant allegations against Erika as she continues to make headlines for her alleged involvement with her estranged husband Thomas Girardi's embezzlement case. Sutton Stracke has certainly been the most vocal about the situation, but viewers have also witnessed Kyle questioning Erika's "truth" at times.
And according to a source close to the former Chicago star, she's angry with the majority of her castmates for doubting her behind closed doors, but Kyle has disappointed her the most.
"Erika's so upset with her costars watching the show back because they backstab her behind her back," the insider told The Sun on September 3.
The source added, "She's most furious with Kyle. She feels Kyle was the most two-faced to her and their friendship won't be the same. Kyle's tried to check in since but Erika has had enough. They'll settle their problems at the reunion."
This comes after Erika seemingly promised a fan she would be confronting Kyle soon enough after the person suggested she shouldn't "be fooled" by the mother-of-four.
"Don't worry, we'll get to that," she tweeted.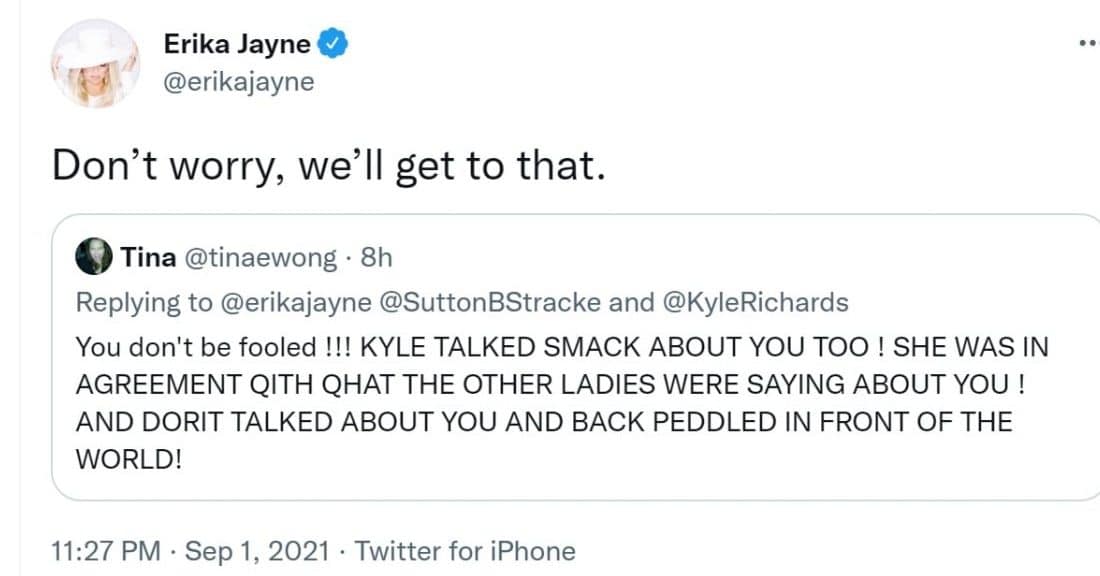 The insider also noted that Erika plans to have a serious conversation with Dorit Kemsley at the taping, but the Beverly Beach founder won't be her main target.
"She has a bone to pick with Dorit too but her focus will be defending herself and calling out Kyle," the source insisted.
Speaking of the upcoming reunion, Erika has reportedly been "prepping for weeks" since she'll likely be hit with a list of difficult questions, including inquires about the $25 million lawsuits filed against her by the trustee overseeing Thomas' bankruptcy case.
"She's preparing for battle and she knows she will be hit with tough questions," a separate source told The Sun.
"So she is putting a lot of time into her preparation and working closely with her attorneys to plan how to respond to certain questions," the insider continued. "They have briefed her and instructed her what to not say or how to phrase certain things."
According to the source, the "XXpen$ive" singer's attorneys aren't pleased with some of the footage that's aired, and as far as they know, some of her remarks on the show could "potentially be used against her in court."
"Her legal team isn't thrilled with some of the footage they've seen from this season and want to make sure Erika doesn't make anymore on-camera mistakes," the insider noted.
Though attending the reunion is a risky move for Erika, the source added that she's never once even considered backing out before throwing slight shade at those who have backed out in the past, including Lisa Vanderpump.
"Erika never once said she was going to back out of the reunion and she could have, other Housewives have in the past but Erika is not that way," the insider asserted. "She never saw that as an option, she's a tough cookie and knows things would be worse if she didn't show up."
The reunion will reportedly take place on September 9 and 10 in Los Angeles, and host Andy Cohen has already requested questions from fans via Twitter.
The Real Housewives of Beverly Hills season 11 airs Wednesday nights on Bravo at 8/7c.