Randall Emmett was spotted with a mystery woman, potentially the 23-year-old Lala Kent claims he's dating, during last month's Super Bowl. And now, weeks later, a series of photos of the two of them have hit the web.
Just days after the Vanderpump Rules cast member went public with the producer's alleged affair on Instagram, claiming Randall began dating his current girlfriend last March when she was pregnant with their daughter Ocean, now 11 months, several images were posted on Reddit.
"Long overdue BUT my friend saw Randall at the Super Bowl with an orange Lala knockoff in tow," read a message shared by a Reddit user on March 9.
In the photos, Randall was seen in all black as a woman in a tight ponytail, a black top, and jeans walked beside him.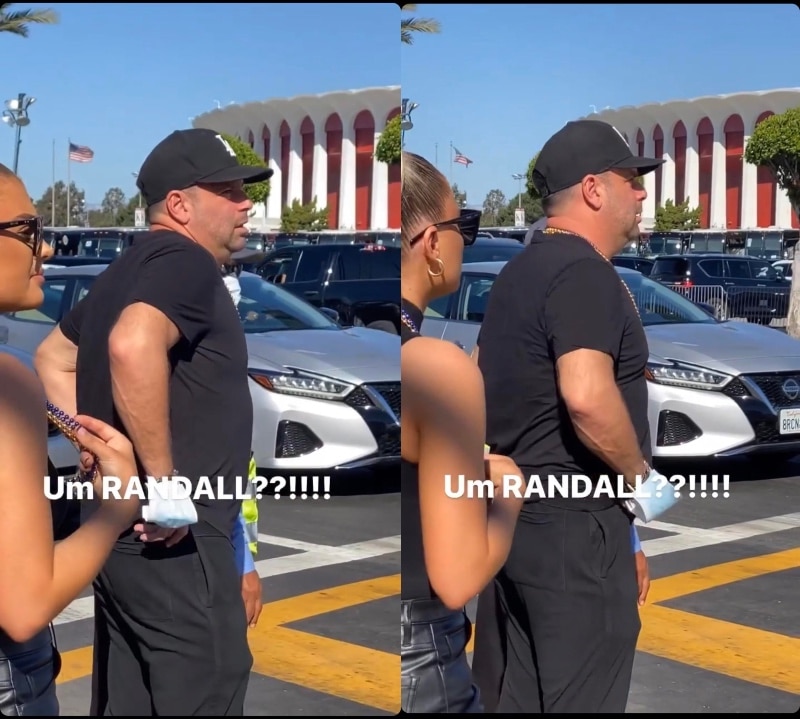 Another Reddit user shared a photo they came across on Facebook of Randall and what looked to be the same woman sitting at a bar at LAX.
As Heavy reported, Reddit users were quick to flood the posts with their thoughts. There was an overwhelming amount of people who couldn't help but notice how similar the mystery woman looked to Lala, some of whom named the yet-to-be-identified female as a Lala "knock off" or "Lala 2.0."
"Lol he has a type," one person said.
"If you told me that was Lala's profile, I would have believed it. I'm not much of a Lala fan….but I do think it must really sting on some level to see how fast you've been replaced," another noted.
"She looks like a cross between Lala and early seasons [Brittany Cartwright]," said a third.
Meanwhile, a fourth person wrote, "It's kinda weird how he like has a radar for girls that look soo similar."
While sharing news of Randall's alleged year-long relationship with the 23-year-old, Lala said she was alone for most of her pregnancy as well as the first seven months of Ocean's life.
"He started a relationship with a 23-year-old in March of 2021- the month I gave birth. They 'traveled' together while I was home with Ocean, and working on my brand," she shared. "Sadly this isn't the most shocking thing I learned. Women and cheating are just the tip of the iceberg."
As for the current relationship between Randall and the woman, Lala added, "I'm not upset at her. She saved me. But I'm heartbroken for her. She's his next victim."
Photos Credit: Shutterstock/Eugene Powers/Kathy Hutchins