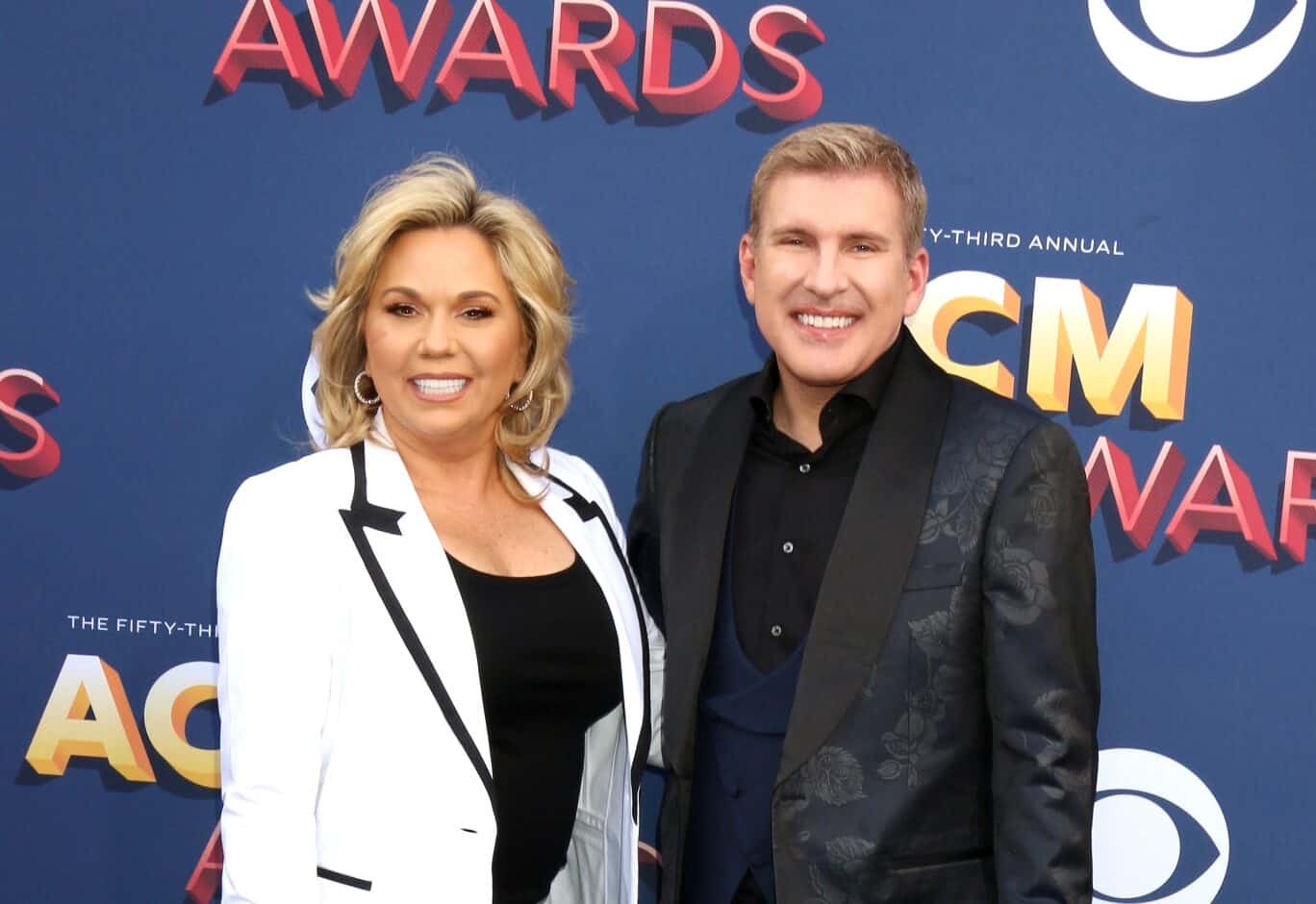 Todd Chrisley and his wife, Julie Chrisley, have been found guilty of tax evasion and fraud following their weeks-long trial.
Back in 2019, the Chrisley Knows Best stars were indicted on 12 counts of tax evasion, bank and wire fraud, and conspiracy. The couple was found guilty on all counts and their sentencing will be held at a later date.
"Disappointed in the verdict," the Chrisleys' attorney shared in a statement to Us Weekly on June 7, confirming that "an appeal is planned."
Many bombshells were dropped during the dramatic trial as the former employee who turned Todd and Julie into the FBI alleged that he and the Chrisley Knows Best dad were involved in a year-long affair.
While admitting that he allegedly committed fraud on their behalf, Mark Braddock said that after meeting Todd at a school event and later establishing a friendship, he began a professional relationship with Todd that ultimately resulted in him altering documents to help him and his wife secure loans.
"I was complicit in giving him what he needed. We had a personal relationship of an intimate nature. I would do whatever he needed to get done," Mark told prosecutors, according to a May 24 report from the Insider.
Mark first worked for Todd and Julie at Chrisley's Executive Asset Management, which managed and sold foreclosed properties. Then, after it sold in 2005, he joined the staff at one of Todd's other companies.
Looking back, Mark said Todd quickly blew through the initial payment of $3.5 million that he received for the sale of Chrisley's Executive Asset Management as he purchased luxury cars, designer clothes, and other items, and he later went through the second half of the $8 million payment.
Because Todd and Julie ended up needing to take out loans, Mark reportedly created fake documents on Microsoft Word to give their borrowing power a boost.
While Mark worked for the couple for years, he and Todd had a falling out in 2012, at which point Todd terminated his employment and accused him of stealing money from his family. Wanting revenge, Mark went to the FBI and told them what he had supposedly done on the couple's behalf.
Although Mark said he also fabricated documents for his own financial gain, the government granted him immunity after he agreed to cooperate with their case against the Chrisleys.
According to an additional report from the Insider, Mark also appeared in court on Tuesday, where he said a blackmailer was paid $38,000 to keep their intimate relationship a secret.
As Mark alleged, he and Todd began receiving anonymous text messages that threatened to expose not only their rumored affair but also the fraud they were reportedly committing.
The texts said "pay cash and we'll shut up," Mark told the court, revealing he made four $9,500 withdrawals from a business account and presented Todd the cash "in a little bag" for the unnamed blackmailer.
In response to Mark's claims against Todd, Todd's attorney, Bruce Morris, accused the man of being "obsessed" with Todd and said he wanted to be him, which Mark denied.
Following a slew of rumors suggesting he was gay years ago, Todd said, "I'm flattered that people think I can get laid on both ends. So, that doesn't bother me. And my wife certainly is flattered that as many men want her husband as there are women."
Todd and Julie are facing 30 years behind bars.