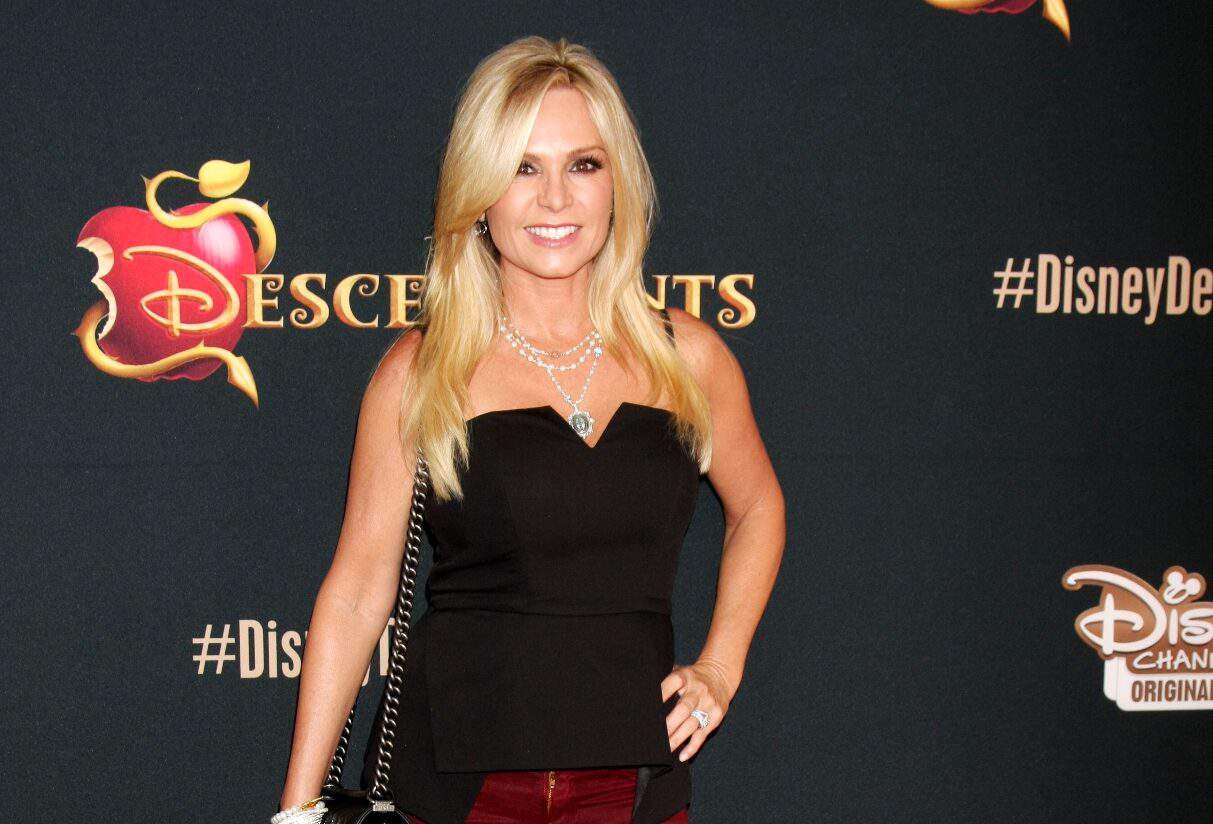 Tamra Judge told all about the latest season of Real Housewives: Ultimate Girls Trip, the Ex-Wives Club, on a recent episode of her shared podcast with Teddi Mellencamp.
In addition to naming her most and least fun co-stars, the Real Housewives of Orange County alum explained why husband Eddie Judge won't be happy when he sees the full trailer and admitted that Taylor Armstrong got a talking-to by the women during their stay at Dorinda Medley's home, Bluestone Manor, in the Berkshires.
"I would say [Brandi Glanville]'s fun. Dorinda was fun. The most fun… Me. I was the most fun," Tamra declared on Two T's in a Pod. "[The least fun was] Taylor cuz she's just kind of quiet. [She's] super sweet but I would say she wasn't the one that was going all out."
While the official trailer for RHUGT was released, Teddi said that the version Tamra shared on social media was a bit different.
"Before Tamra posts the trailer, she re-edits it with her t-t part not being in it so that Eddie doesn't see it," she disclosed.
According to Tamra, she got drunk at Eddie's recent birthday party and showed her bare chest to family and friends, which Eddie did not enjoy,
"[The] next day, he says, 'Can I talk to you about something?' I'm like, 'Yeah sure.' He's like, 'Can you please stop doing that? It bothers me.' And I go, 'I don't even know I did it.' He goes, 'Well that's the problem. Stop doing it.' And I said, 'Okay, I will never do it again.' And then the trailer comes out and I'm like, 'Ah sh-t,'" Tamra admitted, noting that Eddie will see it "when he sees it."
"I know it's going to be the, 'Are you kidding me? You did that again?' And I'm like, 'Yeah, I did.' And then it'll be the cold shoulder for a couple of hours and then he's over it," she predicted.
Looking back at production on RHUGT season two, which took place last fall, Tamra said her biggest conflict was with "Brandi, and Dorinda of all people," and she also noted that Brandi got the drunkest.
"Brandi, she does it big. She drinks and then the next morning she's like, 'I don't really remember what happened last night.' But none of us were far behind her," Tamra confessed, adding that Phaedra Parks didn't drink.
As for the cast's confrontation with Taylor, Tamra said it was prompted by Taylor's low-key demeanor.
"Taylor doesn't say a lot. Not many words," she shared. "We actually have a night where we're like, 'Find your voice!' I think that's her personality type."
The Real Housewives: Ultimate Girls Trip season two, Ex-Wives Club, premiered on Peacock on Thursday, June 23.