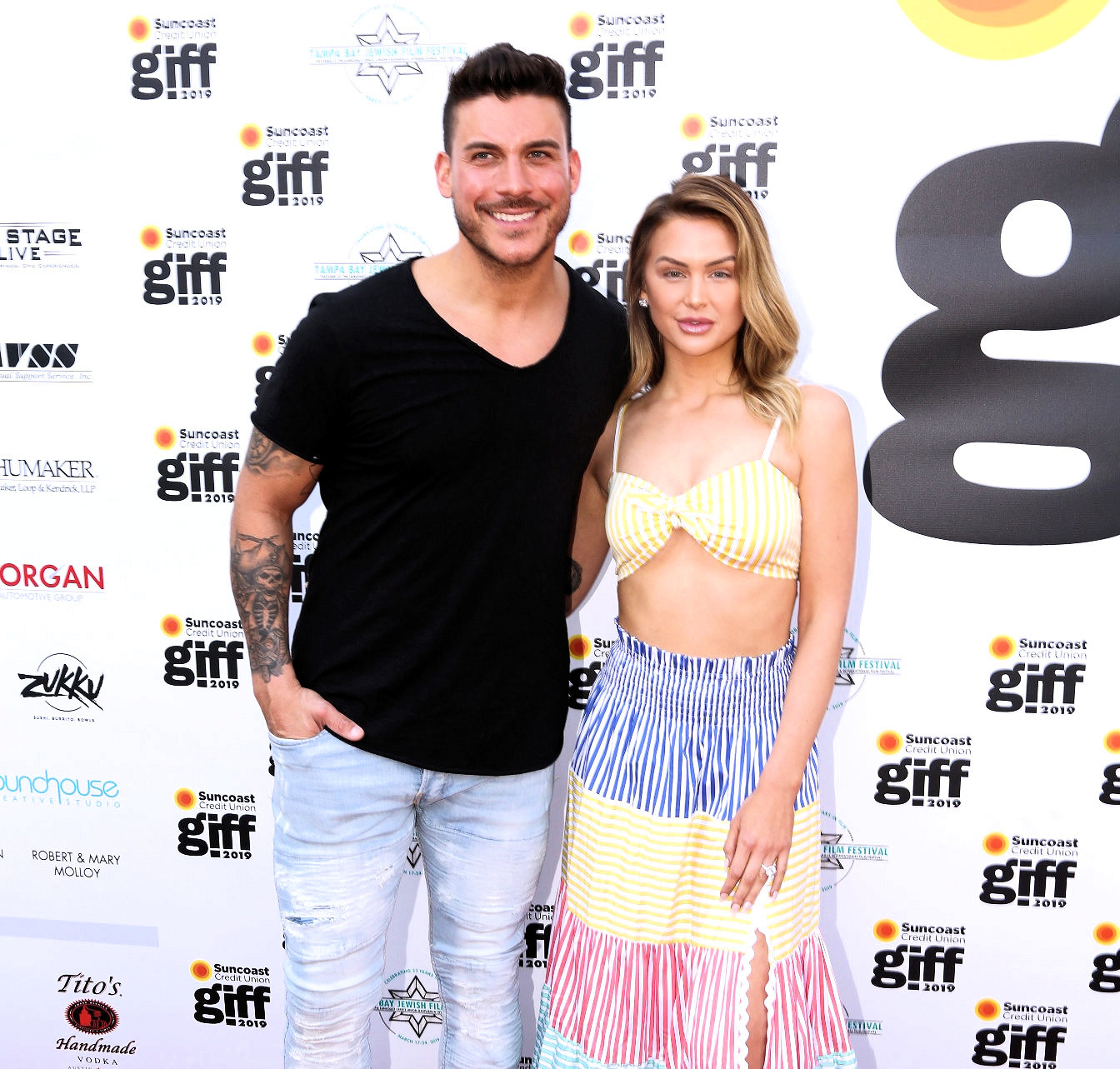 Reality Blurb visited the Tampa Improv for a special Vanderpump Rules panel event last week and during our visit, we learned a number of interesting behind-the-scenes details about the show.
As Jax Taylor and Lala Kent sat beside Lala's fiancé, Randall Emmett, who hosted the event, they were questioned about the ins and outs of the show by Randall and several audience members, and disclosed a number of things that were previously kept secret.
1. Bravo TV isn't paying for Jax Taylor and Brittany Cartwright's wedding.
While it has long been assumed that the network takes care of the bills for the weddings seen on their shows, Jax told the audience that was not the case for his and Brittany's upcoming ceremony. In fact, he confirmed Bravo TV doesn't give them "a dime" towards their nuptials.
Luckily, being on a reality show does have its perks and because their wedding is expected to air on Vanderpump Rules season eight, Jax and Brittany have received plenty of free gifts that will be put on display when the show airs.
"They know this will be a nationally televised wedding. So, that's good for a lot of people that want to help support the wedding," he explained.
2. The Vanderpump Rules cast isn't supposed to communicate with one another off-camera during feuds.
During the many feuds of the series during the months of filming, cast members are told not to speak to one another until cameras are rolling and while they do their best to hash out their issues on-camera, Jax admitted that doesn't always happen.
3. The Vanderpump Rules cast films their confessionals before they watch the episodes.
After fans began asking about production and when it concludes, Lala revealed she filmed her final cast confessional scene one week beforehand, which confirmed that she and her co-stars don't get to watch the episodes first.
Jax also spoke of the cast confessionals and said he doesn't like having to re-address issues he's had with his co-stars, especially issues that have already been worked out, weeks after they take place.
4. Lala Kent is pulling in the big bucks with her beauty line.
Although Lala said she'd be totally bummed if Vanderpump Rules were to come to an end in the near future, she made it clear that she would be financially stable if it happened — and not because she's about to marry a millionaire.
"If the show were to end tomorrow, which I would be devastated because I have so much fun filming it, but Give Them Lala Beauty brought in seven figures for 2018," Lala said.
5. Jax Taylor and Lala Kent won't stay friends with everyone after the show ends.
Also speaking about the potential end of the show, Jax and Lala confirmed there were a few people who they wouldn't go out of their way to stay in touch with.
"There are a few people I probably wouldn't talk to much anymore but the majority, like these guys [Randall and Jax], they aren't going anywhere. They are stuck with me," Lala said.
"I think there are a couple of the drifters that I probably wouldn't talk to anymore. I call them the drifters. They always drift into scenes. They like to be a part of scenes. I probably wouldn't talk much of them anymore," Jax added.
6. The cast does work at SUR Restaurant, but not too much.
While several members of Vanderpump Rules do truly work at SUR Restaurant, Jax and Lala both said it is impossible to treat their employment at the restaurant like a normal job. After all, they are flooded with fans who want photos and ask questions the minute they walk in the door.
"I'll make a drink and then people will be asking me questions and I'm like, 'I got to get the drinks out. We can sit and talk or I can make you a drink but I can't do both,'" Jax explained. "The bar is busy and it's got to make money. So, I'd rather just come in once or twice a week. I'll take pictures with everybody. I'll answer questions and it's a lot easier that way. It's great for everyone too because the bartenders are making more money."
"It's pretty impossible," Lala agreed. "When I first started working there, I was a hostess. Every time I try to seat a table, it is impossible for me to get you to your table with the amount of time that it should take. So yeah, we go in, we still clock in but I can't say that you are going to get seated very quickly."
7. Lala Kent's wedding won't be seen on the show.
When a number of audience members wanted to know if Lala and Randall would follow in Jax and Brittany's footsteps with a televised wedding, Randall said his situation with Lala was "complicated" before she shut down the idea altogether.
"The wedding will not be aired," Lala confirmed. Although fans won't be seeing Lala and Randall's wedding on the show next year, the producer did say that viewers of the series will see the "leading up to it" on the show.
8. The Vanderpump Rules cast has different contracts with Bravo TV.
Jax and Lala's SUR Restaurant paychecks may not be very substantial at this point, but they make plenty of money starring on Vanderpump Rules.
"We do make money from the show," Jax admitted to the audience.
But he and his co-stars don't make the same amount, nor do they have the same contract terms. "I think everyone's is different," Lala explained.
"Mine was five [years]," Jax said. "And it is up this year… not that we're going anywhere."
"I only do two [years]," Lala dished.
9. Jax Taylor revealed he and Brittany Cartwright recently bought a house.
Tom Sandoval and Ariana Madix aren't the only Vanderpump Rules stars who recently became homeowners. After teasing the audience about a secret, Jax decided to reveal, for the very first time, that he and Brittany will soon be moving into a new home.
"There are a lot of transitions in our life right now but I don't want to let people know what's going on yet. We have our wedding going on. We have a lot of stuff going on and… I guess I can say it, we just bought a house!" he proclaimed.
"I'm in charge of the house. Brittany is in charge of the wedding and that's taking up a lot of time right now," Jax added. "We wanted to get into a house before we get married. That way we don't have to go back to the apartment again."
10. Vanderpump Rules season eight talks are set to begin in April.
As the seventh season of the series continues airing on Bravo TV, Jax confirmed that he and his co-stars will begin talks with the network for season eight "in another month."
Vanderpump Rules season seven airs Mondays at 9 p.m. on Bravo TV.
Photos Credit: The Suncoast Credit Union Gasparilla International Film Festival, Lindsay Cronin/Reality Blurb