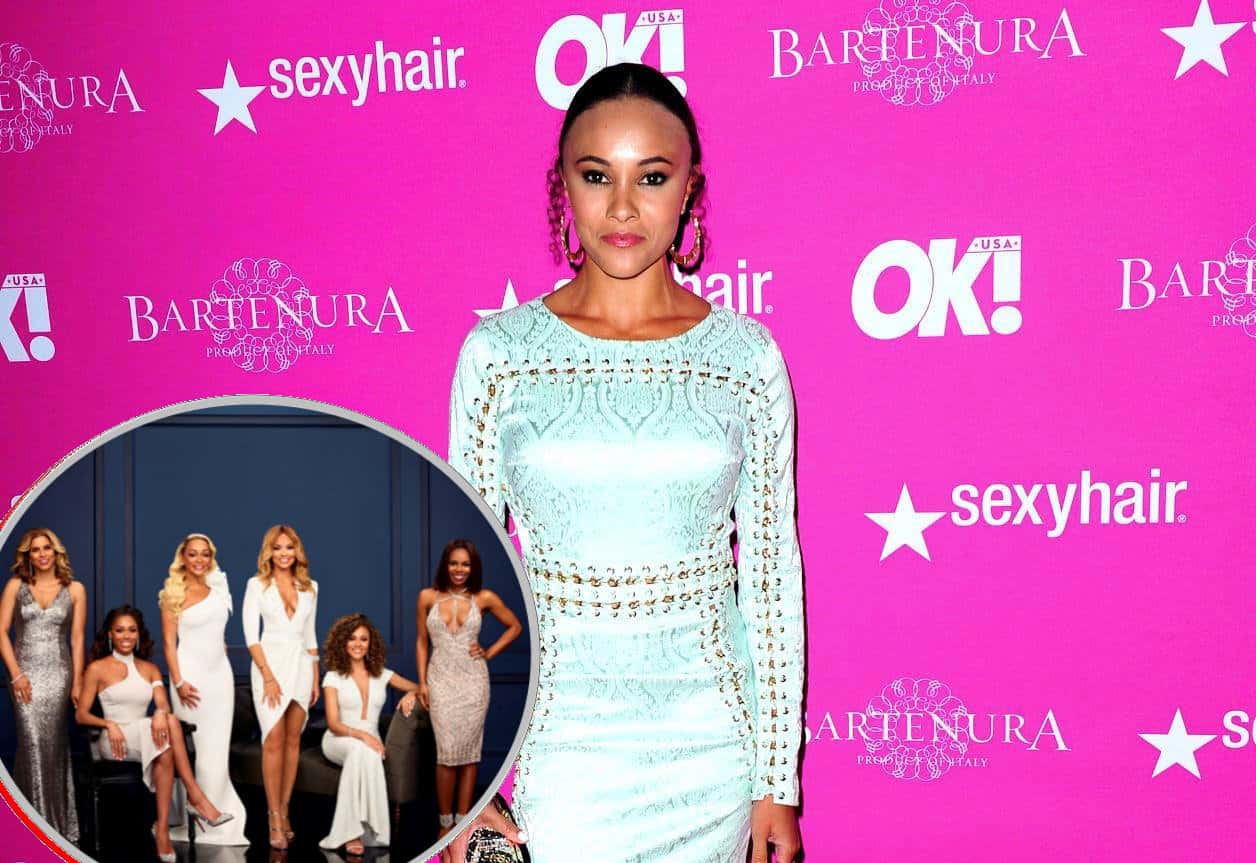 The Real Housewives of Potomac star Ashley Darby is addressing the drama she has with her co-stars over a comment her husband, Michael Darby, supposedly made.
On last week's episode, amid a verbal showdown with Candiace Dilliard, Gizelle Bryant finally told Ashley that Candiace and Robyn Dixon had earlier stated they heard Michael say he wanted to hook up with another man who happens to be one of the husbands on the show, although the ladies would not reveal who.
In addition to the Michael issue, Ashley also fought with Candiace, which resulted in Candiace holding a knife as they bickered before Candiace ultimately kicked Ashley out of her home. Ashley would however end up re-entering Candiace's home a number of times before she was finally kicked out for the third time. During the RHOP After Show, Ashley explained why she kept coming back into Candiace's home.
"Gizelle followed me outside, and in true Gizelle fashion, she threw a little bit of fuel on the fire," said Ashley, adding that she kept re-entering Candiace's home because she wanted to address what her castmates were still saying about Michael as she stood outside.
"[Gizelle] was right that I needed to address what had been said subsequently. So, yes there was an issue I was having with Candiace. But also Robyn and I are actually friends. The fact that Robyn said Michael had said all these stuff at a birthday party – I needed to address those issues. I think that it would be remiss of me not to go back in and have a discussion right then and there, instead of allowing that stuff to fester. Obviously, there would be more dialogue happening when I left and it's more important for me to be there and confront it."
As for Robyn, she stated on the After Show that she had thought Ashley would admit Michael said these things and state that he simply meant it in a joking manner, rather than outright deny that Michael said it at all.
"I thought Ashley was going to be like, 'Girl you know he was joking. I heard him say that, you know he was joking!' I was totally shocked when she denied that it was said," Robyn shared.
"Robyn really is my friend and Candiace is not so I don't really expect much from Candiace but it stung me to hear it from Robyn," added Ashley.
Ashley then went on to call the story into doubt because Candiace and Robyn used different words to describe what they heard Michael say.
"I'm like A, what conversation were y'all having? What conversation were y'all having that I wasn't a part of. And then B, how is there such a discrepancy between what was heard between you [all]," questioned Ashley.
Meanwhile, during the disastrous dinner last week, Candiace's husband, Chris Bassett, spoke up and also revealed that he had heard Michael say those things, making him the third person on the cast to state this. And for some of the women, Chris's admission was all the confirmation they needed.
"A man is never going to lie about something like that as it relates to another man," said Gizelle. "So once Chris kind of put his stamp on it and said, 'Yes, I heard him say that,' that was confirmation for everybody at the table."
A new episode of the Real Housewives of Potomac airs tonight on Bravo at 8/7c. And tonight's episode will finally address the short-lived scandal against Michael after a Bravo cameraman accused him of sexual assault. Those charges were however dropped shortly afterwards by the district attorney due to insufficient evidence.
Photos Credit: Credit: Everett Collection Inc/Alamy Stock Photo, Tommy Garcia/Bravo