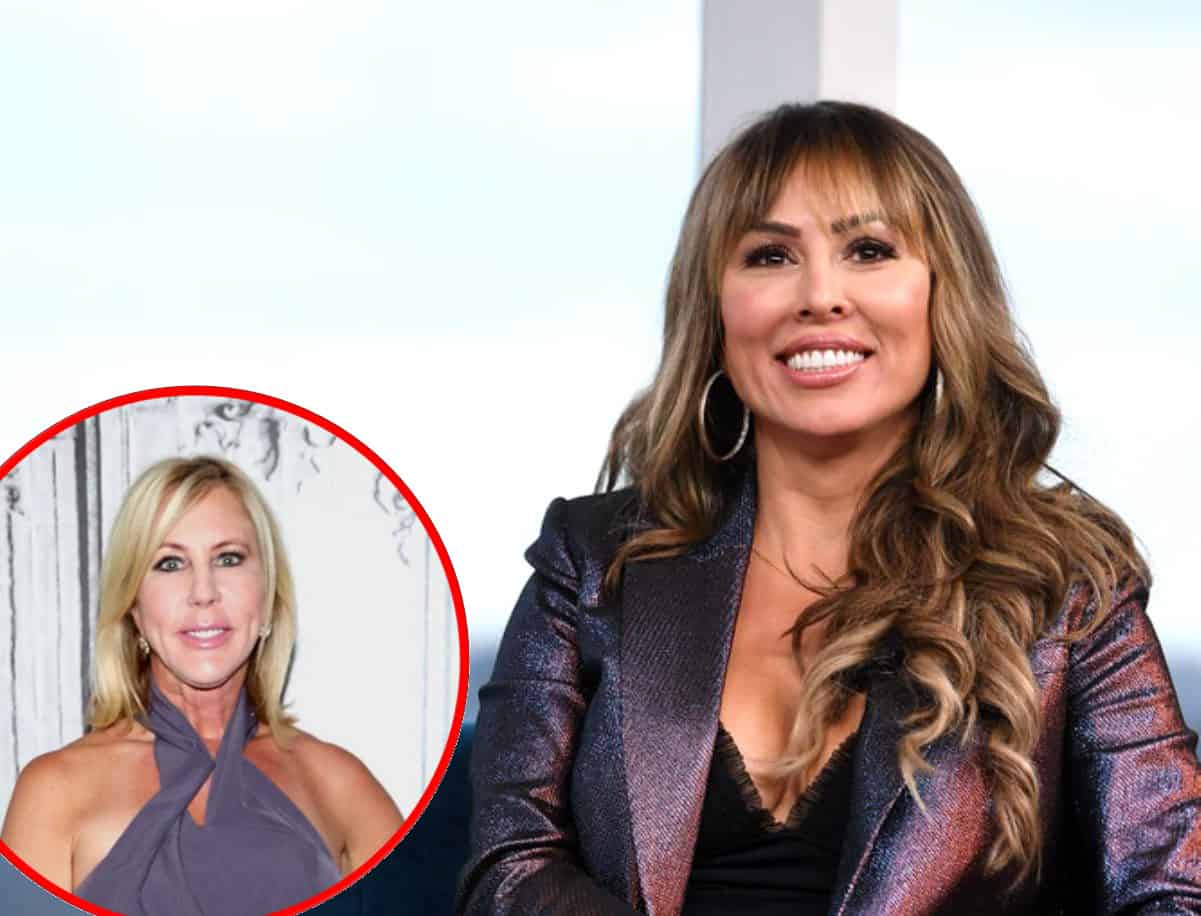 Kelly Dodd is once again being forced to defend herself against an outrageous rumor.
Just months after she faced claims of poor parenting and cocaine use, which she denied, at the Real Housewives of Orange County season 13 reunion, Kelly has found herself in the midst of nasty claims regarding a sex train.
In a sneak peek shared by Bravo, the other women of the show, including Vicki Gunvalson, Tamra Judge, Shannon Beador, Gina Kirschenheiter, and Braunwyn Windham-Burke, were seen enjoying a dinner date when Vicki suddenly mentions a secret she supposedly knows about Kelly.
"Kelly knows that I know more than I've said," Vicki said.
"Are you talking about the train?" Tamra asked.
"Tamra, do not talk about that!" Vicki yelled in response. "Tamra!"
While Vicki attempted to shut down the rumor at that point, Braunwyn later filled Kelly in on what the other women were saying about her.
"Shannon, Gina, Tamra and I agreed not to talk about the train rumor, but I thought they meant don't tell anyone else. I didn't assume they meant don't tell Kelly," Braunwyn explained during a cast confessional. "I was trying to give her a heads up because that's what friends do."
"Honestly, if she had come over today and I didn't tell her, I would have felt like I was a liar," Braunwyn then shared during a scene with Gina and Kelly.
After hearing what Braunwyn had to say, Kelly slammed the rumor as "absolutely ludicrous" and said she's never even had a threesome.
"Vicki is a liar," Kelly told her costars. "She lied about cancer… the worst thing you can possibly lie about. The lady is dangerous."
During an interview with PEOPLE Now earlier this month, Kelly said Vicki "makes everything up."
"[Vicki] said I've done a sex train and that she knows people who [did cocaine with me]. Did Vicki see me do it?" Kelly wondered. "You can say anything … you can hear rumors all you want. Did Vicki see me do it? … It's just crazy to me. 'Oh, I know people.' Who? Who do you know? Because when I called that person she said that said that, they said they never said that."
"She's just a big fat liar," Kelly added.
RHOC Live Viewing – This is also a live viewing thread for tonight's episode of the RHOC, so feel free to comment and chat below as the new episode airs at 9/8c on Bravo TV!
Photo Credit: Aaron Poole/E! Entertainment, Elizabeth Pantaleo/startraksphoto.com