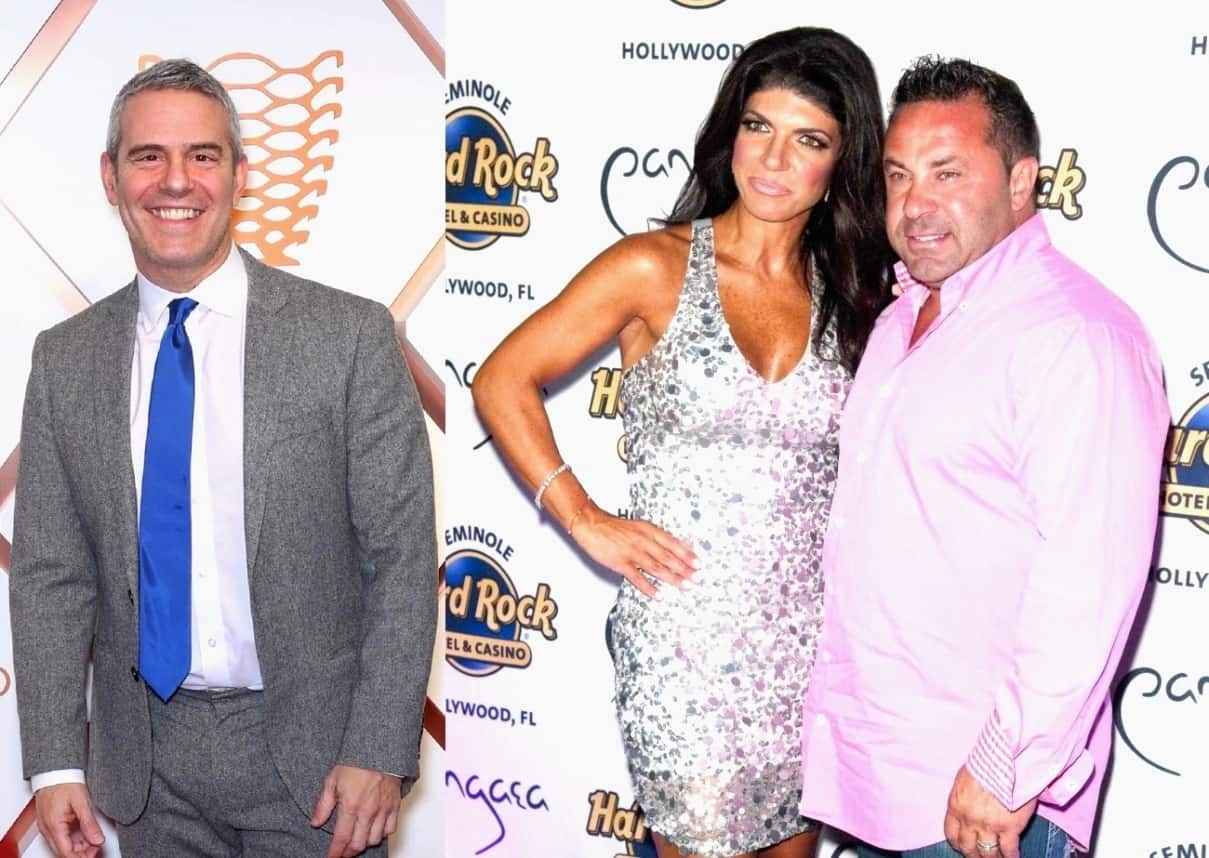 What does Andy Cohen wish he would have said during his recent interview with Teresa Giudice and her husband, Joe Giudice?
Following Sunday night's episode of Joe and Teresa Unlocked, which featured the couple opening up about the future of their marriage and rehashing issues from the past, Andy shared his biggest regret from the special before discussing potential guilt and revealing that Joe was concerned about the IRS prior to signing on to The Real Housewives of New Jersey.
On Monday's episode of his SiriusXM radio show, Andy Cohen Live, Andy said his biggest regret was failing to defend Caroline Manzo after Teresa labeled her "crooked" and accused Caroline of turning her and Joe into the feds.
"I did regret not saying to Teresa…because she was saying all this horrible stuff about Caroline, but Caroline's never been to jail, Caroline has never committed a crime," Andy said. "Caroline is not a criminal."
"I brought it up, and it just hit me, it was not anything I had planned on asking her, but as I was sitting there I realized that I remember Caroline making a prediction five years ago. Her prediction was that Joe was gonna go to prison. Teresa was gonna get strong and independent, and then was gonna divorce," Andy explained.
After his interview with Teresa and Joe was filmed, Andy spoke to Caroline, who reacted yesterday to Teresa's comments and admitted she was "not pleased."
"I would say that you will probably be hearing from her in some capacity soon," he said. "If she wanted to come on [Watch What Happens Live], she's always welcome. But I can't imagine that she wouldn't respond in some way to this."
Although Andy admitted to having a regret, he told a caller that when it came to guilt, he had none.
"Do you have any guilt? It's almost like you're a fire-starter," the caller said, according to a report from E! News.
"I don't have any guilt. This is a voluntary process," Andy reasoned. "Putting your life and putting yourself of reality television, the risks are obvious, they are well-known, especially if you have something to hide."
Looking back, Andy said that before signing on to appear on RHONJ, Joe expressed concern over his finances.
"One of the first things he asked when Bravo was developing [RHONJ], I think he said, 'Has the IRS ever come looking for anyone for doing any of these shows?'" Andy recalled. "So he knew that he had something in his past, even then."
That said, Andy doesn't fault Teresa for coming back to the show, despite the legal issues they faced years later, because "she needed a paycheck."
The Real Housewives of New Jersey season 10 premieres on Wednesday, November 6 at 8 p.m. on Bravo TV.
Photos Credit: JOHN NACION/startraksphoto, Instarimages