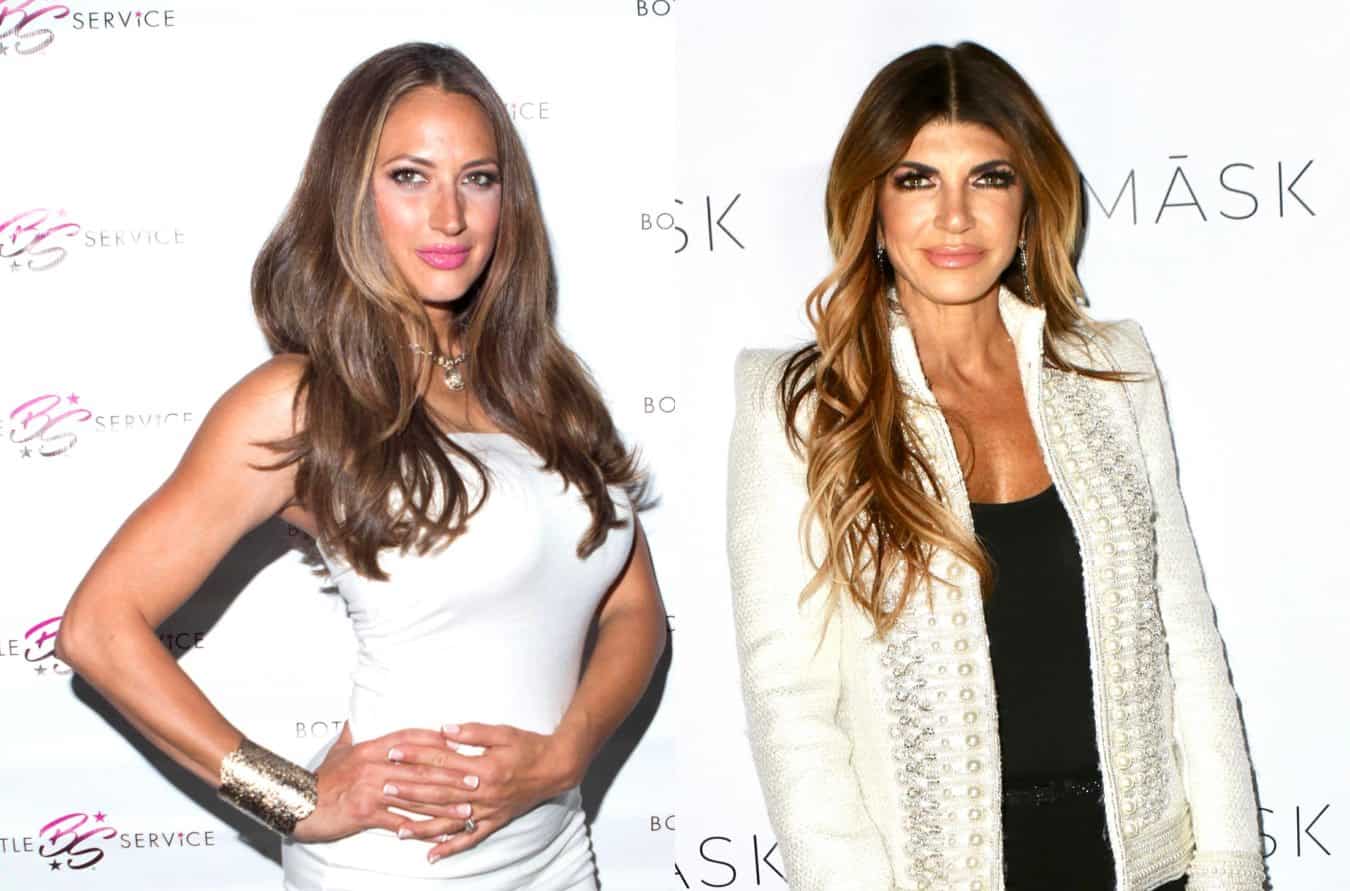 Amber Marchese is speaking out against The Real Housewives of New Jersey and her former co-stars, including Teresa Giudice and Melissa Gorga.
Before slamming Teresa as "ruthless" and Melissa as "underwhelming" and offering an update on the homophobic scandal surrounding her gay stepson, the former Bravolebrity slammed the reality series as fake, addressed her firing, and discussed her husband Jim Marchese's threats to sue Bravo's parent company, NBCUniversal.
"It's so difficult to be yourself on [RHONJ] because you're put in these certain circumstances that you would never be in," Amber said on the #NoFilter with Zack Peter podcast on Monday, March 30. "Like, I just got attacked down in the basement, I'm certainly not going to go hang out and go get bagels and coffee with you the next day. It ain't happening! I would be like, 'You're a f*cking psycho! I'm pressing charges against you because you attacked me.' But you can't, you have to show up the next day at work."
"It was the fakest, realist world/alternate universe that ever existed," Amber alleged.
Although Amber only appeared on one season of RHONJ (season six), her husband Jim made a name for himself as one of the most controversial cast members of the Real Housewives franchise. However, according to Amber, that may have been the fault of production, at least when it came to his on-screen behavior.
"We knew we were getting f**ked right from the beginning. Jim could be seriously feeding the hungry, like, with his bare hands, and they would've found a way to make him look bad," she claimed, noting that Jim wasn't quick to take direction.
After filming the sixth season of RHONJ in 2014, Amber knew she and Jim wouldn't be asked back to the show after everyone turned against them.
"There was so many weird things going on. I know the twins were working with Melissa, you know. And then Teresa was… trying to be my friend, but yet working behind the cameras to screw me over… I just knew that I was literally at one point on [an] island by myself and I had no allies," Amber recalled.
In addition to being left "on an island," Amber's husband solidified their firing by threatening to sue NBC.
"Jim made it very known to them that they were not going to go forward and there was actually supposed to be a lawsuit that Jim like, he did a preliminary lawsuit, went into NBC, and then once that happened, they were like not going to go forward with us, we weren't going forward with them and that was that," she explained.
Speaking of her former co-stars, Amber claimed Teresa was "ruthless" behind the scenes.
"That whole storyline with the mom… that really creepy thing with the mom and Reno. Remember that? Yeah. [Teresa's] the one that brought that all out. She was the one, but then sat there, like acting surprised like she just heard that for the first time ever. That was a bunch of sh*t. She absolutely knew where we were going. We were going to Long Island, we were going out there so that blonde can tell me the story and bring it all out on-camera," Amber alleged.
"[Teresa] knows how to be ruthless. She will do anything and everything that she has to do to keep her position on the show," she added.
Amber went on to slam Melissa's personality before applauding former cast member Jacqueline Laurita as "real" and "kind."
"[Melissa's] personality in general is, you know, it's underwhelming," Amber shared.
Meanwhile, she continued, "[Jacqueline] is as real as you get. She's very sweet, very kind."
As for the homophobic scandal surrounding her and Jim's supposed refusal to pay for her gay stepson Michael's tuition, Amber revealed there was a trial.
"I can't really get into too much of it. I can say though that Michael did not get what he wanted and it had nothing to do with him being gay," she explained. "And the GoFundMe page, it really hurt him in his case. The judge didn't look at it very nicely at all because it hurt our family, it was a complete lie, it wasn't the story on any level, and he knew that."
In June of last year, Michael launched a GoFundMe page, claiming he needed money to go to college after allegedly being ousted by his family due to his sexuality.
Photos Credit: WENN Rights Ltd/Alamy Stock Photo, NANCY RIVERA/INSTARimages.com