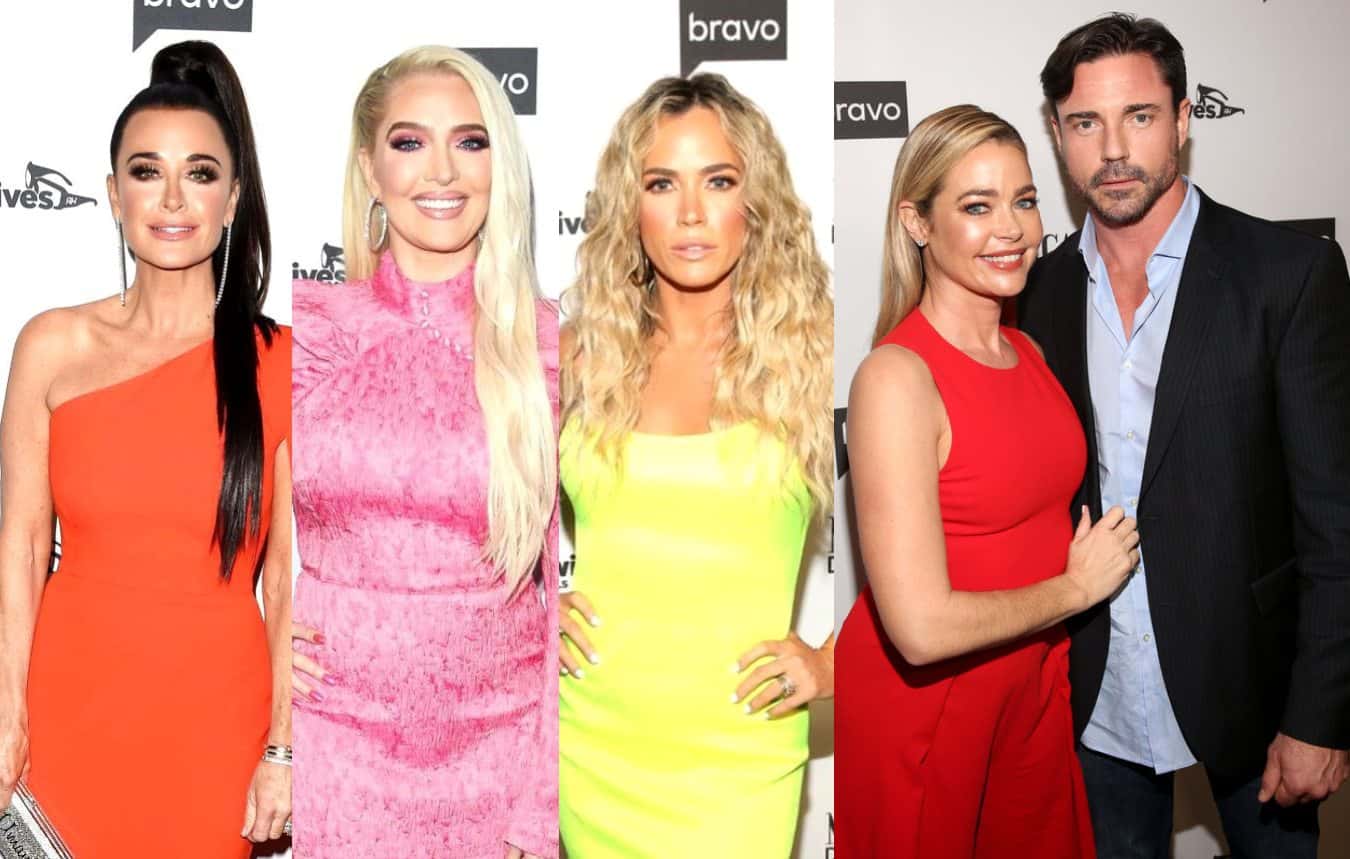 Kyle Richards and her Real Housewives of Beverly Hills co-stars caused a stir on Twitter on Wednesday with their reactions to the shocking threat Aaron Phypers seemingly made against his wife, Denise Richards, as they stormed off from a cast barbecue at Kyle's home.
After Aaron was seen warning Denise that he was going to "crush [her] f**king hand" after she grabbed him and demanded he "get up" and stay quiet after she feuded with her castmates about her parenting decisions and concerns, Kyle retweeted a message from a fan who spoke about Aaron's threat. Kyle was promptly accused of trying to "exploit and embarrass" Denise with her post as Erika Jayne and Teddi Mellencamp also weighed in.
Erika, who was involved in a war of words with Aaron during the episode, shared a shocking post on her page as she retweeted the clip of Aaron making his worrisome statement to Denise.
"Baby, don't say anything, we're on the camera… Baby don't say a f**king word," Denise tells Aaron as they walk out of Kyle's house as she holds his hand.
"Don't tell me what to say. I'm going to crush your f**king hand. Stop it," Aaron appeared to say in response.
#reciept pic.twitter.com/oGJWCBhJXd

— Denise Fucking Richards ❁ (@Deeniserichards) June 4, 2020
During the show, Erika expressed confusion over the way Aaron treated the RHOBH cast and admitted to suspecting Denise's husband is either a complete moron or on good drugs. So, when it comes to her retweet of the video, which was captioned with the hashtag, "receipt," she seemed to be hinting that Aaron's emotional storm off validated her suspicions.
Erika also expressed shock at what she saw.
"Wait! What did he just say??" she exclaimed.
Meanwhile, on Teddi's Twitter page, she told her fans and followers that her past assumption of Aaron was correct.
"When I called him an a**hole I wasn't too far off," Teddi wrote.
"Okay what the f**k-it sounded like Aaron said, 'Don't tell me what to say, I'll crush your f**king hand' to Denise?? Am I wrong?? Please tell me I'm wrong," read a retweet Kyle shared on June 3.
In response to the retweet, another fan said, "I question why [Kyle Richards] would retweet this? To me that's trying to continue to exploit and embarrass Denise.
But Kyle didn't agree and instead clapped back with a question of her own.
"Should we protect him?" she asked.
The Real Housewives of Beverly Hills season 10 airs Wednesdays at 9 p.m. on Bravo.