Lisa Rinna's daughter, Amelia Gray Hamlin, took to her Instagram Stories to accuse her mother of forcing her to appear on The Real Housewives of Beverly Hills.
After facing absurd allegations of faking her anorexia for a storyline on the show, Amelia fired back by revealing that she is only seen on the Bravo reality series because her mother makes her. Lisa responded to the claim and applauded her model daughter for helping others by sharing her eating disorder with the public.
"I usually don't post these. But this really got to me," Amelia, 19, began, according to a screenshot shared by Reality Entertainment TV on Instagram.
"Lying about a mental illness is disgusting. Something I hope nobody would ever do," she continued. "I seriously can't believe I'm being accused of lying about my anorexia to get more 'air time' sorry but I'm forced to be on the Housewives by my mom. Ask anyone it's the last thing I want to do. I couldn't care less about air time. So f*ck you."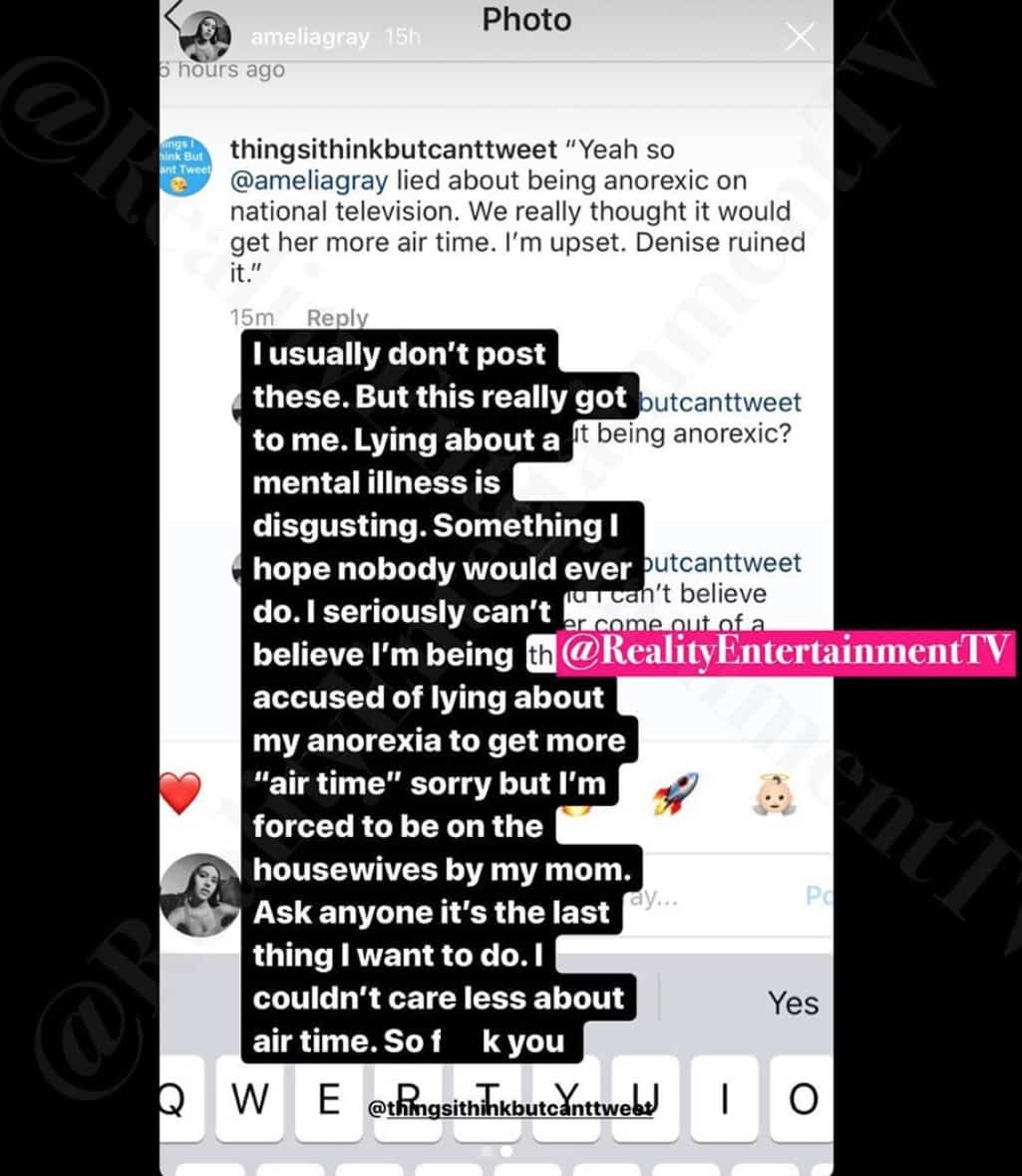 Following Amelia's claim, the RHOBH cast member reacted to her daughter's statement in the comments section of the post by suggesting she chose to film with Amelia because she is required to chronicle what she's going through in real life for the show.
"I signed up to do a reality show and this was happening while we were filming. We did not hide it. Amelia has helped so many by sharing her story," Lisa explained on July 20.
Then, in a second comment, Lisa pointed out that Amelia spoke of her eating disorder publicly way before she was seen discussing the matter on RHOBH.
"Get your facts straight. Amelia has been open on Instagram about her health way before we filmed the show."
As fans may recall, Amelia first went public with her eating disorder in April 2018.
"Last year at this time there was no doubt that I was not okay. Not only physically but also mentally," Amelia explained. "I feel like sometimes people forget that just because your job involves being in front of the camera, doesn't mean you can't have bad days. We're human. All of us."
"Instead of people ever commenting on my mental stability, people commented on my weight," she continued. "Usually, when people are struggling with an eating disorder it stems from your mind, and your body is a reflection of it. I could go on and on about that time of my life, but the most important part about it was waking up one morning and deciding to stop sabotaging myself. My health, my physical health, my mental health and everything about myself."
Amelia went on to tell her online audience members that she is "humble" and "grateful" to have the platform she does at such a young age.
The Real Housewives of Beverly Hills season 10 airs Wednesdays at 9 p.m. on Bravo.
Photo Credit: Collin/Image Press Agency/MEGA