Did Carole Radziwill's friendship with Bethenny Frankel end due to her refusal to fall in line with Bethenny's plan to increase her level of fame?
After a story made its rounds over the weekend, suggesting Bethenny dumped her former Real Housewives of New York City co-star as a friend after she failed to connect her with the widow of the CEO of Paramount, Brad Grey, Carole seemingly confirmed the claims when she reacted to the "real" story behind their feud before explaining why she made an appearance on Bethenny & Fredrik.
"The real issue was Cassandra Grey," the report, which came from Reddit, began.
"Bethenny had been angling for a solo production deal since she returned to Bravo. Bravo wasn't interested because Bethenny can't carry a show by herself. However, spring and summer of 2017 Bethenny finally got the go ahead from Bravo to film Bethenny and Fredrik," the story explained.
Although Bethenny was able to land the coveted RHONY spinoff, her tensions with Fredrik Eklund made it clear to production that a season two would not be in the cards.
As for how Cassandra played into the matter, the report went on to reveal that Bethenny hoped to land her as a connection through Carole.
"Bethenny kept pushing Carole to get an invitation to hang out with Carole, Cassandra, and Brad's friends and contacts who could help Bethenny get a production deal."
Unfortunately, because Carole allegedly found the idea to be highly inappropriate, Bethenny turned away from their friendship.
Below is a screenshot of the report as shared by the Queens of Bravo Twitter account.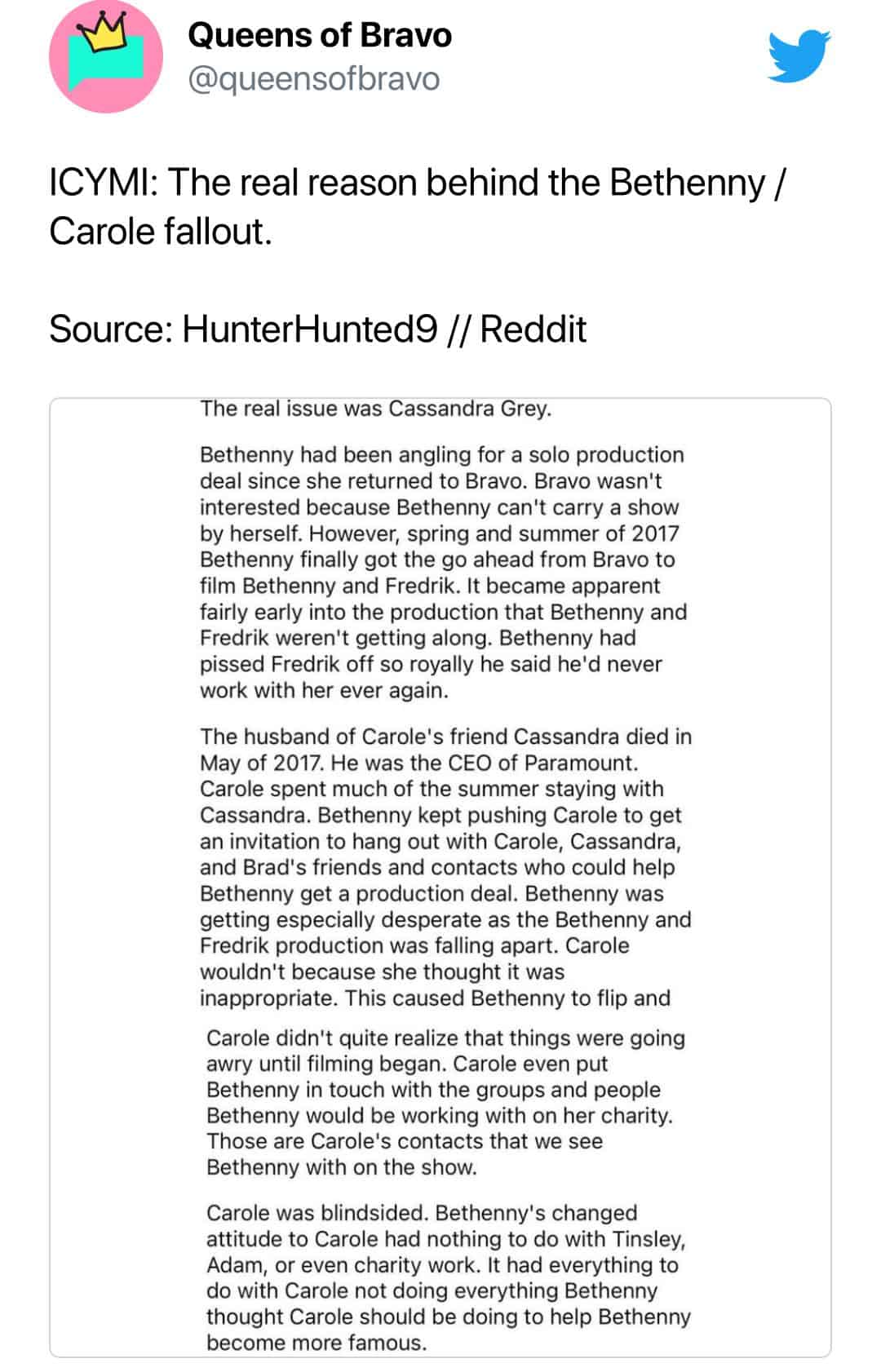 Following the sharing of the report, Carole offered a tweet of her own, suggesting that the report may be completely true.
"Wow, and to think I appeared on the Frederik show," she tweeted, noting producers had "begged" her to appear in a scene shot inside an eyeglass store.
"Damn had I known it all. Ugh," she added.
After confirming her exit from RHONY in summer 2018, Carole told Hollywood Life she would never return to the series.
"I would not return," Carole said in January 2020. "There's women on the show that I still have a genuine connection with, who I respect, and admire, but I would not go back on the show. It's not something that I would ever consider doing again, because it just feels like there's really not more to explore there for me."
Photos Credit: Nancy Rivera/ACE/INF/Instarimages