Craig Conover hosted a Q&A session on his Instagram Story on Monday night, where he addressed topics pertaining to Southern Charm and Winter House.
After first offering an update on where he stands with Shep Rose, Craig looked back on his recent meeting with the parents of girlfriend Paige DeSorbo, of Summer House, revealed how many children he's like to have, and shared what he wishes was included on Winter House.
"Do you see Shep a lot?" a fan asked on November 29.
"I see good old Shepherd more than I'd like sometimes," Craig laughed. "Nah, I love Shep. Saw him today, gave each other a big hug. Charleston's not a big town and I love that I get to see him as much as I do."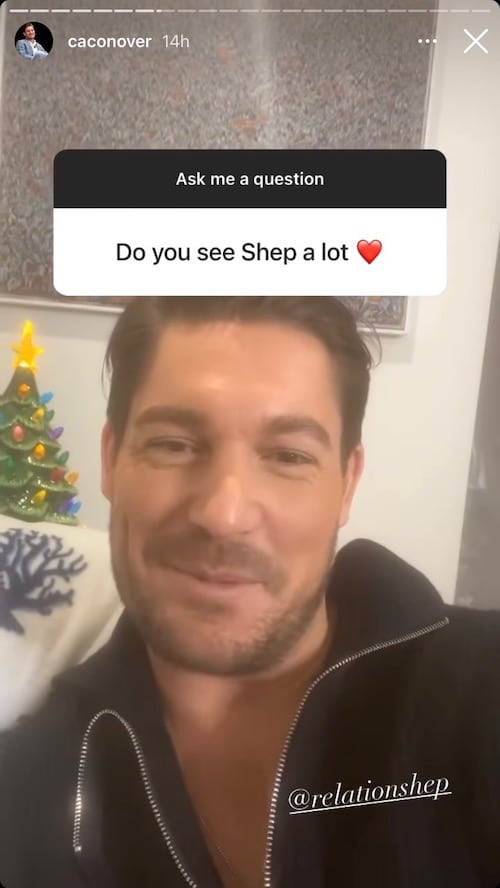 Months ago, Craig admitted to experiencing tension with Shep. And since then, their relationship appears to have been a bit up and down. Luckily, as Craig has since confirmed, they are in a good place in their friendship today.
"How did meeting Paige's family go?" another fan asked as Craig's chat continued.
"It was amazing. I love her parents," he replied. "They're actually similar to mine and I think I'm invited back. So I can't wait to go back to Albany."
While Craig and Paige have only been dating for months, he joked with another fan about their future family.
"How many children do you want?" the person asked.
"I think 17's a good number. I'll have to get Paige to weigh in on this. How's 17, babe?" he wondered.
Another Instagram user wanted to know why Craig looked "sad and lonely" on Winter House.
"Even if everyone slept for 12 hours a night, that's still 196 hours of footage that you didn't get to see. You only got to see six because it was a wonderful spinoff vacation special. But just don't overthink it. There was a lot. There's still a lot to see," he teased.
As for what Craig wished was seen on Winter House, he revealed his favorite moment involved Austen Kroll and Andrea Denver.
"When Andrea was initiated into me and Austen's fraternity was the happiest moment of my Winter House, and Auten's, and Andrea's," he admitted.
Southern Charm season eight is expected to begin airing on Bravo sometime in 2022.
Photos Credit: Kathy Hutchins / Shutterstock