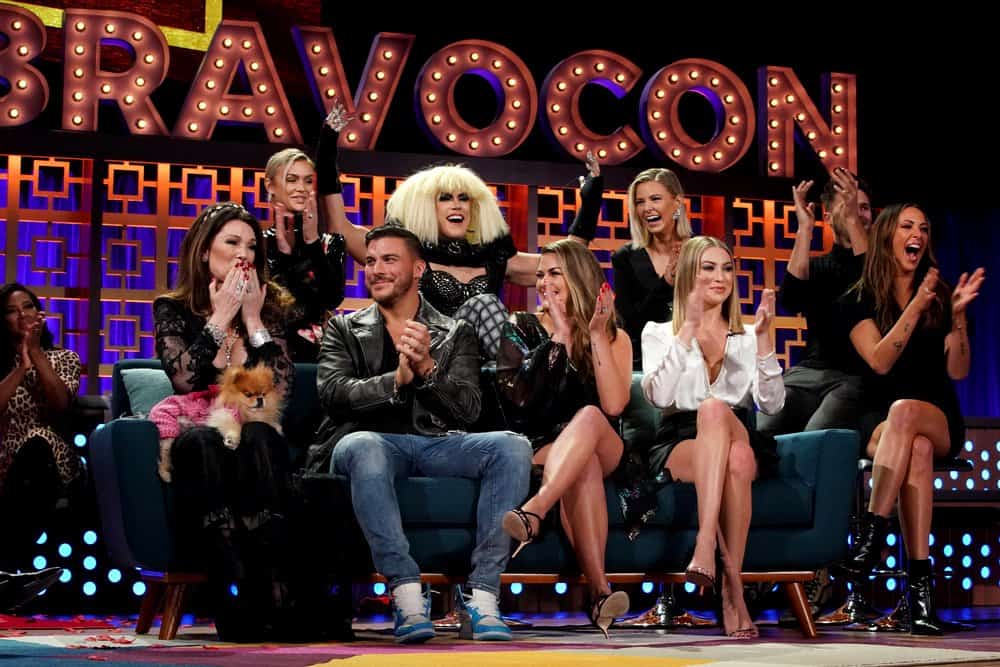 Could Stassi Schroeder, Kristen Doute, and Jax Taylor be headed back to Vanderpump Rules?
According to a new report, the Bravo reality series could go one of two ways. And, one potential concept for the potential 10th season of Pump Rules reportedly involves the OGs returning after Stassi and Kristen's firings in June 2020, and Jax's alleged axing in December of that same year.
"Inside scoop! These are the options being tossed around for the future of [Vanderpump Rules]," Bravo and Cocktails began on Instagram, via Reddit.
"Still thinking about the future of Vanderpump Rules, how interested would you be in each of the following as a potential series?" they asked.
The Bravo fan page went on to name the supposed options the network is tossing around as they possibly prepare to bring the show back for a new season.
"A show following the lives of Vanderpump Rules' original cast members, even if they no longer work for Lisa Vanderpump (with occasional appearances by Lisa)," read a description of the first scenario.
Or, read the description of scenario no. 2, "A show following Tom Sandoval and Tom Schwartz opening a new bar without Lisa Vanderpump."
Amid the swirling rumors in regard to the future of Pump Rules, Jax was confronted by a fan on Twitter who seemed to have reached her breaking point over his ongoing complaints about the cost of living in Los Angeles.
"Why not move? You've complained about Cali for a long while now, you're no longer on the show, why not get a fresh start somewhere else?" she asked.
And, in his response, Jax appeared to fuel the rumors regarding his potential return to TV.
"Because we got new projects in the works here… [I] will be back soon. Only reason I am still here," he replied, as revealed in a screenshot shared on Reddit.
As fans of Pump Rules well know, Jax has been suggesting he's on the verge of a television return ever since he and wife Brittany Cartwright officially confirmed they were no longer a part of the show. In fact, just months ago, during a Q&A with his fans and followers on his Instagram Story, Jax confirmed he's "not against" returning to television before suggesting he would be doing so "very soon."
He also said at the time that he "produced [three] films" and was "currently working on [his fourth]."
Although nothing came of Jax's claims at the time, he and wife Brittany were linked to a Peacock spinoff a short time later.
"Have a friend who works in development at Peacock. They're currently working on a reboot of Jax and Brittany Take Kentucky — the show will follow the two as they leave Los Angeles behind and buy an old farmhouse in Brittany's hometown to restore," read a tip sent to Deux Moi on Instagram. "This is part of a larger move to get more real estate shows on Peacock, and they feel like it might do well based on the success of Bravo's frequent marathons of Chrisley Knows Best. Jax has been told to keep it quiet but he's already dropping hints on IG live," the source explained.
"Should be officially announced within the next few weeks," the supposed source added.
But again, the claims didn't amount to anything.
Bravo has not yet commented on the potential return of Vanderpump Rules for season 10.