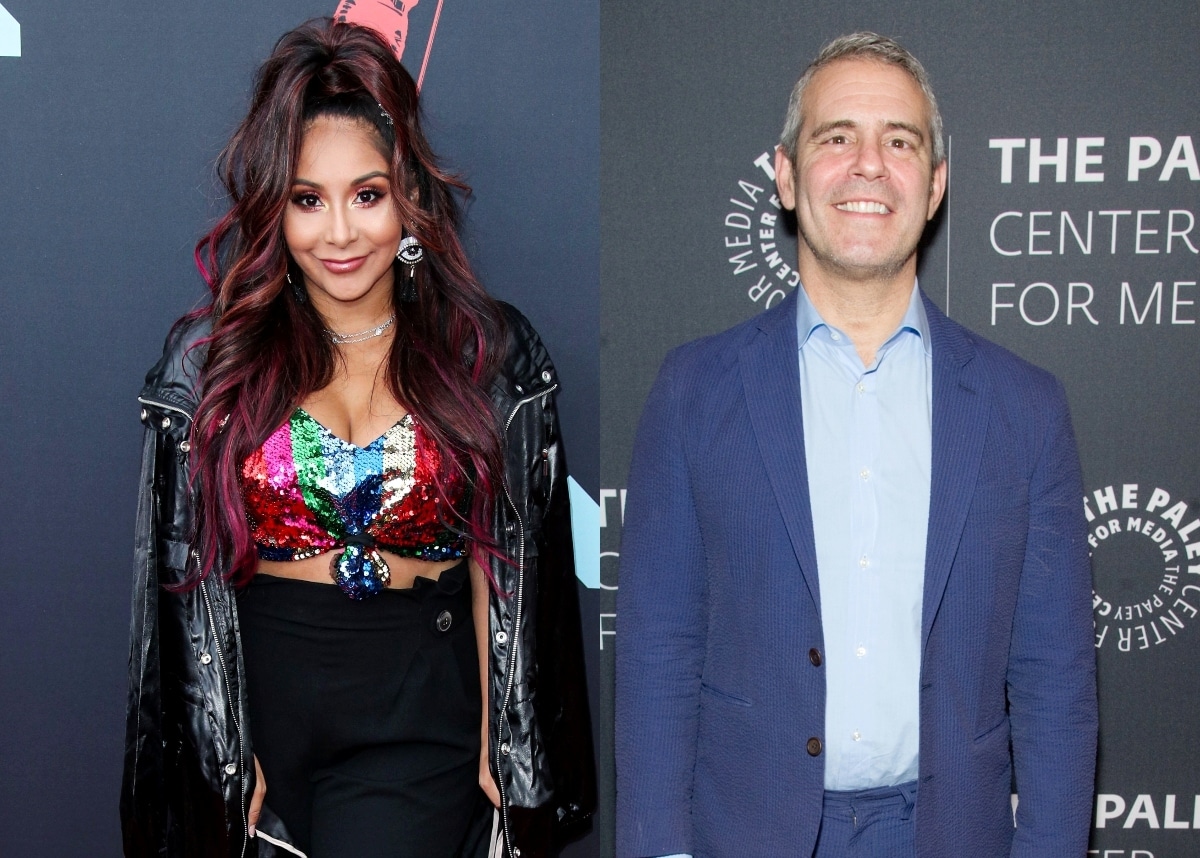 Nicole "Snooki" Polizzi is clapping back at Andy Cohen for his ongoing comments regarding his refusal to allow the longtime Jersey Shore star to join the cast of his Real Housewives of New Jersey.
After the Watch What Happens Live host addressed the topic on a number of occasions, Snooki spoke out against his harsh delivery while also sharing the advice she gave RHONJ newbie Traci Lynn Johnson, revealing why she "hated" Celebrity Apprentice, and more.
"I'm not upset that [Andy] doesn't want me to be a housewife cause I'm not cut out for that sh-t. Like, it's just too drama. And I don't like drama. I just like drinking, having fun, and then going home," Snooki explained on the March 21 episode of Behind the Velvet Rope With David Yontef. "I just feel like he's a little nasty towards me and I don't know what I did… He's just like, so like blunt, like you can be, you can say no in a nicer way."
In addition to saying he doesn't see Snooki on RHONJ, he also said, via Melissa Gorga, that it was a "hard no."
"He's just like, 'Don't even say it.' Whenever I would go to him and be like 'Hello! She's married now, she has three kids, she lives around the block. She's great for this, I think,' and he just looks at me like 'No.' …He is just not having it," Melissa revealed on her podcast.
According to Snooki, when she appeared on Andy's show, the two of them were "friendly and happy." So, when it comes to his more recent behavior, she suspects he's trying to be dramatic.
"I just feel like he's being drama for the people," she shared. "And I feel like if we saw each other, we'd say, 'Hi.' Like I said, I don't like being mean to people. I don't like grudges. I don't like the drama. I feel like we would be okay."
Although Snooki has been denied a (unwanted) role on RHONJ, she does have friends on the show, including Melissa and "friend" Traci, who was added to the cast in 2021.
"She's my neighbor and she's my really good friend," Snooki said of Traci, naming her as her favorite RHONJ cast member.
"When she told me she was going to be… Melissa's friend on the show, I was like, 'Oh my God, you're going to do the Housewives. Like what?' When I see her, I don't picture a reality show."
While Snooki doesn't think Traci is as "loud and dramatic" as some reality stars, she said she "definitely brought it" for season 12 — after she dealt her with some important advice.
"I said, 'Make sure you're enjoying yourself, be yourself… Don't pretend you're something that you're not because the show can definitely tell,'" Snooki recalled. "So I was like, 'Just be you, say what you got to say and have fun with it."
Looking back at her time on the Celebrity Apprentice, Snooki admitted she didn't enjoy herself on the show and felt it wasn't for her as she's not the "typical business owner" and prefers to "go with the flow."
"I hated Celebrity Apprentice… I knew it the first day because everyone is on there and there's so like, everybody wants the floor and like I'm not competing for the floor," Snooki said. "I tried to enjoy it… [But] come like the third, fourth board room. I was like, 'I have to leave.'"
Though Snooki will never be welcomed to RHONJ, she believes her Jersey Shore gig is more than secure. In fact, she believes fans would love to see her and her co-stars for decades to come.
"We would love to do the show as long as everybody allows us to. I feel like, you know, the fans would love to, you know, see our lives until we're like 70. So I feel like we are ready. We will love to do that. You know, God willing and yeah, we can, we can literally do this till we're 70 we're in the nursing home and you're going to see us fighting each other in the nursing home," she joked.
As for a future spinoff with husband Jionni LaValle, Snooki said he's unwilling to commit.
"I like begged him, but he's just like over it… He doesn't want to be on TV," she shared.
Photos Credit: Xavier Collin/Image Press Agency, Shutterstock/Ron Adar