Bravo announced The Real Housewives of Dallas would not be brought back for a sixth season following its fifth season in 2021. However, according to a new report, the series will be rebooted following a temporary hiatus.
On the heels of the return of The Real Housewives of Miami, which was canceled after three seasons on Bravo in 2013 but brought to Peacock in 2021 for season four, an insider has revealed that RHOD is not canceled — and that new episodes will begin streaming on Peacock sometime next year.
"I spoke to a close contact source who told me that [RHOD] isn't canceled.. they are resting the city this year. There has been no official decision for it being canceled. A peacock season 6 is likely for 2023," a Real Housewives of New York City fan page shared on Twitter on March 20.
While no official announcement regarding the potential new season has been made quite yet, Andy Cohen suggested the series' return was at least a possibility in a tweet shared with a curious fan at the end of last year.
"Do you think Peacock would ever pick up [RHOD] for a reboot?!" a fan asked in December 2021.
"Never say never," Andy replied.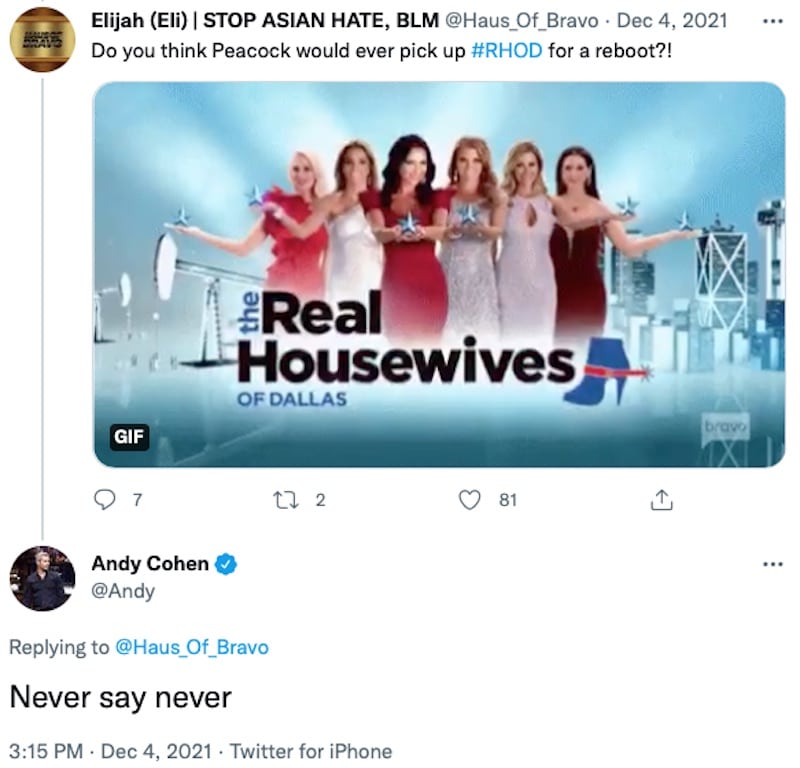 Bravo officially confirmed RHOD would not return for a sixth season in August 2021 with a statement that explained, "There are currently no plans to bring The Real Housewives of Dallas back next year, and beyond that, nothing official has been decided."
A short time later, an insider told Entertainment Tonight that producers simply "couldn't find the right mix that made sense" in terms of a group of women they could move forward with.
"[D'Andra Simmons] and [Tiffany Moon] don't talk to [Stephanie Hollman] or [Kameron Westcott]," the source continued. "It would've been hard to make any relationship between those four feel organic, especially with everything that happened between Tiffany and Kameron after the reunion."
As RHOD fans may recall, Kameron's husband, Court Westcott, accused Tiffany of "vile racism" while his brother, Chart Westcott, suggested the anesthesiologist's drinking habits could be putting her patients in danger.
Following Bravo's announcement about season six, the would-have-been-newbies, Lizzy Savetsky and Madelaine Lam, spoke out on Instagram, revealing that they had been filming before the show was axed.