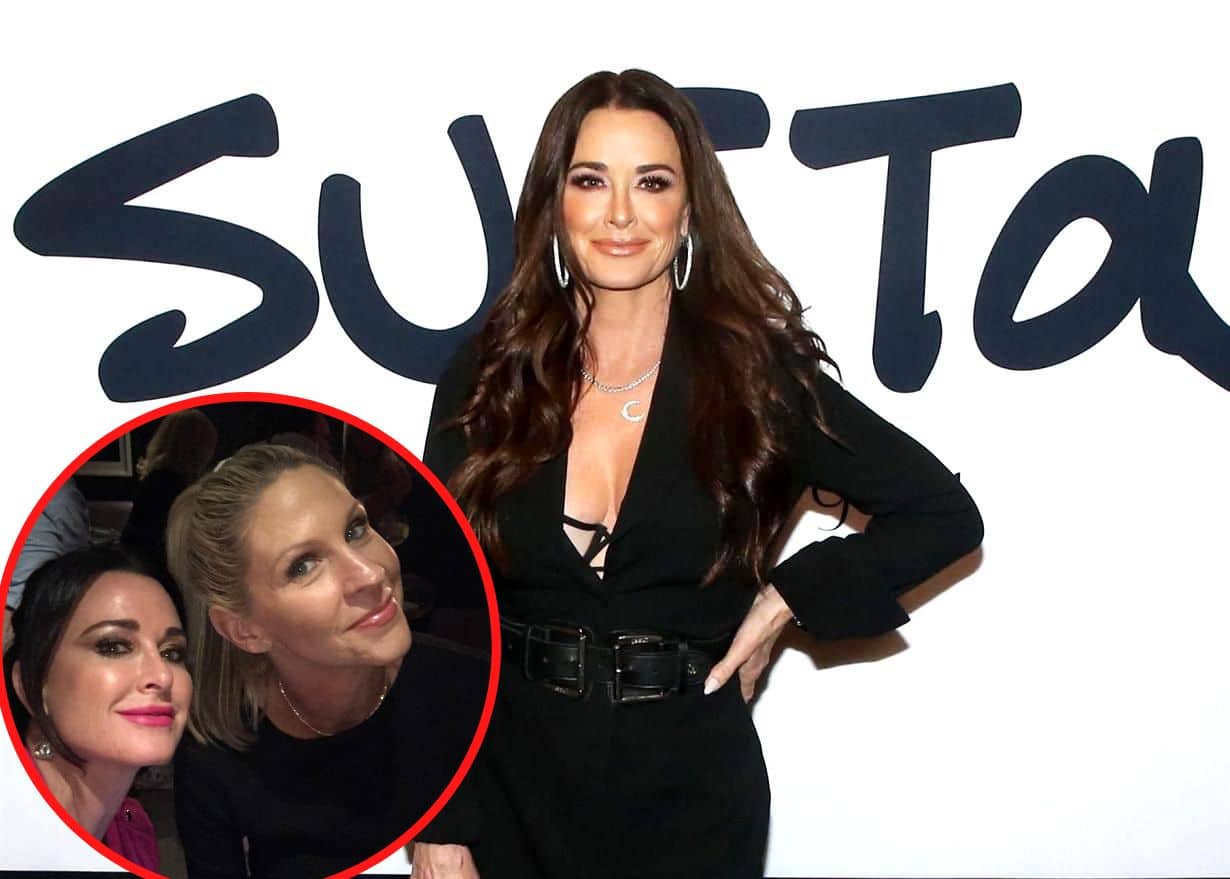 Kyle Richards tragically lost her best friend earlier this month.
In a heartbreaking post shared to her Instagram page, along with a slideshow of photos of herself and Lorene Shea, who she'd been friends with since she was a small child, the Real Housewives of Beverly Hills cast member confirmed that Lorene died on May 1 after suddenly being faced with depression.
"I never imagined I would be posting something like this …this is my best friend Lorene … my best friend since I was 7 years old. My other half. We did everything together… from losing our baby teeth , to having babies & everything in between & everything that followed. She was kind, thoughtful, funny, smart, beautiful , sentimental… The most important thing in the world to her was being a good Mom, wife, daughter, sister, aunt & friend (dog Mom too) We spoke every day & shared everything that was happening in our lives. We would laugh until we cried , call each other out & be there for each other no matter what was going on in our lives," Kyle began in her May 7 post.
According to Kyle, Lorene was recently faced with a mental health battle as she started to suffer from "debilitating depression."
"She had always been a happy person. How did this happen?" Kyle asked. "All who loved her rallied around her and did everything that could be done to get her help. But the system is broken. The system made it impossible to get her the help she needed. This past Sunday we lost Lorene. The system failed her! The system failed her loved ones who are now left in unbearable pain. I will do whatever it takes to try & help change the laws that are in place that prevent people from getting the help they need. I love you Lorene."
"Rest In Peace," Kyle concluded. "Please keep her & her loved ones in your thoughts & prayers."
Following Kyle's post, she received tons of support and love from her fans and followers, including many of her RHOBH co-stars and Andy Cohen.
"I haven't stopped thinking about you this week. I'm so deeply sorry. It's a loss no one should experience," wrote Crystal Kung-Minkoff.
"Kyle I am speechless," Kyle's sister, Kathy Hilton, stated. "I loved her very much such a sweet happy person. I just can't believe it. I know how lost you feeling eel right now just know what a wonderful friend and sister you were to her and she will always be with you.She will be your guardian angel. I love you so much and it breaks my heart to watch suffer. All you can do is be there for children and family and pray."
"I am so sad to hear this. She sounds like the perfect friend," Andy noted.
"Rest in Peace sweet Lorene," added Lisa Rinna.
"That is heartbreaking I'm so sorry for you and her family," shared Garcelle Beauvais, who made a point to reach out, despite their recent feud.
"So sorry for your loss. My deepest condolences. The system is broken," agreed Camille Grammer, who has also feuded with Kyle in recent years.
Sutton Stracke left a comment that read, "Tragic. No other words. I'm so sorry for your loss. For her family's loss. May I please take this time to mention to anyone struggling with with either depression or surviving a suicide in your family, [National Alliance on Mental Illness] has so many ways to help. Kyle. I love you, and I know you are the rock."
Teddi Mellencamp said, "It's truly heartbreaking. I am so sorry. Praying for all of you."
And, Kyle's newest cast member, Diana Jenkins, wrote, "I am so sorry for your loss Kyle. I am so deeply sorry for [Lorene's] family loss. It should never happen. Sending you my love and prayers."
The Real Housewives of Beverly Hills season 12 premieres Wednesday at 8/7c on Bravo.