Margaret Josephs is reportedly feuding with her former childhood best friend, Laura Marasca Jensen, amid filming on the upcoming 13th season of The Real Housewives of New Jersey.
According to a series of new reports, Margaret slammed Laura as a "snake" and a "beast" in a group message after reportedly learning she'd met with co-stars Teresa Giudice and Jennifer Aydin behind her back after supposedly turning on her in an effort to get cast on the Bravo reality series.
"Happy Sunday everyone I am so sorry to write this but Laura Jensen who is on this group text and I have brought into our group has unfortunately attempted to insert herself in my employment and contacted and met with my cast mates Jennifer Aydin to [undermine] me," Margaret wrote in the leaked text, as seen in a screenshot shared by Deux Moi on Instagram. "If you choose to associate with her please to not include me. I know this is very Housewives of me but we should all know when there is a snake in the group, I hope none of you revealed anything to this BEAST."
According to an accompanying message, Margaret was attempting to stop Laura from being cast on RHONJ after "countless acts of betrayal." And according to a second update, Laura was rumored to be estranged from the cast on the plane ride home from the ladies' trip to Dublin earlier this month as Margaret spoke openly to Dolores Catania about her issues with her ex-friend.
"She's really upset about the way the new girl was introduced and how [their] scenes are being filmed. She doesn't want to be around her. It was kind of weird how they were openly talking about this," the second insider explained.
Following the sharing of the insiders' information, another report was submitted to Deux Moi, which confirmed the accounts as "very true."
"I've spoken to this childhood friend of hers and can confirm that she has A LOT in her arsenal of information that the Marge definitely will not want out there," the source explained. "Production has surely favored Margaret over the years and have done her plenty of favors in the editing room. Let's just say that what we see is not always what [you] really get. It's unfortunate that the viewers are fooled by the editing and facades."
The report went on to reveal that Margaret was allegedly the one who started and spread the season 11 cheating rumor about Jackie Goldschneider's husband, Evan Goldschneider, and she dug into the pasts of both Luis Ruelas and Bill Aydin amid season 12.
"Her hands aren't as clean as they seem!" the insider insisted.
While fans will have to wait and see what drama plays out on RHONJ, Margaret shed some light on the situation by offering a response to the above claims.
"Hi I sent that text to a group with her on it," she explained in a DM to Deux Moi. "I'm upfront and have nothing with casting."
Margaret went on to suggest that Laura turned on her in an effort to get chosen for season 13.
"Unfortunately I pushed for her for [two] years they didn't want her so she thought try to be an enemy. Put up the real truth," she stated.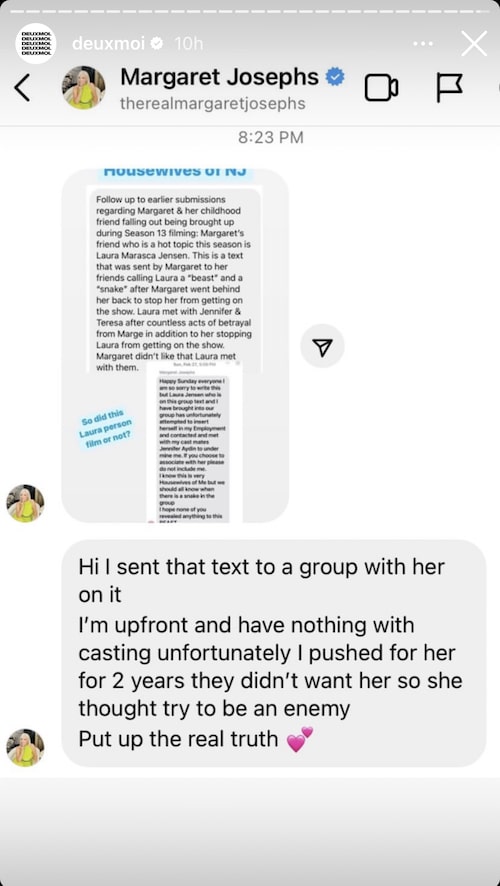 The Real Housewives of New Jersey season 13 is currently in production and expected to begin airing on Bravo later this year or early next year.