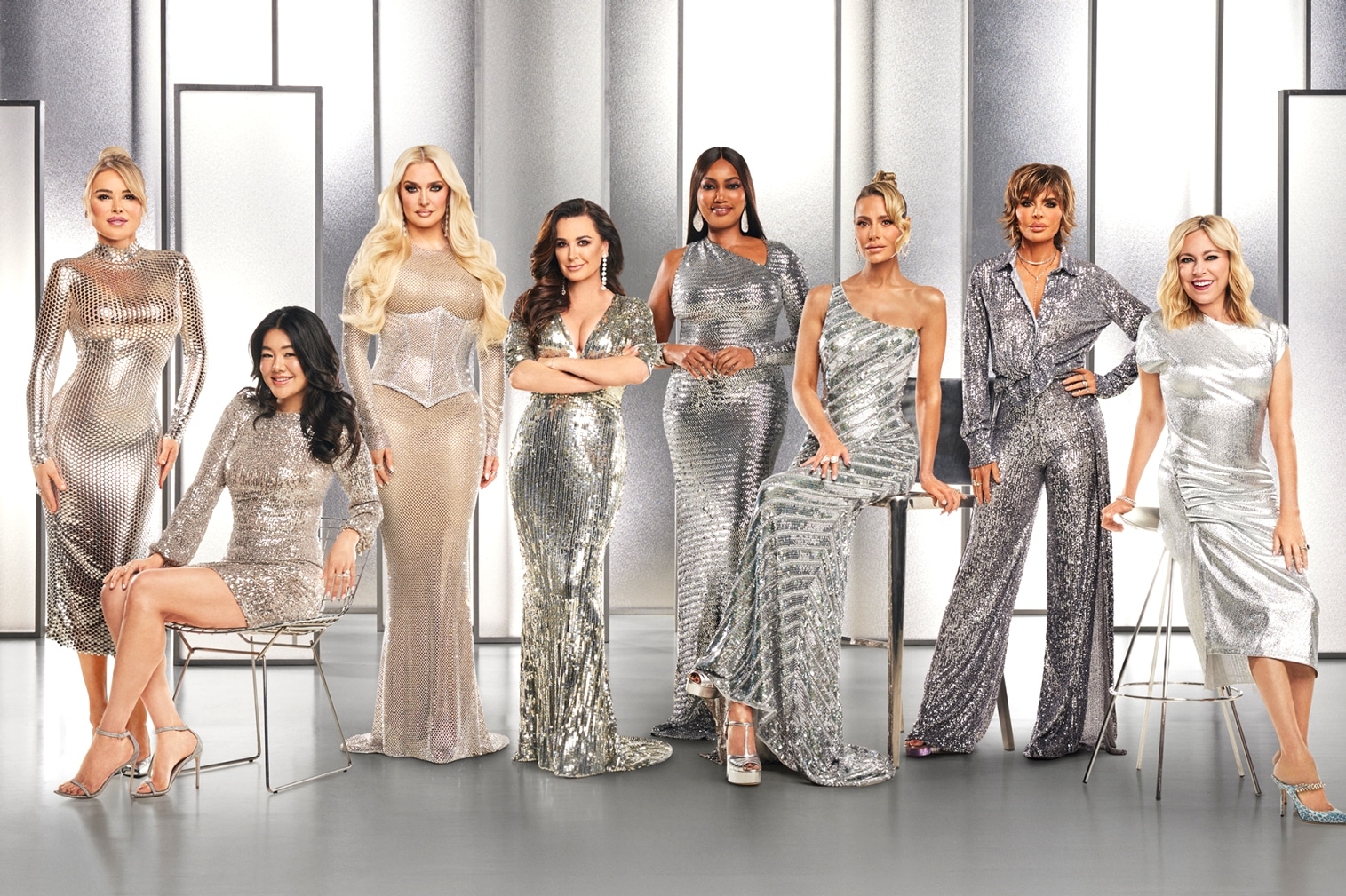 The Real Housewives of Beverly Hills' season 12 reunion was filmed on Friday. And, as expected, there was plenty of drama amid the taping.
Although it will be weeks before fans see the multi-part special air on Bravo, host Andy Cohen and some of the women, including Erika Jayne and Lisa Rinna, gave fans a sneak peek at what is to come with posts on their Instagram pages and Stories.
"All bests on Ginger," Erika wrote in the caption of a September 9 photo, which featured her wearing a blue mirrored mini dress with a crown in her hair.
"I pay them all in Dust," Lisa captioned her reunion look, which featured a tight leopard crown and cross necklace.
Meanwhile, on Andy's Instagram Story, he shared a video with his online audience.
"How do we feel like it's going ladies?" Andy asked.
"I feel like it's going just fantastic, beautifully Andy, as expected," Kyle Richards sarcastically replied.
Then, as Lisa said they was "one bombshell down," Andy admitted the top-secret reveal caught him off-guard.
"It's early, and we did, we already got a bombshell, I have to say. 1 mystery has been solved that I didn't even know existed," he explained.
And while Andy didn't reveal who was seated beside him, a seating chart shared by Bravo RHOBH on Instagram revealed that Lisa and Kyle were closest, while Lisa was joined on his right by Erika, Dorit Kemsley, and Crystal Kung-Minkoff, in that order, and Kyle was joined on his left by Garcelle Beauvais and Sutton Stracke.
"[Kathy Hilton] will join later next to Kyle," they shared.
Also, in Andy's Story, he revealed that the RHOBH cast was a fan of the on-set decor.
"The ladies have established that they love the couches this year. But their tailbones hurt," he revealed. Then, after sharing that he and his cast hadn't "even gotten to Aspen, and it's 6:30," he turned to Erika.
"Okay Erika, you're on the hot seat — starting now," he declared.
As for which cast members didn't attend the RHOBH reunion, Diana Jenkins wasn't there in person, due to a last-minute COVID-19 diagnosis, but is believed to have appeared, via Zoom, while series "friend" Sheree Zampino reportedly skipped the event entirely.
Along with a photo of Andy at the taping at 9:43 p.m., the Queens of Bravo offered a filming update, telling their Instagram followers, "Can also reveal Sheree Zampino [is not] at the reunion."
"Those are Erika and Lisa's reunion looks, AND due to all of the info leaks, phones have been confiscated for [everyone]," the outlet added.
The Best of Bravo on Instagram also confirmed Sheree was not in attendance and noted that Kyle's Halloween co-star, Jamie Lee Curtis, who made a guest appearance amid season 12, was also seen at Friday's event.
"Jamie Lee Curtis made a guest appearance, and Sheree was not in attendance," they shared.
The Real Housewives of Beverly Hills season 12 airs Wednesdays at 8/7c on Bravo.