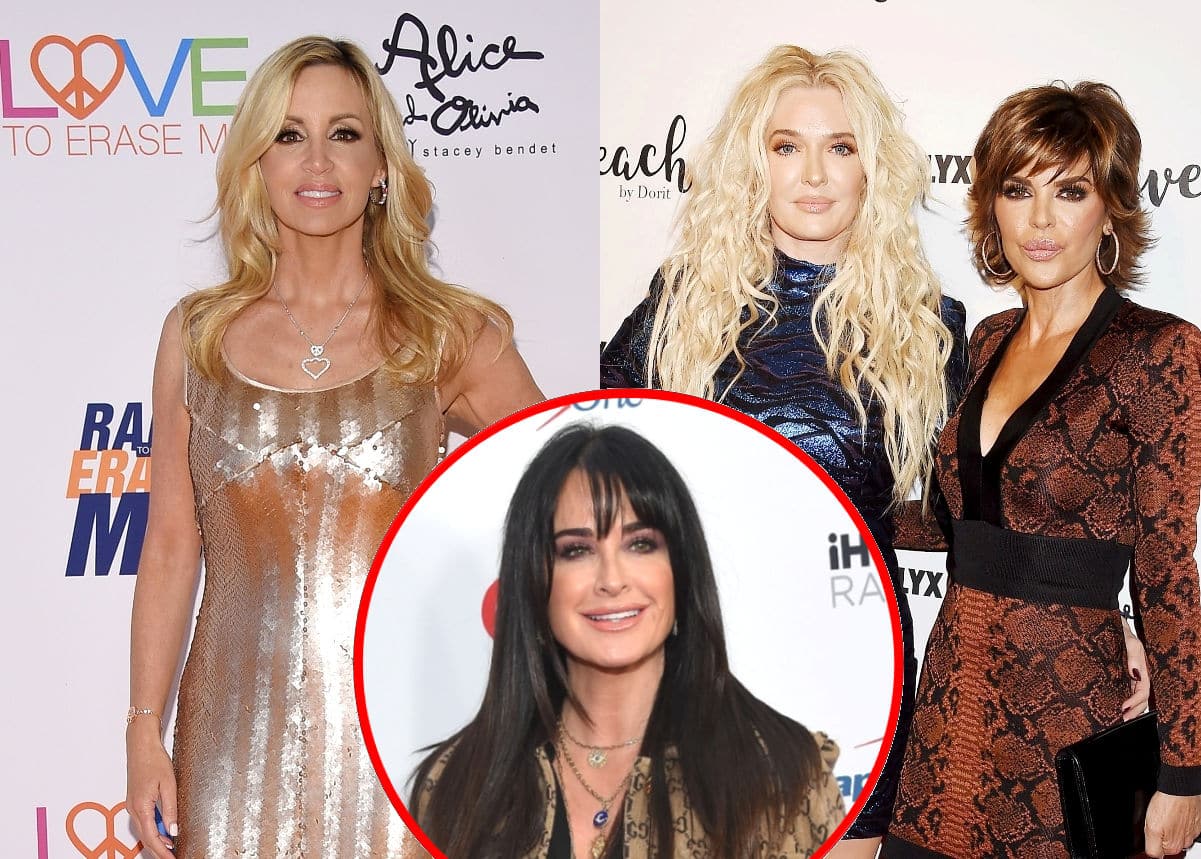 Camille Grammer had a lot to say about Wednesday night's finale episode of The Real Housewives of Beverly Hills season 12.
As the drama surrounding Kathy Hilton's meltdown in Aspen, and the allegations she faced in the weeks that followed, reached a head, with Kyle Richards claiming Kathy learned through an investigation that Erika Jayne's publicist had allegedly leaked negative stories to press, Camille raised questions about Erika and Lisa Rinna's intentions.
"Watching [Lisa Rinna] and [Erika Jayne] feign concern for Kyle as they continue to throw gas on the fire. Was this their calculated plan of deflection and/or an attempt to stick it to Kyle as well? Just a thought," she tweeted on October 5.
Then, after a fan suggested Lisa and Erika tried to "roll both of those things into one" but didn't succeed, Camille agreed with the sentiment.
"I thought that as well," she wrote.
Camille also responded to someone who suggested it wasn't Lisa and Erika, but rather Kyle and Garcelle Beauvais, who kept bringing up the Aspen drama.
"Even [Dorit Kemsley] told Kyle she shouldn't have brought it up. But Kyle is the victim here? Weird take," they added.
"Kyle could have shut it down from the beginning," Camille replied.
In another message, Camille told her fans and followers Garcelle was "speaking facts" and was quickly met with a viewer who pointed out that it was "really concerning how" the ladies "jumped" at Garcelle for wondering why they kept discussing Kathy's supposed antics after Kyle chose to forgive her and move forward.
"I agree," Camille shared.
Also on Twitter, after a fan shared a clip from the RHOBH episode in which Lisa suggested she'd "get sick and get cancer" if she didn't share her alleged truth about Kathy and asked Camille how she felt about the "disgusting" comment, Camille slammed her former castmate as "pathetic."
"I'm curious [Camille Grammer] how you feel after seeing Lisa use cancer like this to excuse her poor [behavior] when you've lived through it? Disgusting," the fan tweeted.
"I had cancer so I thought this was in poor taste. Pathetic," she replied.
The Real Housewives of Beverly Hills season 12 reunion begins next Wednesday, October 12, at 8/7c on Bravo.