Kathy Hilton recently "liked" a shocking Instagram message about her sister, Kyle Richards.
After suffering a major falling out with Kyle over claims Lisa Rinna made about her meltdown in Aspen, including the insinuation that Kathy was determined to "destroy" Kyle and her family, the Real Housewives of Beverly Hills cast member "liked" a message accusing Kyle of being behind the setup.
Blonde Hair Black Heart on Twitter shared the "liked" post with their fans and followers on October 25.
"To those saying, 'Why would Kyle let Rinna do this,' understand one thing: She has not 'let' them do it, she is behind them doing it," the message declared. "It's how she has operated all along and people still aren't seeing it. Rinna attempts to destroy her acquaintances; Kyle does the same thing to her own family and friends."
The message went on to shame Kyle for laughing at Erika Jayne's poor treatment of Garcelle Beauvais' son, Jax Nilon, and for "destroying" her other sister, Kim Richards.
"She will do anything for money and social status – whether it's laughing at a 14 year old Black boy getting verbally abused and cheering it on with her husband, or destroying her sister Kim at her most vulnerable. There is nothing too low for Kyle Richards," the statement concluded.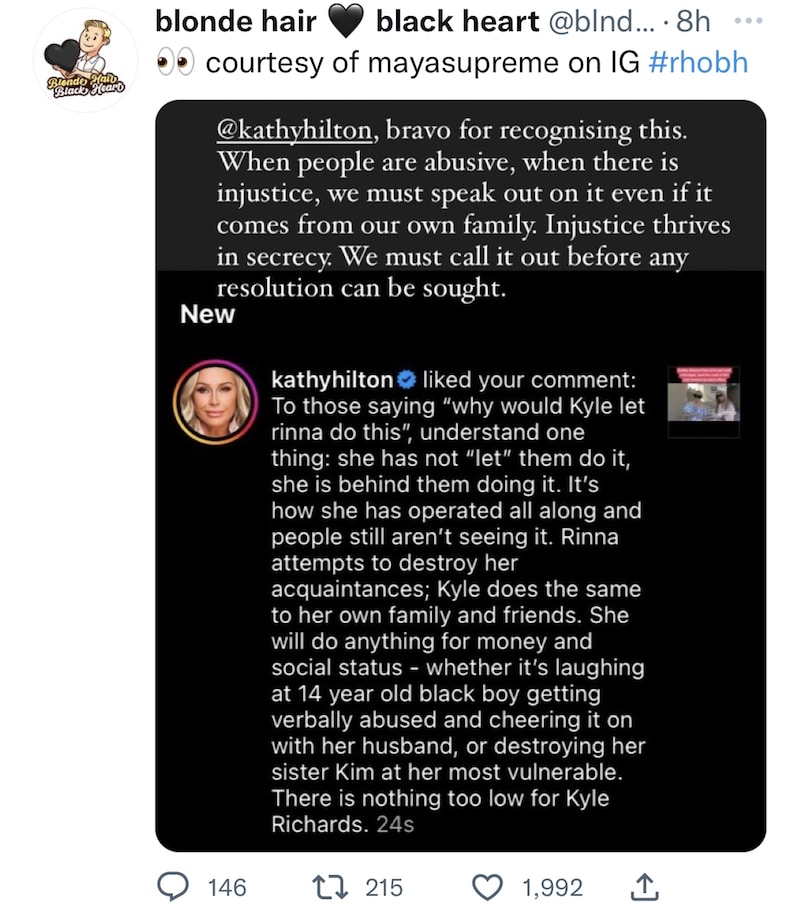 Also on Instagram, Kathy responded to Sutton Stracke deeming herself "pro-Kathy Hilton" on the KTLA 5 Morning News earlier this week.
"I feel really badly for what's happened to her in the press and, kind of what I think might be insinuations about her character. I think they're wrong, " Sutton had explained on the show. "It makes me feel sorry for what's going on."
Sutton also reacted to Kathy saying she would not return to RHOBH if Lisa and Erika Jayne were brought back for season 13.
"I don't think any of us have any jurisdiction over who returns and who doesn't so I stay out of that part," Sutton clarified. "We kind of have to work our differences out. That's one of the points of the show."
And after coming across a clip of the interview, which featured a message about the "truth" coming out on part three of the RHOBH reunion, Kathy reshared the post on her Instagram Story.
RHOBH Live Viewing – This is also the live viewing thread for tonight's new episode of The Real Housewives of Beverly Hills season 12 reunion, part three, which airs at 8/7c on Bravo. As the episode airs, feel free to share your thoughts below.