Jen Shah took to her Instagram Story amid Wednesday's new episode of The Real Housewives of Salt Lake City to defend herself against claims suggesting it was she who gave castmate Heather Gay a black eye amid their girls' trip to San Diego.
As Heather played coy in regard to where the injury came from, Jen shared a series of posts from her fans, one of whom pointed out that if Jen were involved in Heather's black eye, she would've been caught on camera as she entered and left Heather's room.
"They had [cameras] where you enter and leave where Heather was staying…y'all don't think Jen would've been caught coming back in or leaving out. Lmao. Whew. Y'all hate Jen so bad y'all not paying attention," one fan, called Shah Squad, reasoned on Twitter on December 21.
"THAT PART! When you hate someone so much you just run with any narrative. Yikes can't relate," another fan page, titled Jen Shah Squad, replied.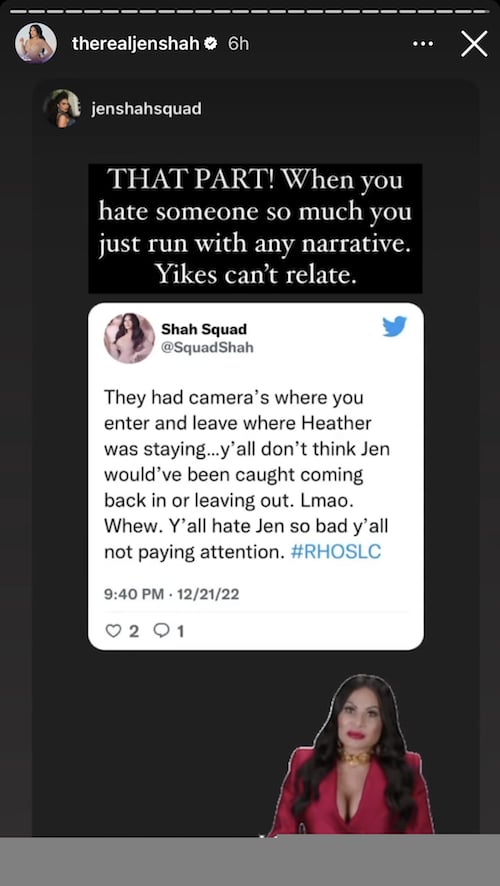 Shah Squad also shared an additional tweet regarding the potential footage of the mysterious incident.
"I know this season has become 'Blame Jen…she's already admitted to being guilty of something,' but this 'Jen hit Heather' narrative is crazy," they wrote. "If it were true you don't think Bravo would've found a way to show the actual incident, or aftermath of it?! Think y'all!!"
Another person noted that when it came to the latest episode of RHOSLC season three, "this group of housewives have been masterminds at creating narratives solely for TV."
Jen also reshared a series of messages from another fan, who suggested that Heather's black eye was likely sustained due to her drunken behavior on the cast trip.
"Okay, hear me out: [Jen Shah] did not assault [Heather Gay]. [Whitney Rose] did not assault Heather Gay. No cast member assaulted Heather. These women were legit having a wild and fun night together, and if anyone has been blackout drunk, one thing we can all agree on is having regrets and some blurry memories of the previous night. Do I believe [Heather Gay] knows what happens? Absolutely. But guess what… respect her privacy to tell it when she feels comfortable," they explained.
"I mean, are we all conveniently forgetting these women have children and some things are just embarrassing to talk about. Like, the theories about [Jen Shah] and [Whitney Rose] are outrageous," they added.
The Real Housewives of Salt Lake City season three airs Wednesdays at 8/7c on Bravo.