Melissa Gorga and her husband, Joe Gorga, claimed on the premiere episode of The Real Housewives of New Jersey season 13 that Teresa Giudice ignored a post-reunion text message Melissa sent her in an effort to make amends. But apparently, there's much more to the story.
Following Tuesday's episode, in which Melissa also accused Teresa of inviting her to her 50th birthday after ignoring her text message for several weeks, leaked text messages prove the sisters-in-law had plenty of interaction with one another after the season 12 reunion was taped on March 31 and before the premiere episode was shot in May.
"Melissa Gorga exposed after lying on the season 13 premiere of RHONJ," All About the Real Housewives wrote in the caption of a series of screenshots shared to their Instagram page on February 7.
"Melissa and Joe Gorga state they haven't heard from Teresa Giudice since [March 31] when Melissa texted Teresa after filming the [RHONJ season 12 reunion]. We are now exclusively releasing text messages between Melissa Gorga [and] Teresa Giudice that are not edited/or cropped like the ones shown on the premiere," the outlet continued. "These text messages have the full context between Melissa Gorga [and] Teresa Giudice conversation from [March 31 to mid-May] where they have multiple conversations."
Although one of Melissa's cropped texts to Teresa was shared on the episode, which featured Melissa saying, "Teresa, I texted you driving home from the reunion and you never answered back until now," Melissa actually said much more that wasn't shown.
"It seems a little calculated to me that you actually have to watch the reunion and read comments to make yourself feel like you wanna fix the family again for the one hundredth time," Melissa also said in the May 4 text. "I feel like this text is about you and not really about us. Especially when we're just about to go into filming again in two weeks. After all these years I've finally found a way to accept the way our relationship is. For our children I don't wanna argue with you, let's just leave it as is and be what we are."
But before Melissa shot down Teresa's birthday invite, Teresa responded to her post-reunion text with what appeared to be an Easter message weeks later that feature a couple of butts painted like colored eggs. Then, nearly two weeks after that, Teresa asked Melissa for her address after Melissa texted her that she was unable to call her.
In another text message, Melissa explained why she would not be attending something Teresa had invited her to.
Hours later, Teresa offered an olive branch to Melissa.
"After watching the reunion I do feel and know that our families have gone backwards. I want us to be a better example for our children, starting with myself. I love you and I just want things to be better. Are you free for lunch next week?" she asked.
In response to Teresa's suggestion that they go to lunch, however, Melissa wasn't on board.
"We are family and we should always respect that. No need to go to lunch. You drew the line in the sand with the wedding. You've said multiple times on interviews that we will never be friends. I agree with you. We will always be family and I will always with you nothing but the best," she wrote.
"I am sorry I did not respond to you that night we had a very very long day and I was totally exhausted and not feeling so good especially after surgery," Teresa replied. "Thank you so much for what you said it was so heartfelt and genuine. We are family and we can do better starting with me. I am so sorry about the wedding I feel terrible that I hurt you from the bottom of my heart. Let's talk it would mean the world to me."
"Teresa all good, I am fine with it, I told you that," Melissa sent back.
In other leaked messages, Melissa again turned down an invitation from Teresa before exchanging a series of pleasantries in the days that followed.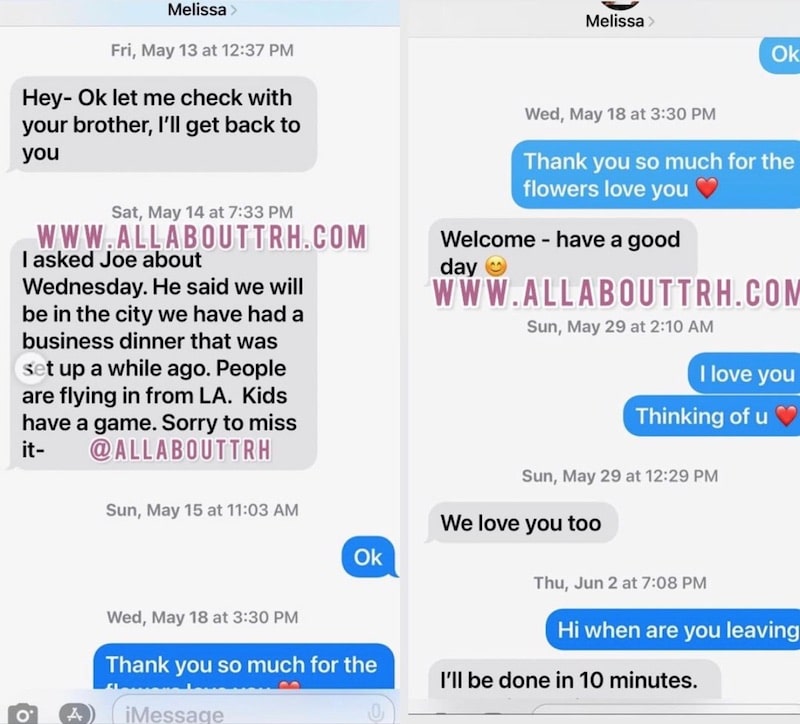 The Real Housewives of New Jersey season 13 airs Tuesdays at 9/8c on Bravo.