In today's bizarro news, Ashley Perkins, a 29-yr-old realtor who accused Southern Charm star Thomas Ravenel of sexually assaulting her mother following a Tinder date, is now defending him against the rape allegations being leveled against him by his former nanny.
As we reported, Thomas, 56, was arrested last Tuesday in South Carolina and charged with assault and battery in the second degree after his former nanny, Dawn, went to the police to report an alleged sexual assault that occurred in January 2015.
Following Thomas's arrest and release from jail, Dawn spoke out stating that while she was happy Thomas had been arrested, she wished he would have been charged with rape, which is what she alleges occured.
One would think that Ashley, whose story inspired Dawn to go to cops in May, would have been happy that he was finally being held accountable for what he allegedly did to Dawn, and her mother in December 2015. Ashley first came forward in April and stated that following the alleged assault against her mother, Thomas ended up paying her over $200,000 to settle that case. Back then, Ashley stated her mother was barred from publicly speaking due to the settlement terms but that she still wanted to expose Thomas for what he allegedly did. Ashley even shared photos of her mother's injuries, which she alleges came from Thomas.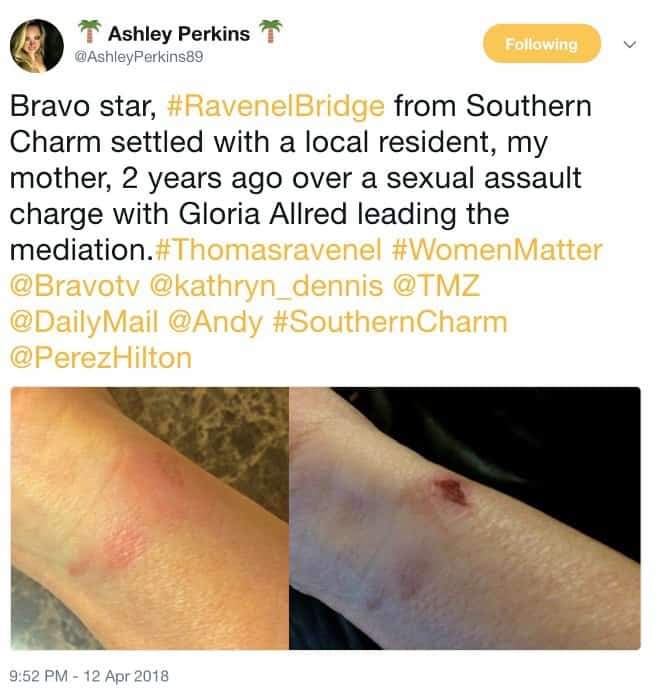 As we have reported, while Thomas has denied committing any sexual assault, he has never denied paying off Ashley's mother.
So, many found it rather odd that Ashley took to her Twitter page days after Thomas's arrest to defend him… the man she claims sexually assaulted her mom.
On September 27, Ashley tweeted, "Regarding the arrest of Thomas Ravenel I want to state that the alleged victim contacted me before she went to PD. We talked around 20 hrs. Her story to me regarding Thomas has no resemblance to the police report & her interviews w/media. I have informed the police & his attys."
Yes, you read that right. She is talking to cops to try to help exonerate a man who she insists sexually assaulted her mother.
Right away, many people on social media who supported Ashley when she first spoke out against Thomas were highly upset over what she was doing to Dawn, someone who they believe to be telling the truth.
In fact, many wondered, and perhaps rightfully so, if Thomas had paid off Ashley leading to this remarkable about-face.
"Makes no sense why you would be sticking up for the ma that attacked your mother, unless he gave you money. This is disgusting. Shame on you," wrote one person.
Another Twitter user wrote, "I'm sorry, I don't believe you. I don't know why you waited so long to tell anyone this other than the fact for some reason you want to make it even harder on Dawn. WHY? What's your agenda. Did he or did he not assault your mother? I think he did! You are so screwed up!!"
Following the major backlash, Ashley then took to her personal website to reveal her reasons for casting doubt on Dawn's story.
"I would never stand in the way of true justice and whether I dislike him or not, even Thomas Ravenel deserves justice," wrote Ashley. "When the detective questioned me after Dawn gave them my number, I had to answer them truthfully. The truth is that Dawn and I conversed around twenty hours and she told me her version of events at least ten times going into extreme detail each time. I believed Dawn and I encouraged her to go to the police. Following her interview with the police and her interview with People, I saw that her story was completely different than what she had been sharing with me over the course of weeks."
She continued, "At this point, I broke contact with Dawn as I no longer believed her story and I didn't want to be involved. I immediately contacted Erin Martin with "Pink Shade" and we talked on the phone about my concerns. I was very upset when I called her and I felt very betrayed by Dawn and needed advice from Erin. Erin knew back in May that I had serious doubts about Dawn's version of events. Shortly after my conversation with Erin, I was contacted by Detective Malinowski as Dawn had given him my number. Later that day last May, I saw the People magazine article and immediately called the Detective back and shared with him the inconsistencies."
She added, "I also spoke with Mr. Ravenel's attorneys within the same week where I also told them what Dawn had shared with me. These conversations with the police and the attorney took place last May 2018. This is not a recent event."
Ashley however denies she has been paid off by Thomas.
"As far as me or anyone in my family receiving a "pay out" from Thomas Ravenel, that is totally false and defamatory," insisted Ashley. "I have had no contact with Thomas Ravenel and I most certainly have received no money from anyone regarding this situation."
KATHRYN AND ASHLEY REACT TO THOMAS'S ARREST!
When it comes to the so called inconsistencies she claims Dawn told in her stories, Ashley is refusing to reveal what it is, simply stating she has spoken to police.
If Ashley did indeed speak to cops back in May to cast doubt on Dawn's claims, it would appear the cops believed Dawn's version hence their decision to arrest Thomas last week.
As for Dawn, she stated in a recent interview that she simply wants Thomas to be held accountable for his actions.
"[I'm] not the only victim impacted by Thomas' crime. Our families have suffered as well," said Dawn to PEOPLE. "I mentioned that a fortune such as his will never make me fortunate. He needs to be accountable for his actions and realize he is hurting people."
Photos Credit: InstarImages, Twitter
TELL US – WHAT DO YOU MAKE OF ASHLEY'S LATEST CLAIMS?