The Real Housewives of Potomac star Katie Rost is revealing the real reason she left the cast vacation in the Cayman Islands early, and she's calling out producers and costar Robyn Dixon as she accuses them of not being truthful with viewers about what really went down. Also below, see Robyn's fiery response.
Ever since announcing that she wasn't invited to the RHOP season four reunion, Katie, a "friend" on the show, has been quick to call things as she sees them. And after the RHOP season four finale aired, Katie took to Instagram to call out producers for not portraying her accurately when she left the Cayman Islands.
First, Katie shaded Robyn for being a bad host, explaining that she waited an entire day before Robyn even arrived.
"I don't know what host means cause Robyn couldn't host a five person dinner with her always declined Amex, so trust and believe I'm not sweating her deciding to not invite me on any more trips that she a) can't afford and b:) get to on time…" Katie wrote on September 9 on Instagram.
The Bravo star then went on to explain that a doctor from the island came to her hotel room after she had complained she wasn't feeling right. She received antibiotics, but she decided to go back home as she still felt "very sick."
After Katie fled the island, she learned she was actually pregnant. Unbeknownst to Katie, she would eventually miscarry amid a tumultuous break-up just months later. During Sunday's episode, Robyn made references to Katie not giving her and her costars a proper explanation for her early departure. But according to Katie, she did inform the ladies about her pregnancy being to blame for her abrupt exit.
"I told Robyn, Gizelle [Braynt] and all of production I was pregnant two days before Karen [Huger]'s La Dame party. I told Ashley [Darby] the night of. I lost the baby a few months later #RHOP #YouAlreadyKnow #editinginvolvesintegrity," Katie's post revealed.
In the caption of her post, Katie slammed producers and accused them of editing footage to purposefully leave out the fact that she was pregnant at the time and was leaving because she wasn't feeling well.
"I don't like liars or a–holes or people who treat their employees like s–t, editing out that I left Grand Cayman because I was pregnant…Wow," she wrote.
Katie continued to attack producers for allegedly trumping up assault charges on Ashley's husband Michael Darby, who had been accused of grabbing the rear end of one of the show's cameramen.
"This production company has such a bad reputation," Katie continued. "They trumped up and then dropped sexual assault charges against one's husband and a week later, it's all good?!" Katie continued.
Katie went on in a comment on one of her Instagram posts explaining that she was saddened by the fact that she was "integral in creating something and those people treat you like sh*t." The reality star also claimed that her mother spoke with Bravo's Andy Cohen and wrote, "he knows a bit of what's going on."
While neither producers nor Andy responded to these accusations directly, Potomac housewife Robyn did.
Responding to a post on a Real Housewives Instagram fan page that shared Katie's comments, Robyn wrote: " I don't know how I got blamed for editing but maybe she should thank me for not showing the pregnant lady downing champagne at Karen's party."
In the comments, a follower replied to "rise above the ignorance," to which Robyn wrote back, "You're absolutely right. I was just minding my business and was taken aback to see her dragging me and spreading lies about me for no reason."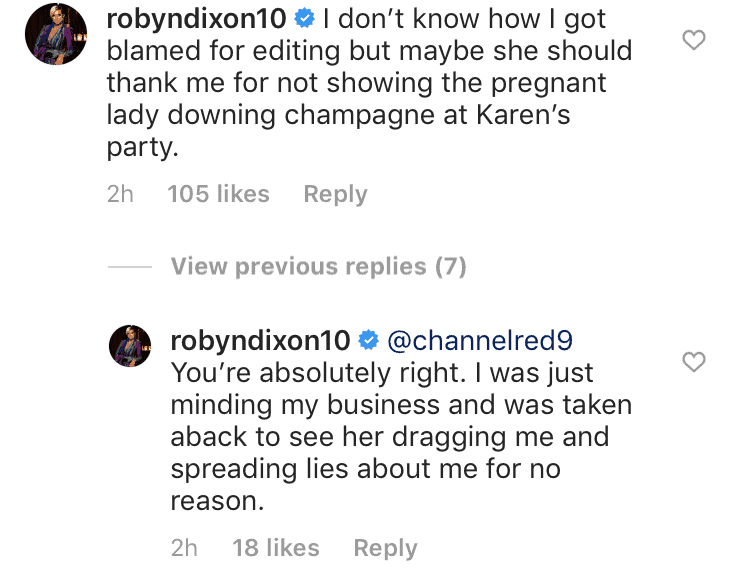 This isn't the first time Katie took to social media to defend herself against Bravo producers and cast members. Just last month, the Bravo star posted on Instagram about how sad she felt about not being asked to the season four reunion taping.
Watch The Real Housewives of Potomac reunion this Sunday, September 15 at 8 p.m.