Teddi Mellencamp faced criticism online after walking the runway at Kyle Richards' fashion show at 15-weeks pregnant and was admittedly impacted by the mean comments.
After seeing what her critics were saying, the Real Housewives of Beverly Hills star opened up to her fans and followers in an emotional Instagram post and was quickly met with tons of support from her husband, Edwin Arroyave, and a number of her fellow Bravolebrities.
"Last weekend I had the opportunity to walk in a fashion show during NYFW. Now, I am no model— I can barely walk down the street properly— but I walked out there feeling good and excited to support my friend," Teddi wrote. "That quickly shifted when I was hit with the barrage of memes and insta comments throwing negativity at me and my walk. I can definitely make fun of myself and am in on most jokes but sometimes it just gets to be too much. So I had a big ole cry and felt truly embarrassed— until I remembered this [Brene Brown] quote: 'If you aren't in the arena getting your a** kicked, I'm not interested in your feedback.'"
"And you know what," Teddi continued, "I am so damn proud of myself for having the courage to step out of my comfort zone, especially at 15-weeks pregnant in a flesh-colored bodysuit, and do my very best. We cannot control other's actions, we can only control our own. So now, I'm just gonna smile brighter and keep on strutting."
After Teddi's runway appearance was made public, Twitter reacted badly.
#Teddimellencamp was a disaster ⬇️ ???? #RHOBH ???? pic.twitter.com/TMMILjHPSF

— whatjusthappened❓???? (@Isitreality11) September 10, 2019
#rhobh #nyfw2019 pic.twitter.com/0HdDAu7oTy

— Face Reality (@FaceReality16) September 9, 2019
#teddimellencamp ⬇️ was the worst ???? #RHOBH ???? ???? pic.twitter.com/BkJHeX0iWB

— whatjusthappened❓???? (@Isitreality11) September 10, 2019
While many took aim at Teddi's walk, others applauded Teddi for her stunning appearance and told her that she not only looked beautiful, but also showed courage as she took to the catwalk to support her RHOBH co-star and friend.
"So hott!!" Teddi's husband, Edwin, wrote in the comments section of her post, adding that he "can't wait" to party with her.
"You look amazing and I am obsessed with Brene Brown. Live the life of your dreams and live it to the fullest. At the end of the day we only regret the chances we didn't take honey keep shining," added Stephanie Hollman of The Real Housewives of Dallas.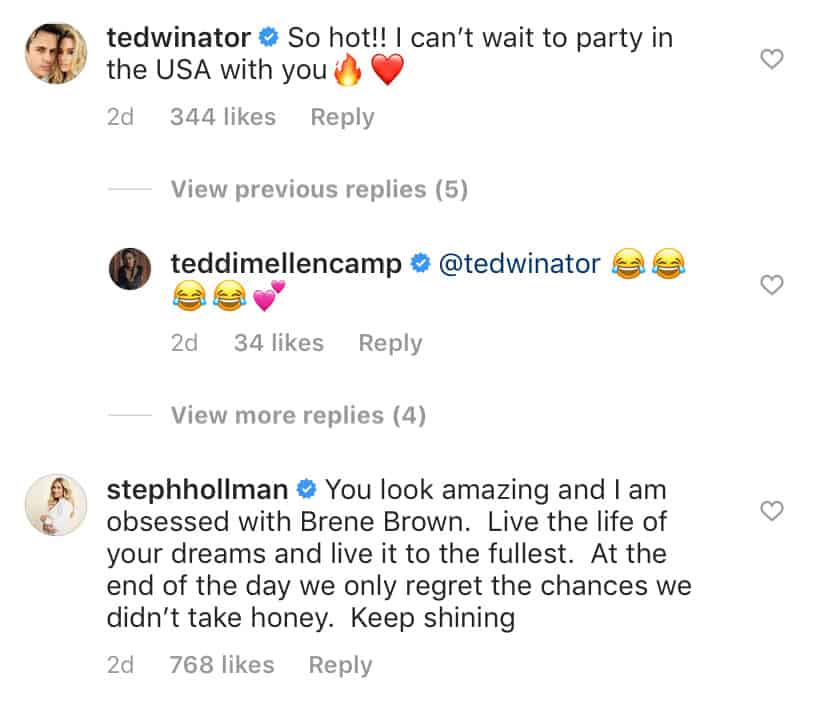 "That's horrible. People suck! Don't let the mean people in this world bring you down. Big Hugs," Tamra Judge of The Real Housewives of Orange County wrote in regard to the criticism.
"You look beautiful!" Kelly Dodd chimed in.
Teddi and her co-stars will return to Bravo TV sometime next year for The Real Housewives of Beverly Hills season 10.
Photo Credit: Michael Simon/startraksphoto.com