LeeAnne Locken is sick of being blamed for the re-release of a racially controversial video featuring Brandi Redmond.
Weeks after the video led to allegations of racism aimed at Brandi, the Real Housewives of Dallas star told fans on Instagram that she had "nothing" to do with the clip being shared, nor did she have any role in the making of the controversial post.
After sharing a photo of herself on the red carpet, LeeAnne was met with a fan who sparked a conversation about the old video of Brandi.
"She leaked an old video of her friend. Who does that!!!!" the fan fumed.
In response, LeeAnne shot down the idea, telling the woman, "I absolutely had NOTHING to do with that and I tired of getting blamed for a video I had no part in making!"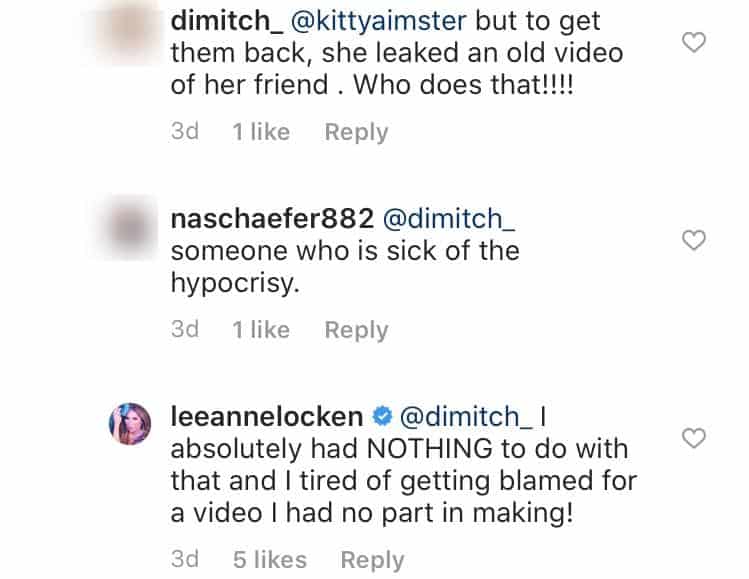 Although LeeAnne may have not leaked the video herself, her wedding planner, Steve Kemble, took responsibility for sharing the video online on January 18 when he responded to a story Reality Blurb did about Brandi seemingly blaming him and Kameron Westcott for the video getting out.
"She has no reason to call out Kam! I take FULL RESPONSIBILITY for posting the video calling out her HYPOCRISY!" tweeted Steve. "She needs to demand a FULL REFUND from that "Wellness Center" if all she got from it was to play the Victim Card!"
As RHOD fans may recall, Steve shared the clip of Brandi with his Twitter fans and followers on January 1 after LeeAnne faced months of accusations of racism, some of which came from Brandi, because of her comments about Kary Brittingham, who is Mexican.
https://twitter.com/WedPlannerSteve/status/1212570440104726528
During RHOD season four, LeeAnne mocked Kary for being "all Mexican and strong" and slammed her as a "chirpy Mexican."
Photos Credit: Charles Sykes/Bravo