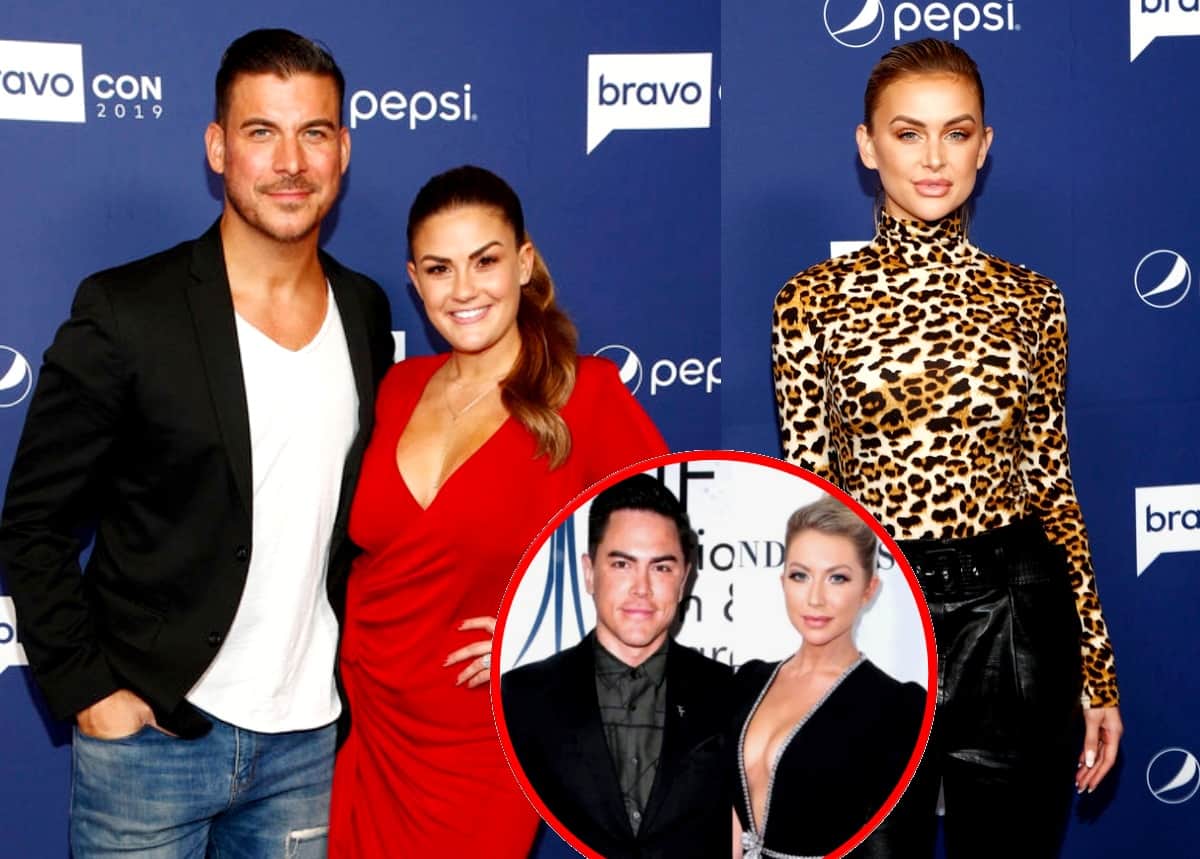 Jax Taylor and Brittany Cartwright recently appeared on Lala Kent and Randall Emmett's new podcast where they discussed the recent on-camera dispute between Tom Sandoval and Stassi Schroeder on Vanderpump Rules.
After Stassi called out Sandoval at TomTom over a rage text he sent on the night before her book launch, Jax and Brittany revealed their thoughts on the fight before sharing what fans didn't see as Lala slammed Tom for being jealous of Stassi's success.
"I think Stassi was in the right. She should be upset because she did absolutely nothing wrong. She asked to film there. She got approval from Lisa [and] she got approval from [Schwartz]," Brittany said on Give Them Lala… and Randall as Jax agreed that Stassi did nothing wrong. "Sandoval already texted her and then he showed up and [was] talking about her."
While Sandoval made a big deal about a potential lack of bartenders, Brittany revealed that there weren't many bartenders needed because they were only serving beer and wine.
"Let's make one thing clear that wasn't clear on the show, it was beer and wine. It was not mixed cocktails," she explained.
As for Sandoval's claims that Stassi's guests were his customers, Jax pointed out that TomTom wasn't even open at the time the event was held as Brittany confirmed it was a "daytime event."
Brittany then said that while Sandoval pointed out that Lisa Vanderpump wasn't in charge of making the schedules, Sandoval wasn't either. Instead, it was manager Max Boyens, who was added to the cast for season eight, who runs the show and assisted Stassi with the event.
"Bottom line is it wasn't about Tom Sandoval and he was pissed about it," Lala said.
"Who makes a scene like that?" Jax wondered.
"Someone who's jealous," Lala replied.
Last week, after being confronted on Instagram, Sandoval attempted to defend himself to a fan who slammed his "ridiculous and egotistical" behavior.
"There was so much more going on behind the scenes… wish we could fit it all in… my major stress and frustration was definitely misdirected," Sandoval wrote.
Also during the episode, Lala was confronted by a caller about rumors claiming she may be drinking again after she was spotted with a wine glass.
"Hell no she ain't drinking. If she ever looks like she's drinking alcohol, it's because she likes to look like she's in the act of taking a shot or cheers-ing with us," Brittany explained.
"I do," Lala agreed.
"I drink everything out of a wine glass. I don't know what I was drinking that day but it for damn sure wasn't alcohol," she continued.
Lala has been sober for a year and three months.
Photos Credit: Astrid Stawiarz/Bravo, Faye Sadou/Media Punch/INSTARimages.com, JOHN NACION/startraksphoto.com