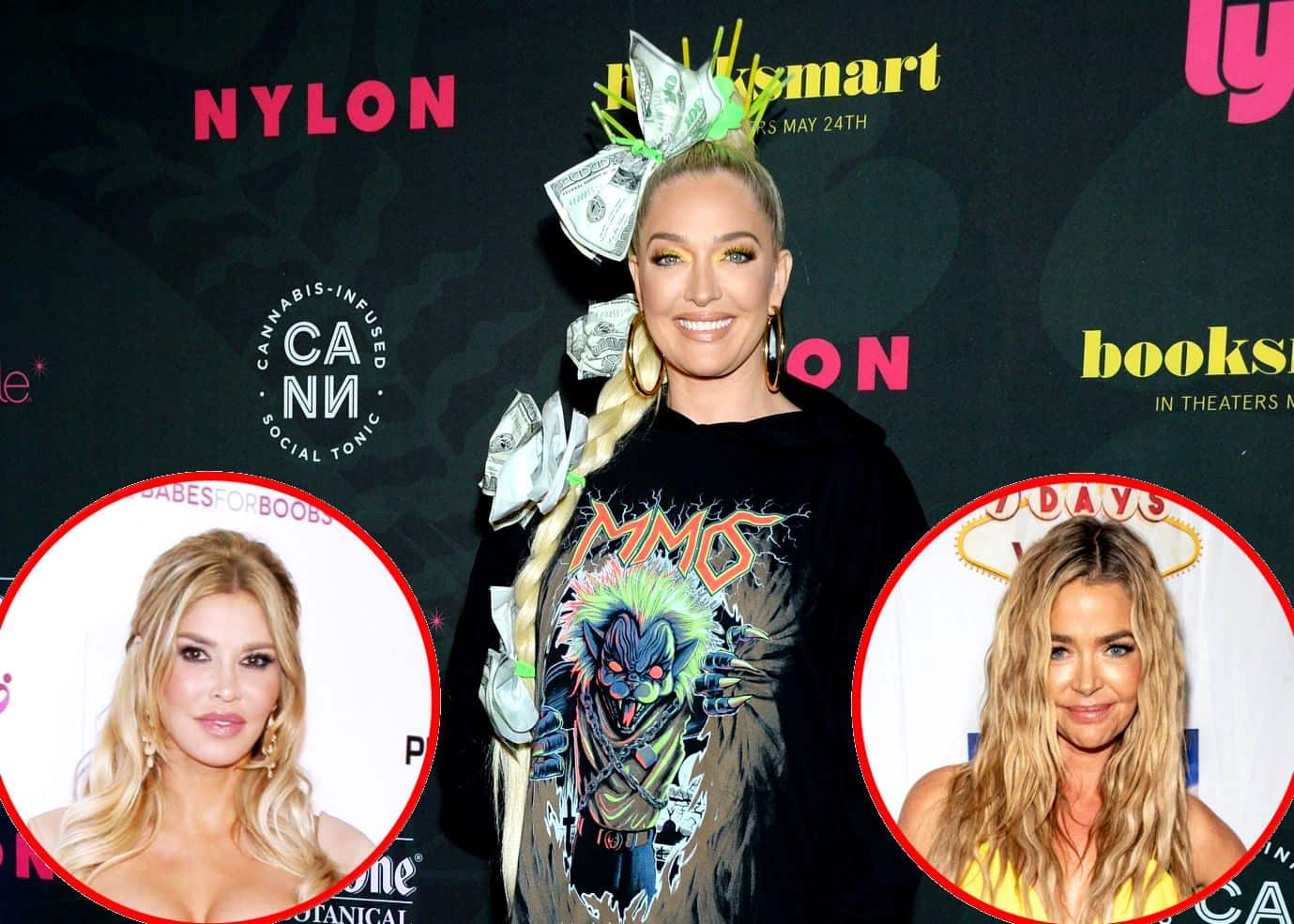 Erika Jayne just confirmed some major news regarding the ongoing drama between Brandi Glanville and Denise Richards.
Following reports claiming Brandi came forward with an alleged affair with Denise during production on The Real Housewives of Beverly Hills season 10, Erika revealed Brandi has "receipts" as she shaded Denise for sending a cease and desist to NBCU, Bravo's parent company, and compared the upcoming episodes to a "slow burn."
"I think it's going to be good," Erika told Entertainment Tonight on April 8. "I really think we have a great season. I think people criticize us sometimes for not moving fast enough. Beverly Hills is a slow burn but I just, I worry. I don't know if Denise… I don't know."
While Erika didn't finish her thought about her concerns for Denise, she told the outlet that there were "two sides to every story" when asked about the rumored hookups between Brandi and Denise before noting that and both women will have a chance to tell "their complete story."
Erika then said that the news of Brandi and Denise's alleged affair wasn't mentioned until fairly "late" in the season.
"There's a lot of friendship. There's a lot of fun. But there are some quarrels leading up to it, which makes the revelation that much more important," Erika teased. "It's a slow build and there are some hints that are dropped. I mean, looking back on them, I can see why some people were reacting to some things, not because they knew ahead, but it all makes sense now why it was so massive."
Although Denise has denied having an open marriage with husband Aaron Phypers and insisted their relationship is "solid," Erika claims Brandi has proof of the allegations she made against her.
"Brandi's part of the story is backed up by receipts," she shared.
As for her own thoughts about Denise, Erika said she doesn't have any ill feelings toward her co-star.
"I don't feel a certain way. I'm not really in it. I just think she's gotten herself into a strange place here," Erika explained.
"No one dislikes Denise. We actually had a lot of fun with Denise last season but this season is different," she continued. "Everybody in this group has had to repair and go on. If two people are willing to put things behind, yeah, you can go on and this will be in the past. It's really on her whether she wants to be part of the group or not."
As for the legal action Denise took amid the hookup reports, Erika said her apparent efforts to keep certain things off RHOBH are likely in vain.
"Sending a cease and desist to NBCU, that's like trying to break the house in Vegas. The house always wins," Erika noted. "Don't be stupid. Save your money. She should have called me and I would have told her."
The Real Housewives of Beverly Hills season 10 premieres on April 15 at 9 p.m. on Bravo.
Photos Credit: MEGA, Milla Cochran/startraksphoto.com, Eugene Powers/Shutterstock.com