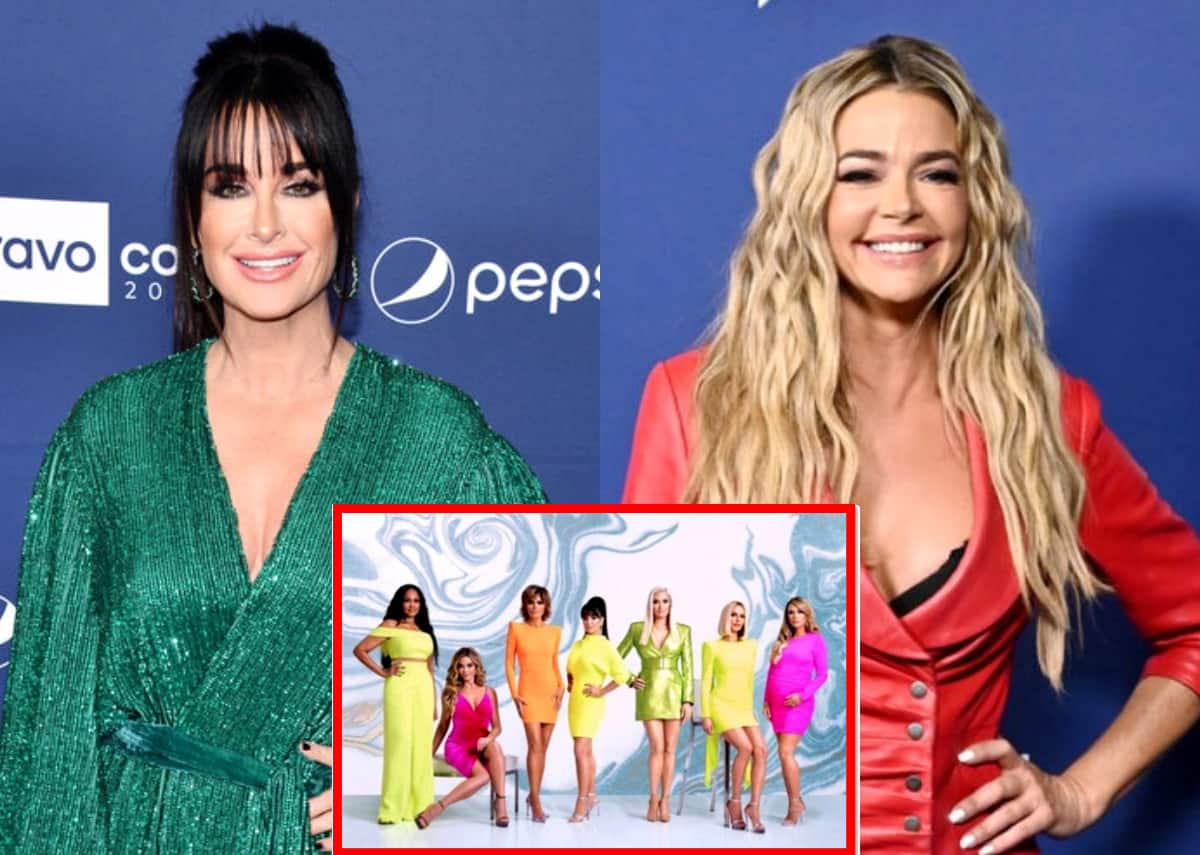 What was going through the minds of the Real Housewives of Beverly Hills cast when Brandi Glanville whipped out her phone and showed them her past text messages with Denise Richards at Teddi Mellencamp's baby shower?
Following the August 19 episode of the show, the ladies of the series explained what the conversations between Brandi and Denise proved with Teddi admitting that the "hundreds" of messages didn't come as a shock and Kyle Richards accusing their cast mate of failing to be "genuine and open" with viewers.
"When I sat in the room in Rome and Denise is looking me in the eye and she's telling me that none of this is true, it's so hard for me to say, 'Well how could someone make up this big story?' Only really do we find out at the baby shower that they had this year-long correspondence," Dorit Kemsley explained on the RHOBH: After Show.
According to Dorit, she initially believed Denise's denial of her alleged affair with Brandi because it was the only one she had heard, and because Denise had been so supportive towards her amid the Puppy Gate drama of season nine.
As for the rest of the cast, Erika Jayne said that Brandi's messages proved "there was a friendship between she and Denise" and a "history of communication" between them.
"[The messages] just confirmed that they have a relationship of some sort, which was always my point," Teddi shared. "What type of relationship they have is of no concern to me. There's hundreds and hundreds of text messages. So seeing the text messages really only just confirmed what I already knew."
The ladies then discussed the many positive things Denise said about Brandi and her friendship with her at BravoCon. As Erika pointed out, Denise called Brandi a "straight-shooter" at the event before claiming she "barely [knows]" her during their trip to Rome.
"You can see that they clearly were talking and that they had a friendship," Erika said.
"There was too many [text messages to read them all] but it definitely showed that they had known each other for a while and had a lot of correspondence, which was different to what Denise said in Rome," Dorit agreed.
As for Kyle, she said that while it is none of the RHOBH cast's business what kind of relationship Brandi and Denise actually had, she would have appreciated more honesty from Denise.
"They're communicating. So the denial of knowing her at all just made no sense," she explained. "We were getting this censored version of Denise, this presenting to you what she wants to see Denise. Instead of being genuine and open and being able to have an authentic friendship."
Meanwhile, Brandi teased the unveiling of more texts in a Tweet this week.
She wrote: "[There] are two years worth of texts so Just be patient they will all be shown."
Their are two years worth of texts so Just be patient they will all be shown

— Brandi Glanville (@BrandiGlanville) August 20, 2020
The Real Housewives of Beverly Hills season 10 finale airs next Tuesday, August 26, at 9 p.m. on Bravo.
Photos Credit: Charles Sykes/Bravo, Astrid Stawiarz/Bravo, John Tsiavis/Bravo