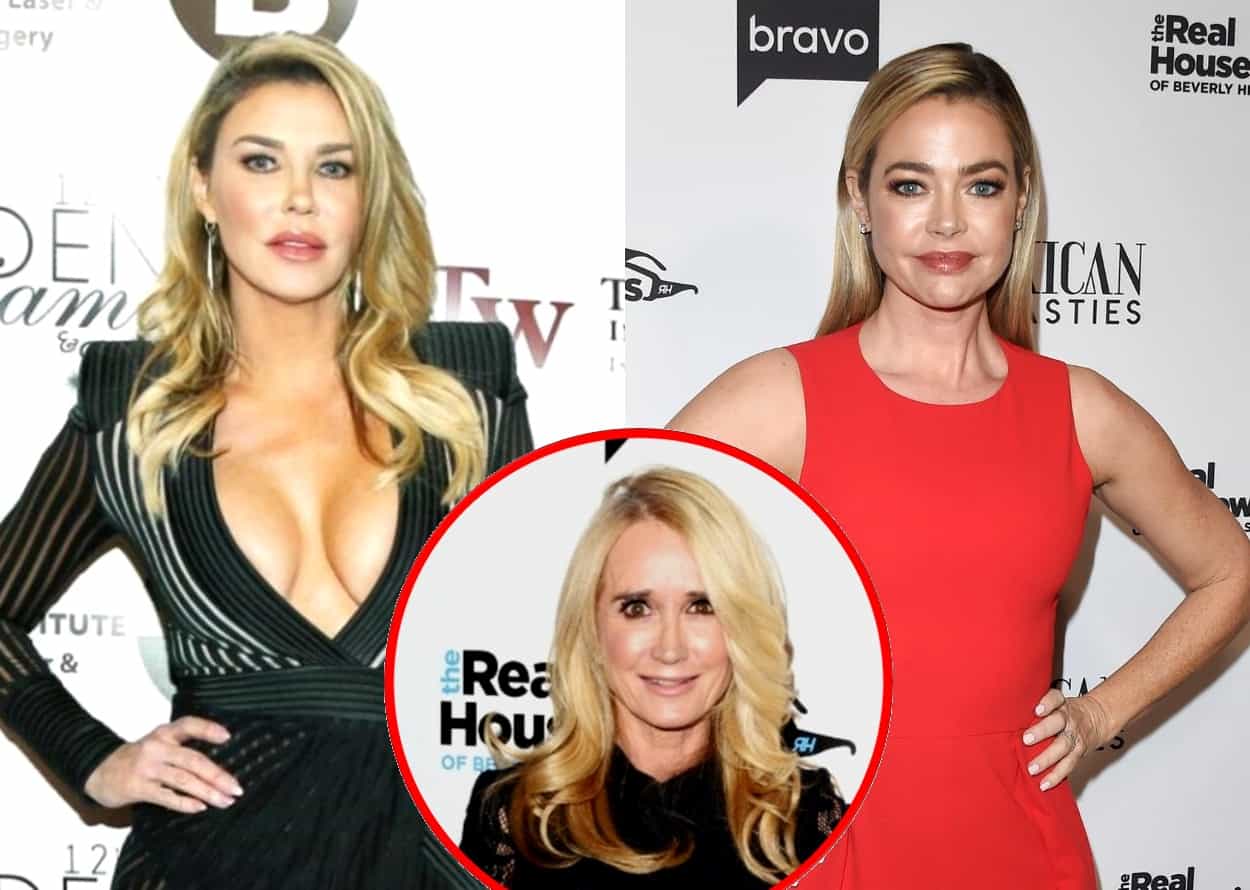 Brandi Glanville has just been hit with another legal warning from Denise Richards over an alleged audio recording.
Months after being dealt with a letter of cease and desist from Denise after going public with claims of an affair between the two of them on The Real Housewives of Beverly Hills, Brandi is claiming she is being threatened over an uncut episode of her podcast, as she accuses Denise of speaking mistruths at the reunion. She also shared some concerning news about Kim Richards.
"I am so sick of being unfiltered. It's f*cking exhausting, especially when you have a podcast and you're on reality television and that's what you are supposed to do and then people send you legal letters and f*cking non-stop bullsh*t, which I dealt with this morning," Brandi began on the September 4 episode of Brandi Glanville Unfiltered.
According to Brandi, her former agent, Alec Shankman, who currently represents Denise, recently contacted her manager and informed her that if she was to air the uncut version of the podcast episode she shot with Denise in 2019, there would be "major legal consequences."
"I kept recording because I didn't turn it off. It's not like I tried to record her and get her into saying all of these things we just did," Brandi explained.
While Brandi told her listeners that the episode would "set [her] free if [they] were to ever air it," she noted that the airing of the uncut episode is no longer up to her.
"Housewives has it. I don't have any intention of airing it, personally, but you might want to talk to Bravo, Denise," she told her co-star.
Brandi went on to point out that while Denise has denied her allegations of an affair and claims she has nothing to hide, she continues to hand out legal threats.
"She's threatening me with legal action if that audio comes out. So I'm confused. [Do] you have something to hide? If you have nothing to hide, why are you [sending] threatening letters?" Brandi wondered.
"Why would you just not say, 'Listen, we got f*cked up and we hooked up and Aaron doesn't care?'" she continued.
After tuning in to the first installment of the RHOBH reunion, Brandi was admittedly taken aback by Denise's antics.
"[Denise] talks in circles and she doesn't make sense and she forgets what she said earlier, [which] doesn't help her case and the other women are angry because of it. Like Lisa Rinna said, the coverup is worse than the crime," Brandi noted.
After taking aim at Denise for her supposed reunion lies, Brandi revealed she's impressed with the authenticity of her other co-stars, Erika Jayne, Lisa Rinna, Kyle Richards, and Teddi Mellencamp, all of whom had her back at one point or another during season 10.
"I actually really, really like Teddi. She's 100 percent who she is. She calls people out [and] that's what you're supposed to do," she explained. "I don't know that everyone else is super authentic and that's what bums me out. You don't go on to pretend you're someone you're not or rent all these fancy clothes so you can fit in and act like you have all this money. I would rather see someone in jeans and a T-shirt like Denise last season being 100 percent authentic."
Also during her podcast episode, Brandi claimed Kim has been missing for the past three weeks.
"Kim's not reachable right now. We don't know where Kim is. We've all lost Kim," Brandi shared. "This is the third week. I think she probably went to Aspen, fell in love, and is in a love bubble. That's my hope."
Photos Credit: Milla Cochran/startraksphoto.com, Vince Flores/Startraksphoto.com, Kathy Hutchins/Shutterstock.com