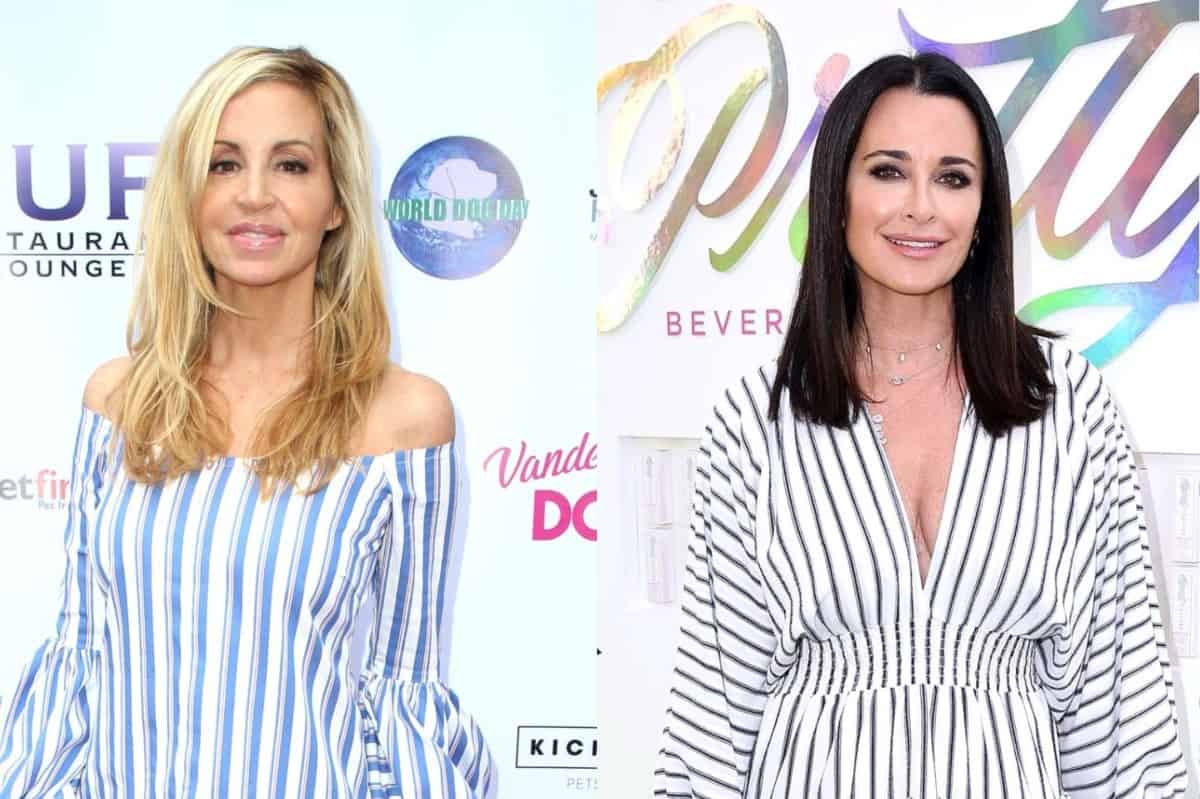 Camille Grammer claims she quit The Real Housewives of Beverly Hills in September 2019 after being asked to film scenes for season 10 with Kyle Richards and she has the "receipts" to prove it.
After sharing a couple of text messages she sent to producer Alex Baskin, Camille reacted to a fan who wanted to know why she returned to filming after telling him she "had enough" before throwing shade at Kyle for changing her tune about Brandi Glanville after her co-star went public with her alleged affair with Denise Richards.
"FYI I told Alex I was finished with the show," Camille tweeted to Kyle on September 16 after Kyle told her to "move on" from RHOBH and "get a life."
"They wanted me to film with you," she continued as she revealed her "receipts."
FYI I told Alex I was finished with the show. They wanted me to film with you. My receipts ????‍♀️ pic.twitter.com/aRPfYIQwt9

— Camille Meyer (@TheRealCamilleG) September 16, 2020
In her first message sent to her producer on September 12 of last year, Camille said that appearing on the show wasn't good for her health.
"No hard feelings but I had really had enough for now with the show," she wrote. "It was brutal for me last season combined with the loss of Scott and my home. I'm not that strong.. I spoke to my therapist about it. It's best for my health now to walk away completely. I don't need to film something with Kyle. It's the natural progression of the narrative that is out there.. no need to force anything. I thank you for the experience, the highs and lows.. mostly the good times."
Then, in a second message, she told Alex, "I thank you and Doug for the experience."
After sharing her texts, Camille was met with a fan who pointed out that she filmed with the RHOBH cast after sending Alex her messages.
"Didn't you film with [Kyle Richards] and Denise after this timestamp? Including Kyle's charity event?" the fan asked, noting Kyle's November 2019 bash.
"Like I said they kept calling, texting to get me to film with Kyle not the other way around," Camille replied.
In a second tweet, Camille seemingly agreed that Kyle has been in control of storylines in recent years.
"Pretty sure saying Kyle has manipulated every season – isn't an unpopular opinion to me hahahahaha," a fan shared, prompting Camille to reply with a series of clapping hands emoji.
Also on Twitter, Camille responded to a fan who called out Kyle for flip-flopping her opinion on Brandi.
"Kyle why dont you just answer the question, you said Brandi puts out lies and now Brandi never lies. Which one is it?" the fan asked.
"Cricket," Camille wrote.
Because Kyle has had so many issues with Brandi in the past, many were taken aback when she suddenly sided with Brandi in terms of her allegations against Denise.
The Real Housewives of Beverly Hills' Secrets Revealed episode airs next Wednesday, September 23, at 9 p.m. on Bravo.
Photos Credit: MediaPunch Inc/Alamy Stock Photo, Michael Simon/Startraksphotos