Stassi Schroeder's mom, Dayna Schroeder, is engaged.
Just under two weeks after the Vanderpump Rules cast member welcomed her first child with husband Beau Clark, Stassi has even more to celebrate as her mother prepares to marry her very first boyfriend from junior high, Eric Wyland.
"I said yes…." Dayna confirmed in an Instagram Story on January 19, which included a photo of her diamond ring.
Then, in the Stories that followed, Dayna confirmed she would be spending "forever" with her "very [first] boyfriend from junior high."
In a couple of throwback photos of Dayna and Eric, the couple can be seen enjoying time with one another decades ago.
In Dayna's first photo, she was seen with a jersey-style sweater as Eric was sporting a plaid button-down.
In Dayna's second image, she was seen sitting on Eric's lap in a blue dress with her hair curled.
"Ohhh good God look at us," she wrote in the photo's caption, along with a couple of rolling on the floor laughing emoji.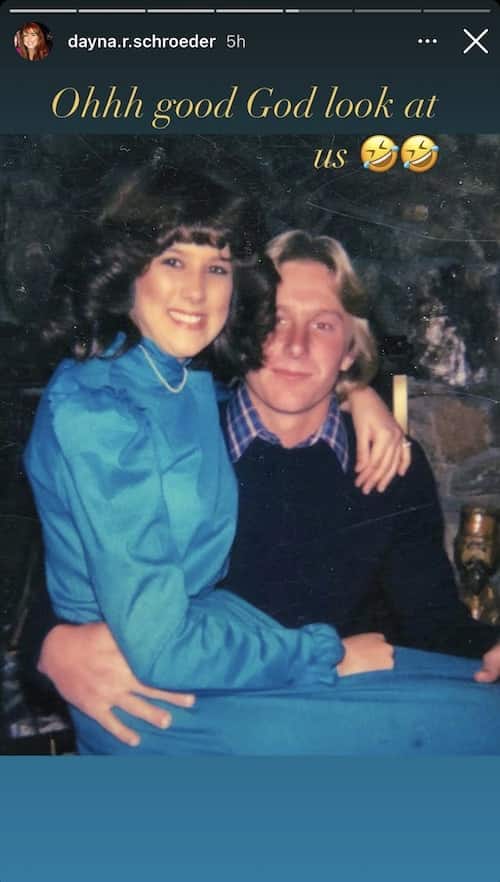 As fans of Pump Rules well know, Dayna has been featured on the series from time to time in recent years, and during what was perhaps her most memorable appearance, she "playfully" grabbed Beau's backside and took aim at the challenges Stassi has faced in her love life.
"You know, it was awkward, but it wasn't a big deal," he explained to The Daily Dish after their encounter.
At one point during the appearance, Dayna told Stassi that she was "down here" and Beau is "up there."
"It just made me feel really sad for Stassi because from that I'm like, 'Oh, well, maybe that's why you feel so insecure about things because your mom puts you down,'" Beau recalled. "So, just stuff like that popped into my head. It's just sad, and I feel bad for Stassi."
Following the episode, Stassi and Beau were estranged from Dayna for several months before reconciling ahead of the season seven reunion.