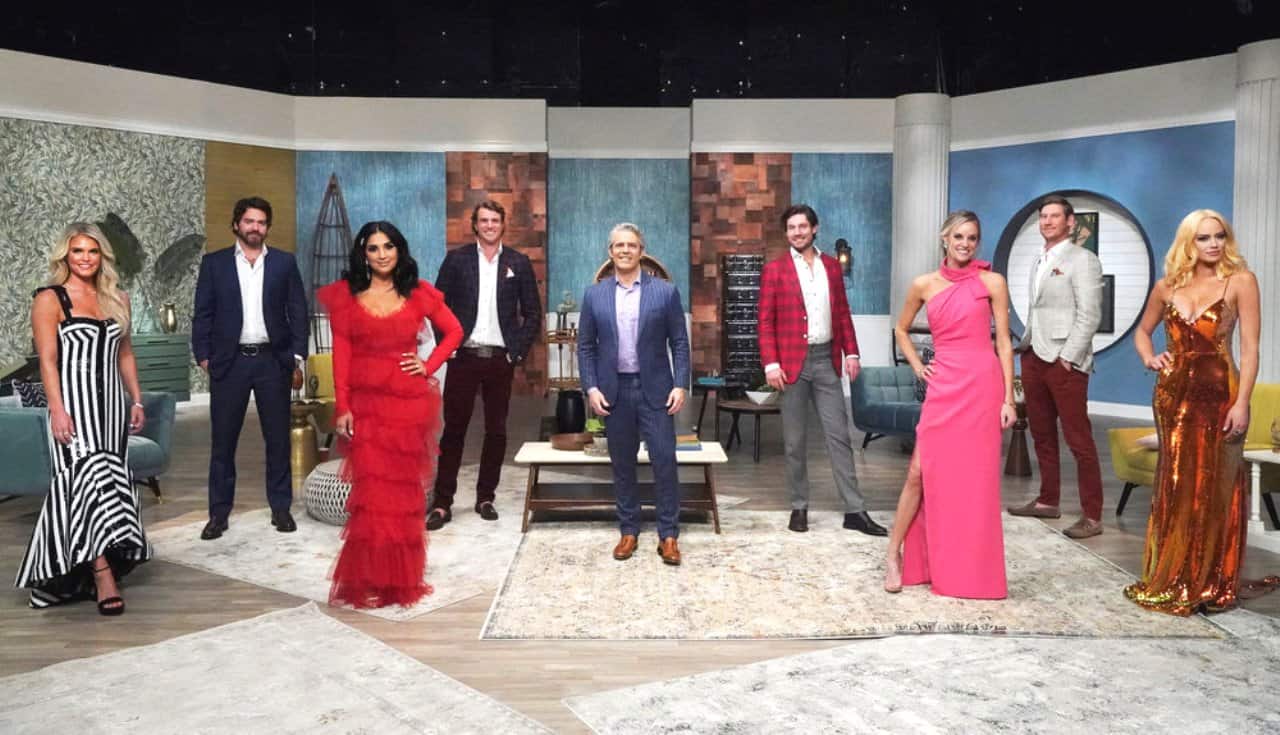 The season seven Southern Charm trailer has dropped!
It wouldn't be a Southern Charm reunion without Kathryn Dennis in the hot seat, and that's right where she finds herself again. In the first look at the cast sit-down, Kathryn is seen getting dressed as her boyfriend, Chleb Ravenell, walks in. This is the first time Chleb has appeared on camera.
"I'm really glad you came," she says to him while they share several kisses.
Once the cast takes their place on the stage, one of the first questions host Andy Cohen must ask is whether or not Kathryn is pregnant, and that's exactly what he does.
Austen Kroll looks completely shocked by the question and blurts out, "What?" Craig Conover also covers his face and doubles over in disbelief in the trailer shared by People.
Of course, fans aren't going to get the answer to that question just yet after Kathryn was seen taking a pregnancy test in the final moments of the January 21 finale.
Andy then asks Leva Bonaparte, 41, where her relationship stands with her longtime friend and former cast member, Cameran Eubanks.
"I haven't really heard from her," she reveals. There's no bad blood!"
"It doesn't sound good," Andy responds.
The footage then cuts to Craig admitting that he will not stop until "Madison is crying." As fans know, Craig is not the biggest fan of Madison LeCroy after her recent comments about his girlfriend, Natalie Hegnauer, and the way in which Madison treats Austen.
Craig yells, "You're a homewrecker! She's trash and I hate being on the same stage as her!" as Andy is seen trying to calm him down.
"You're just mad he f*cked your girlfriend," Madison fires back.
As the reunion moves along, Madison seems to have taken a page out of Real Housewives of Potomac's Monique Samuels' binder because she's seen walking over to Andy and revealing that she prepared "a folder" on every single cast member.
Craig must have woken up on the wrong side of the bed on the day of the taping because out of nowhere he begins attacking John Pringle for his parenting choices. As fans well know, Pringle returned to Charleston after he and his wife filed for divorce, and although his two sons, Quinn and Asher, visit him often, they live with their mom, Heidi Pringle, in California.
Craig unexpectedly asks, "You talk about how much you miss your kids, so why the f*ck did you leave?"
"Come at me about my kids and I will wake the f*ck up," Pringle sternly explains.
Then, the time comes for Kathryn to face the heat about her racially charged comments. She doesn't seem to want to address the issue, though, as she yells.
"You've had fun with this whole [situation]," Kathryn claims.
"I've had fun?" Leva asks with frustration. "Do you know how many death threats I get on the internet every day?"
Kathryn then responds with a strange sound and says, "You haven't seen this b*tch in a while. I'm back, okay!"
Part one of the two-part season seven Southern Charm reunion is set to air Thursday, January 28, on Bravo at 9/8c.