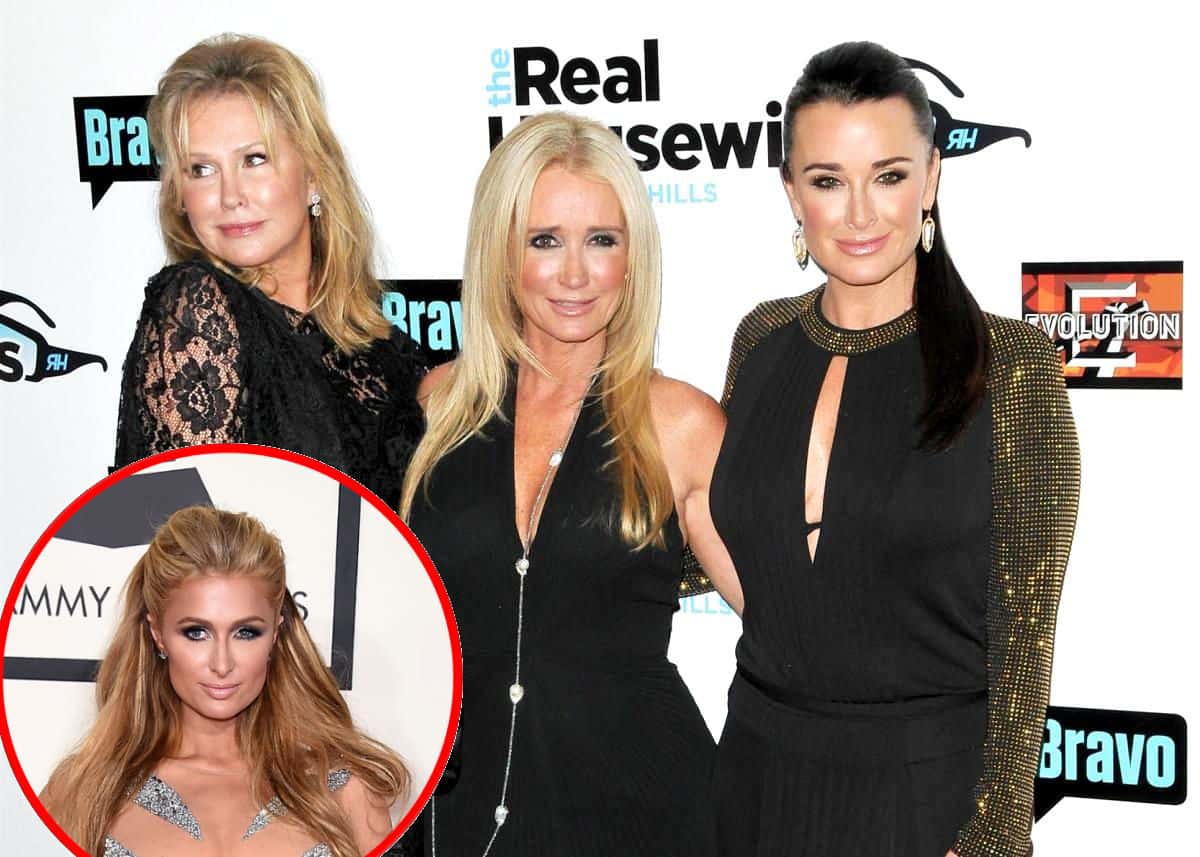 Kyle Richards' niece Paris Hilton recently weighed in on the news of her mom Kathy Hilton's part-time role on the Real Housewives of Beverly Hills season 11 in a recently-released teaser clip for her new podcast, This is Paris.
"I don't know what to think," Paris admitted. "My mom is so hilarious and so beautiful and so much fun. But I haven't watched that show actually in a while. I used to watch it in the beginning. But then it's so much drama."
According to Paris, she stopped watching the show because she didn't want to witness the many feuds that took place between Kyle and Kim Richards.
"It's hard because both of my aunts are on the show and they would have these fights and arguments and when you're watching your family do that, it's kind of just weird to watch," she explained.
"I hope that my mom doesn't get into arguments with people because I feel like those type of shows feed off of that and they want everyone to fight and they love the drama and I just don't want my mom having to argue with people on national television," Paris continued. "I'm hoping she doesn't get dragged into the drama."
Despite the family drama that's been seen on the show, Paris said she will "definitely" be watching the series' upcoming season now that her mom is on it.
"It's my mom so I'm going to tune in and see what's happening," she confirmed. "I know that she'll be entertaining."
In other RHOBH news, Kyle recently said goodbye to one of her beloved pets.
In an emotional Instagram tribute shared on Tuesday, the RHOBH cast member confirmed the tragic loss of her Yorkie, Khloe, and looked back on the special moments they shared over the past several years.
"I have not been able to put into words the pain I feel after losing Khloe. My dogs are my other children and it hurts so much to think that she is gone. Why can't we live forever?" she wrote on February 16, along with a slideshow of photos of the pup. "It's a reminder that none of us are here forever and we have to appreciate every moment that we have."
Years ago, when Kyle first got Khloe, she would tote her around in a baby carrier on her chest.
"I think that's when we decided maybe we should have another baby," Kyle recalled. "She slept with me [and] on my stomach when I was pregnant with Portia. She slept by my kids …loving [and] protecting them. Littlest dog with the biggest attitude. I will be forever grateful for the 16 years we had with her."
And finally, Paris, 40, has just announced her engagement today as the business mogul become engaged to her venture capitalist boyfriend of just over one year, Carter Reum.
The Real Housewives of Beverly Hills season 11 is expected to begin airing on Bravo sometime this spring.
Photos Credit: Tony DiMaio/startraksphoto, DFree/Shutterstock