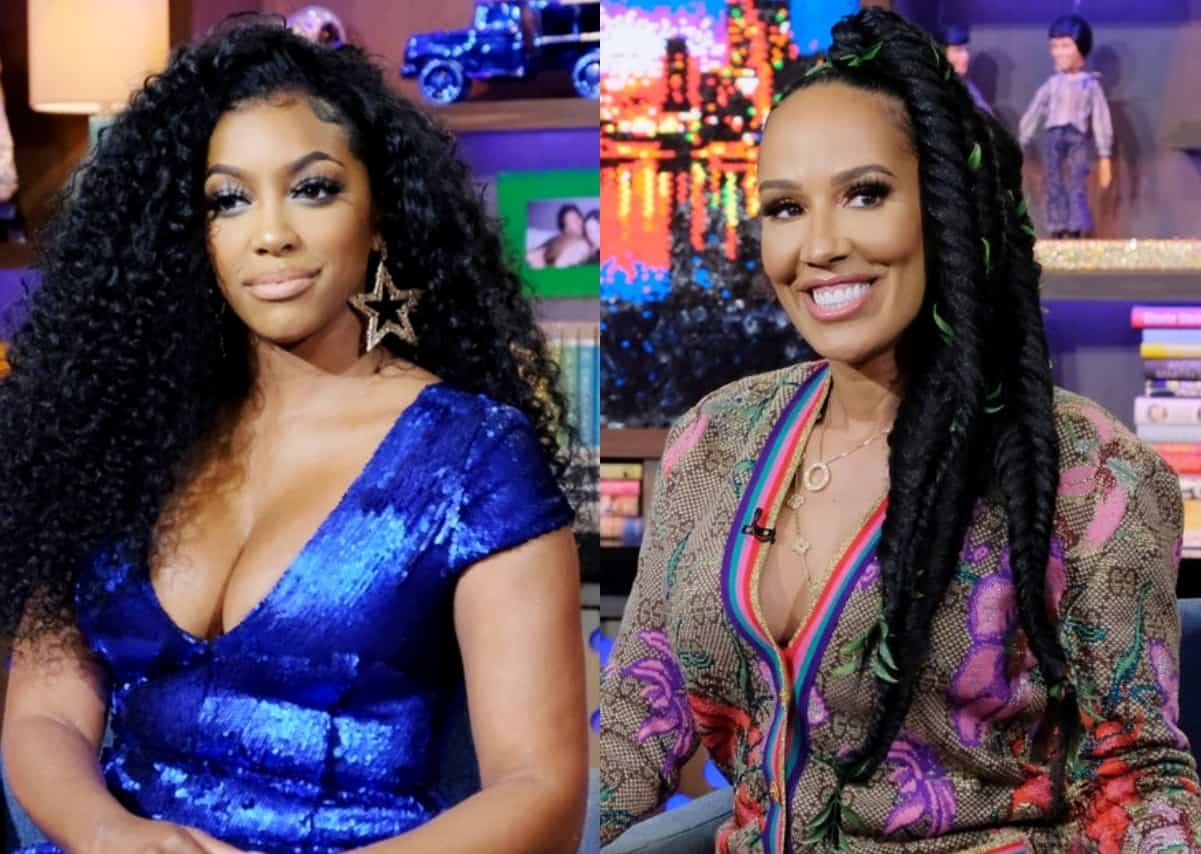 Porsha Williams offers an update on her friendship with Tanya Sam, dishes on co-parenting with Dennis McKinley, and shares a cryptic post about her time on The Real Housewives of Atlanta.
After Tanya joined the show in season 11 as a friend of former star Nene Leakes, she and Porsha developed a close friendship and the pair began spending a great deal of time together even off-camera. However, Tanya seemingly went MIA following the season 13 cast trip to Charleston, South Carolina, where the women celebrated Cynthia Bailey's bachelorette party.
As RHOA fans know, Porsha has been accused of hooking up with the male stripper, Bolo, once the party ended, and Tanya revealed to the ladies that she also spent the night in Porsha's room on the night in question. Therefore, the ladies — especially Kenya Moore — began to suggest that Porsha and Tanya participated in a threesome with Bolo. They both have denied the alleged rendezvous, but Tanya took it a step further and immediately quit filming once the news began to make headlines.
During a recent Watch What Happens Live appearance, Porsha was asked if she still keeps in touch with Tanya.
"Yeah, I just spoke to her the other day. She was doing a project with Da Brat, and we're supposed to be getting together," she told host Andy Cohen per Bravo TV. "She's busy. She has a lot of different things and shows that she's doing right now."
Though the pair are obviously still on speaking terms, the Bravo's Chat Room host admitted that they're not as tight as they once were.
"Yeah, we're still very cool," she said. "But she's very busy, so we're not as close as we used to be."
Porsha also offered an update on her relationship with her ex-fiancé Dennis, with whom she shares a daughter, Pilar, 2.
"Oh my god, we still love each other. We're great co-parents, we're family members. We transitioned perfectly," Porsha shared. "We're doing so well with our little family, with our little 'Poo Poo' Pilar."
In fact, the former couple celebrated Easter together earlier this month, and the mother-of-one shared sweet video clips and photos from their family festivities on Instagram.
Speaking of Instagram, on April 19, Porsha posted a video compilation of her time on RHOA, which was created by a fan account known as Dorit Kemsley's Twitter. The video featured some of Porsha's most epic moments on the show, but it was her caption that caused a great deal of fan speculation as many believed she was announcing her exit.
"Wow 10 years ! Thank you to all of my supporters," she began the caption.
"[Team Porsha] loves hard and we play hard! Your love has carried me through the years. Thank you for being with me on this journey called life," she wrote, adding a "Grand Finale" hashtag.
One fan commented, "You better not be leaving us!! I ain't playing."
"WTF you mean grand finale Porsha," asked another.
For the time being, Porsha has yet to address the fan speculation or confirm whether she'd like to return for another season.
The first installment of the three-part Real Housewives of Atlanta season 13 reunion airs Sunday night on Bravo at 8/7c.
Photos Credit: Charles Sykes/Bravo