Teddi Mellencamp traveled to a tropical destination with her husband and friends on Wednesday, July 7, to celebrate her 40th birthday.
Days after the former Real Housewives of Beverly Hills cast member's actual birthday on July 1, Teddi, Edwin Arroyave, and a number of others, including her ex-co-stars Kyle Richards and Lisa Rinna, landed in what appeared to be Mexico. Shortly thereafter, hilarity ensued.
"Not [too] shabby [Edwin Arroyave]. Thank you baby. Love this belated [birthday] gift," Teddi wrote in the caption of a video of the location where she will be continuing to celebrate her 40th.
Then, with a group photo of the girls included on her trip, Teddi added, "Do not hold me accountable to anything for the next 78 hours."
She also shared a photo of her birthday dinner menu, which featured a salad and dessert as well as a choice of filet mignon or tuna.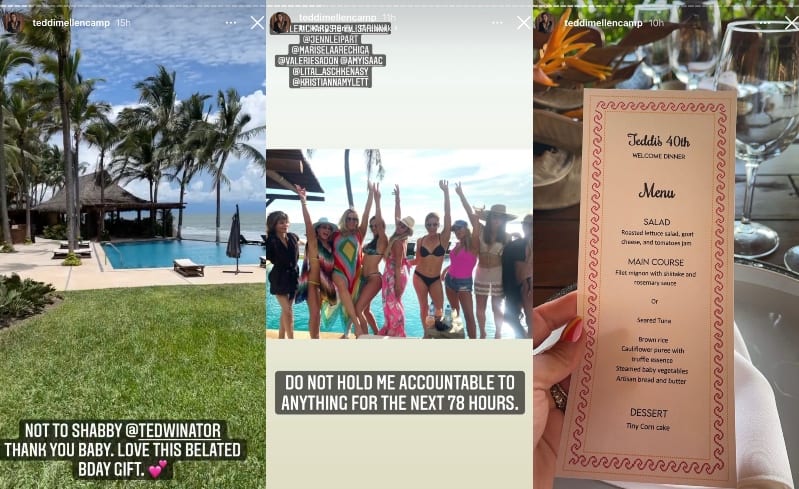 Amid their meal, a number of Teddi's girlfriends gave speeches, including Kyle, who praised Teddi as one of her "best friends in the world" and the "little sister that we love so much."
Meanwhile, during Lisa's speech, she explained why her friendship with Teddi was so impactful, saying, "I don't like many people," and, "I don't have many friends."
After dinner, things between the ladies got wild with Lisa and Kyle dancing.
While Teddi was fired from the RHOBH cast last September after appearing on the series for three seasons, she recently confirmed on her podcast that she would be seen on an upcoming episode of season 11. Then, days later, while appearing on Jeff Lewis' SiriusXM Radio show, Jeff Lewis Live, Teddi admitted to feeling pressure to stir the pot upon her return.
"I immediately felt the pressure to [move things along] when I went back," Teddi admitted on the June 2 episode of SiriusXM Radio's Jeff Lewis Live.
However, she added, she "wouldn't say anything that I didn't truly feel" during the appearance.
The Real Housewives of Beverly Hills season 11 airs Wednesdays at 8/7c on Bravo.