Katie Maloney is looking great months after confirming her split from Tom Schwartz.
As the Vanderpump Rules cast member adjusts to her new life as a single woman after moving out of her $2.75 million marital home and into a new apartment, Katie, who went on a date with another man in May, took to her Instagram Story to share a photo of herself in a bikini.
"Cute new suit from [Same]," Katie wrote in the caption of her pic.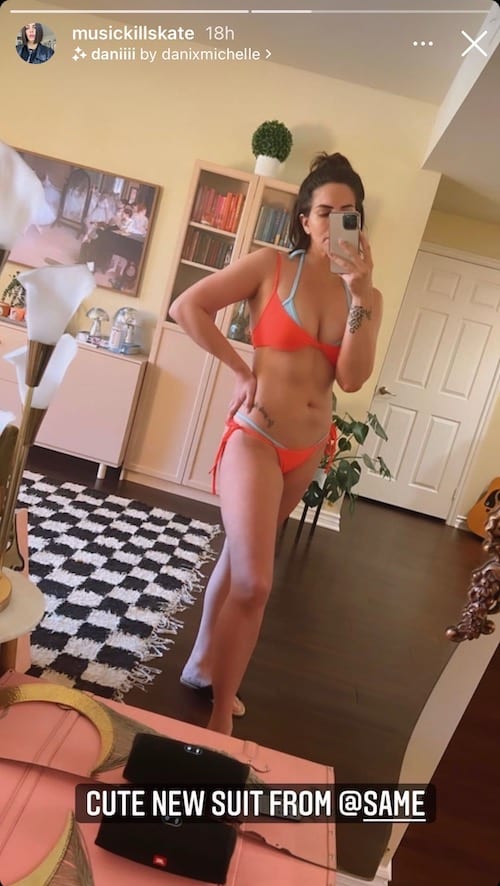 Shortly after sharing the impressive photo, a fan posted the image on Reddit, where a bevy of social media users applauded her physique and said that divorce "looks great" on Katie.
"Looks like she's lost about 180 [pounds] of dead weight," one person wrote, giving a nod to Tom.
"My thought exactly!" another agreed.
"Damn girl….. divorce looks good on you!!!" said a third.
Others said that Katie has likely benefited from her time away from Tom, saying that he was "immature" and "toxic."
One person proclaimed, "I think this will be a good phase for her. I'm liking her style more, hair on point, body banging. I'm excited for single Katie."
"I'm so f-cking happy for her. Tom was legitimately the WORST," someone else noted. "She deserves a real [man]."
Last month, while appearing on Dear Media's Relationsh-t with Kamie Crawford, Katie admitted that when it came to her decision to file for divorce from Tom, she got sick of waiting for her former spouse to "start behaving differently."
"It started to feel very disrespectful to myself," she continued. "Like, these kinds of behaviors are hurtful to me, and nothing's changed. When my behavior was destructive and hurtful to the relationship, I got my sh-t together because God forbid I destroy this relationship that is so important to me."
Katie then noted that she began feeling like her needs weren't being met, and she was struggling with her confidence.
"I felt very insecure," Katie went on. "I felt like I was coming last in the relationship and in his life. I felt like he was choosing everyone else in the room and in his life before me."
Katie and her castmates are expected to begin filming the upcoming 10th season of Vanderpump Rules sometime in the coming weeks.