Leah McSweeney is setting the record straight after being accused of getting kicked out of Thailand amid filming on the upcoming third season of Real Housewives: Ultimate Girls Trip.
After wrapping filming on the new episodes last month, the Real Housewives of New York City cast member, who was joined by Real Housewives of Potomac cast members Gizelle Bryant and Candace Dillard Bassett, Real Housewives of Salt Lake City's Heather Gay and Whitney Rose, Real Housewives of Miami stars Marysol Patton and Alexia Echevarria, and Real Housewives of Atlanta alum Porsha Williams, was faced with a bizarre rumor, claiming she had thrown poop at one of her castmates.
"Leah McSweeney has reportedly been banned from Thailand after her actions on [RHUGT season three]. She was forcibly escorted off the set of [RHUGT season three] and was seen home early after she threw Elephant dung at a castmate," read a report shared by a Bravo fan page on Twitter.
But after seeing the claims on Instagram, via Bravo by Gays, Leah denied there was any truth to the outrageous statements.
"This would've been iconic. I'm so sad it didn't happen … Sorry to disappoint!!!" she wrote in a comment.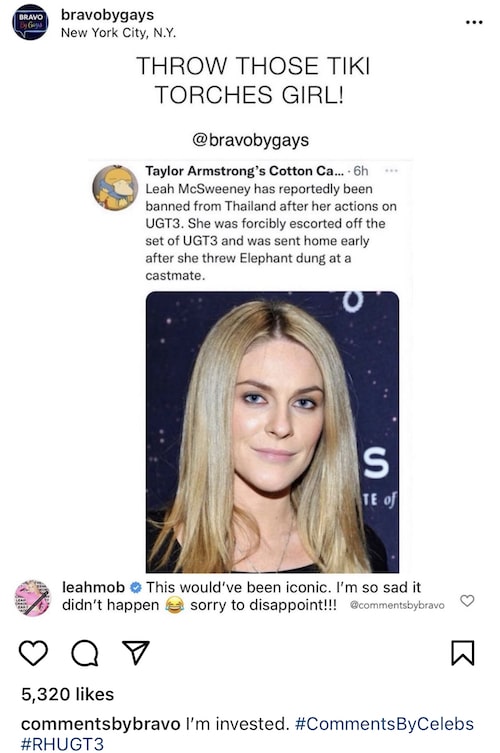 Leah also responded to the report on her Instagram Story, writing, "Sadly this didn't happen."
"Apologies for disappointing so many!!" she added, along with a laughing-while-crying emoji.
As fans await Leah's appearance on the third season of RHUGT, they're also wondering if she'll be a part of the upcoming Legacy series of RHONY, which was split into two different shows earlier this year following a poorly-rated 13th season. And during an appearance on the Hot Takes & Deep Dives podcast in April, Leah addressed the possibility.
"I feel great… I feel grounded and I feel like I don't need to worry about things, that the universe takes care of them for me," Leah explained when asked if she thought she'd be invited to appear.
"I enjoy being on the show, and I've enjoyed working with Andy and everybody. In the future we have to see what happens," she added.