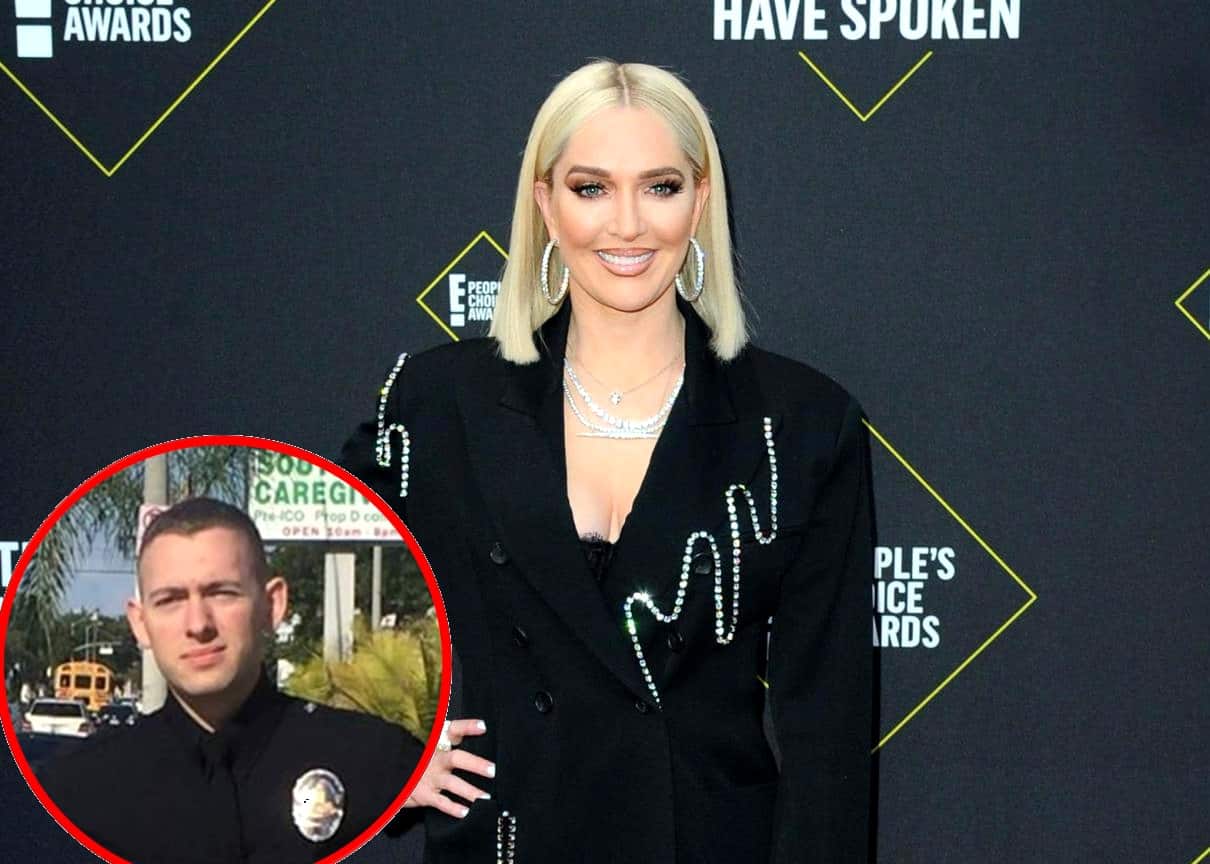 Erika Jayne reshared Bravo's message condemning Real Housewives of Beverly Hills viewers for their "harmful rhetoric" against Garcelle Beauvais' 14-year-old son, Jax Nilon, on her Instagram page and Instagram Story. But she may have done so begrudgingly.
After putting up a united front with the network and Garcelle, whose son has been targeted by horrifying and racist remarks in recent weeks, Erika agreed with a fan on Instagram, who reminded her that Bravo did nothing when her own son, police officer Tommy Zizzo, was being attacked by the "woke mob" for his work in law enforcement.
"I didn't see Bravo making every post about leaving kids alone when the woke mob was coming after your son for being Law Enforcement in 2020," the fan had written on August 25.
"Exactly," Erika replied.
Earlier this week, Bravo released a statement against the hurtful comments being sent to Jax across their social media platforms. And along with the rest of the RHOBH cast, as well as other members of the Bravo universe, Erika posted the same message to her own online audience.
"We are shocked and appalled at the social comments directed at Garcelle's son. We urge our viewers and social followers alike to refrain from targeting our cast and their families with harmful rhetoric," the network wrote on August 24.
In addition to agreeing with the fan who signaled to double-standards from Bravo, Erika was seen arguing with another person, who seemingly gave a nod to her own bad behavior against Jax, who she cursed out at Garcelle's birthday party earlier this season on RHOBH.
"But didn't you… [nevermind]," the person wrote.
And one commenter agreed, saying, "YES! My exact thoughts on how disrespectful she was to her son! SMH."
Meanwhile, another person, who has since been identified as a friend of Erika's, pointed out that RHOBH viewers should move on since Erika already "apologized on camera." And after seeing that someone suspected she was her assistant, Erika clapped back.
"No! Heather has been my friend since I was 14. We went to performing arts high school together," Erika revealed.
Erika also said she and Heather "[were] raised together" as she asked another person, "Who the f-ck are YOU???"
The Real Housewives of Beverly Hills season 12 airs Wednesdays at 8/7c on Bravo.