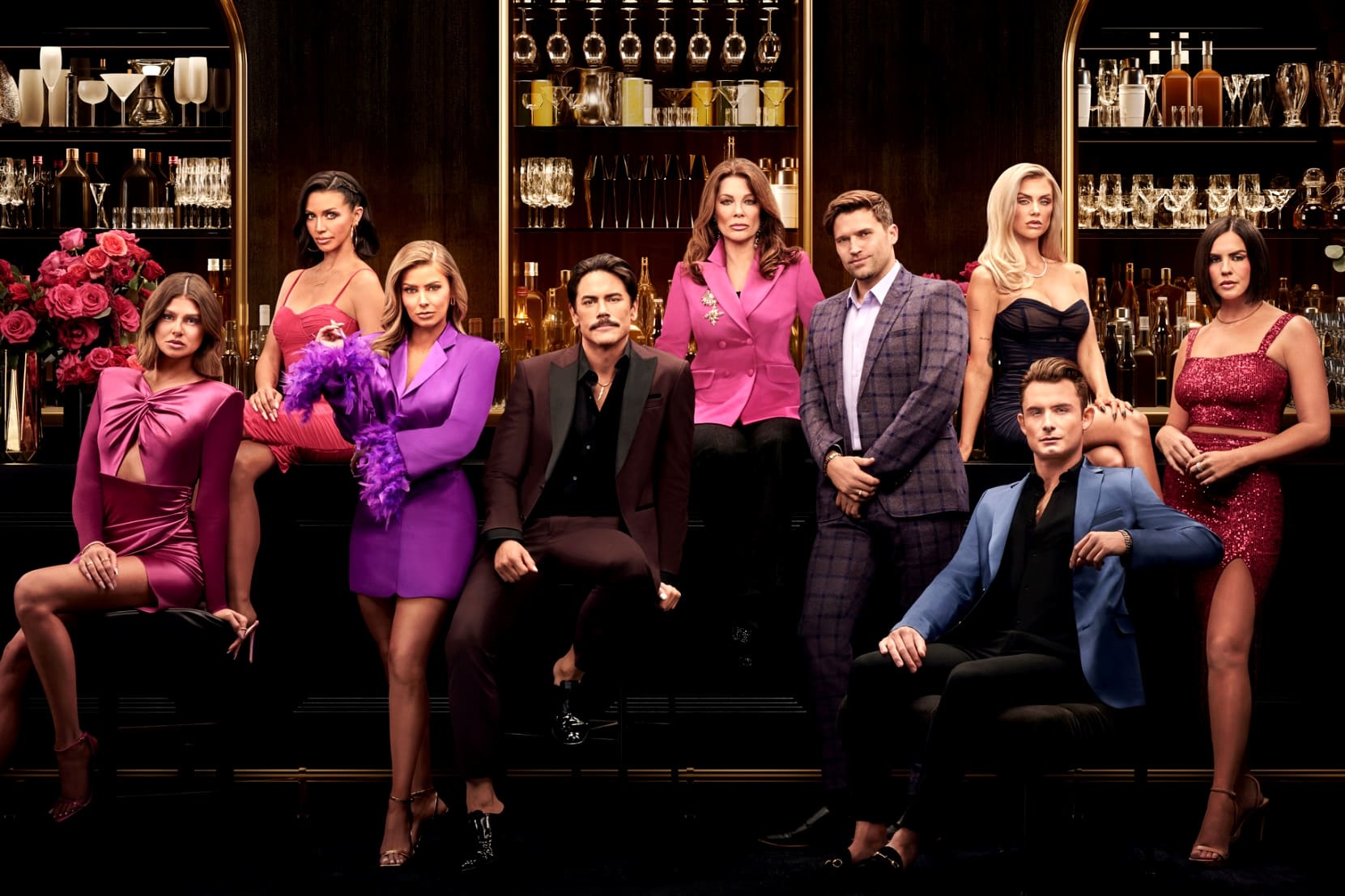 The Vanderpump Rules midseason trailer is here — and it's giving fans their first look at the fallout from Tom Sandoval and Raquel Leviss' affair.
In addition to showing off the progress on Ariana Madix and Katie Maloney's new sandwich shop and sharing that James Kennedy is considering proposing to girlfriend Ally Lewber, the sneak peek clip teases both the moments leading up to the reveal of Sandoval and Raquel's romance and the moments that followed.
"I was the OG home-wrecking whore of this group and then came Lala and now, here you are," Scheana tells Raquel at the start of the clip, seemingly prior to the news of her and Sandoval's affair.
Then, after Ariana declares, "We got the space," as she and Katie enter Something About Her, and Katie goes on a date with actor Satchel Clendenin, Sandoval and Raquel are seen in a pool together.
"He wants to f-ck the sh-t out of Raquel," James declares. Ally responds, "You guys are disgusting."
At another moment, before his relationship with Raquel was exposed, Sandoval is seen sitting down with Ariana with a complaint about their sex life, telling her that they've been "having sex like four times a year" before she compares him to a stranger.
"I cannot have sex with somebody who feels like a stranger," she shares before being seen with another man in the pool.
"Open relationships are f-cking tough," Schwartz notes in another scene.
At that point, viewers are taken inside the Pump Rules cast's lives post-affair.
"This is a full-blown love affair," Scheana explains, later admitting that she "had so much rage" after learning of the shocking betrayal.
As fans well know, Raquel filed a restraining order against Scheana after the news of her and Sandoval's affair, claiming her castmate punched her and left her with a cut on her eyebrow, which Scheana denied.
When Sandoval and Ariana come face to face, Sandoval tells his former girlfriend of nearly a decade, "I wish we both would've tried harder," and he later says she doesn't "know what's going on" between him and another person, likely in reference to his current relationship with Raquel.
"You don't deserve one f-cking tear of mine," Ariana replies.
Then, after Sandoval cries and Ariana screams, Sandoval asks his ex, "You want anything?"
And she cryptically replies, "For you to die."
As for Raquel, she's seen telling someone in the clip, "I don't f-cking regret our relationship."
Elsewhere, after Lala warns Ally, "I want you to know kind of what you've signed up for, being with [James]," James asks for Lala's opinion about his future with Ally.
"Should I ask Ally to marry me?" he asks.
But Lala doesn't seem to think it's a good idea and storms off after telling him, "I'm so f-cking done."
Vanderpump Rules season 10 airs Wednesdays at 9/8c on Bravo.