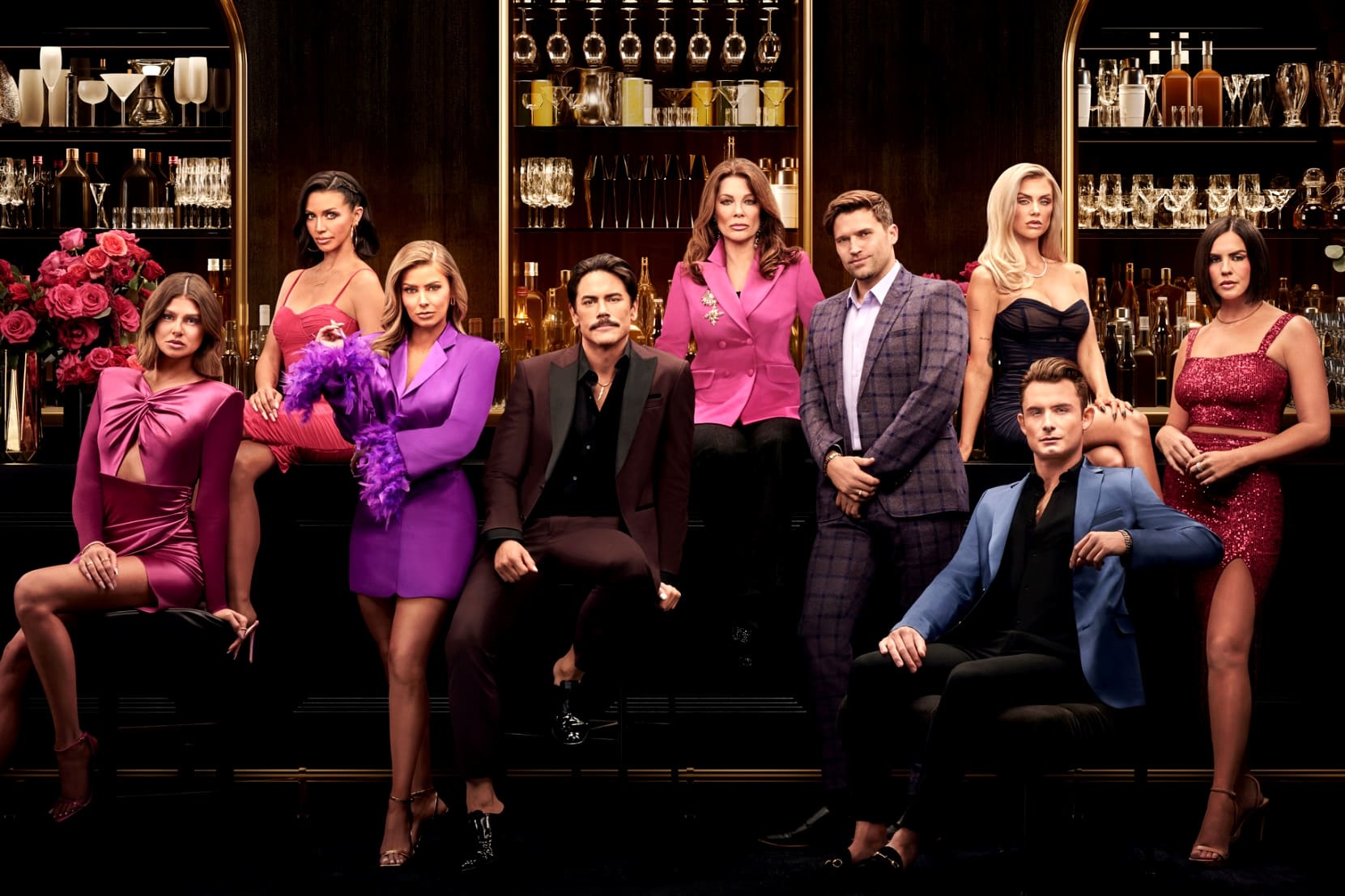 Katie Maloney and Tom Schwartz started off production on season 10 of Vanderpump Rules in a good place, cheers-ing to the fact that they were a "divorce success story." Unfortunately, as seen in the just-released trailer for the upcoming episodes, those good times don't last.
As Schwartz is seen making out with both Raquel Leviss, and seemingly, his more recent (and potentially current) girlfriend Jo, and Katie steps out with now-ex-flame, actor Satchel Clendenin, things between the exes take a hard turn for the worse as Ariana Madix and Tom Sandoval are accused of having an "open relationship," James Kennedy reportedly returns to drinking, Lala Kent moves on from Randall Emmett, and much more.
"Did you see Schwartz and Raquel make out," Scheana Shay asks as the trailer begins.
Following reports months ago that claimed Schwartz and Raquel "made out" and "more" amid Scheana and Brock Davies' August wedding trip in Mexico, Schwartz and Katie sat down to discuss their failed attempt at remaining friends.
"I've never had hatred for you and now I do. I think you're pathetic, I think you're a drunk, and I think you're a loser," Katie tells him.
But Schwartz was unfazed, replying, "This does not affect me at all."
After Raquel admits she likes Schwartz "a lot," she proceeds to enjoy a night out on the town with Oliver Saunders (whose mother, Real Housewives of Beverly Hills star Garcelle Beauvais, makes a cameo) and a date with Peter Madrigal.
But Raquel's good times also come to an end as she's seen crying in a car.
"Raquel seems like she's going through something and she needs help," Kristina Kelly, Stassi Schroeder's bestie who joined the cast for Pump Rules season 10, later says.
As Raquel breaks down, her ex-fiancé James is seen happily gushing over girlfriend Ally Lewber, who he began dating just weeks after their late 2021 split.
"I do think Ali is the one. I'm gonna put some babies in there one day," he teases.
But she has a bone to pick with her partner, saying to the presumed to be sober James, "I like you better when you're not drinking."
And at times during the trailer, James does appear to be intoxicated. In fact, at one point, he lashes out at Raquel's hookup buddy.
"I will f-cking smack you in your f-cking dumb face. Go make another f-cking joke," he tells his co-star Schwartz, even throwing a drink in Schwartz's face as Raquel sits beside him.
Another shocking James-related moment occurs when Lala declares, "James and I definitely hooked up."
Although she doesn't reveal the time of their rendezvous, leaving viewers to wonder if the comment was made in regard to their past, Ally is understandably wary.
"I would be lying as a girlfriend to say, 'I'm super comfortable with James hanging out one on one with Lala,'" she tells Charli Burnett.
Elsewhere, Scheana questions Sandoval about his relationship with Ariana, stating, "Katie said you and Ariana have an open relationship," as he's seen smiling at Raquel as Ariana is nearby and later wrapping his arms around her while shirtless.
"This summer's been so fucking awful to me," Ariana later cries to Lisa Vanderpump.
In addition to her feud with Schwartz, who tells Lala, "You're a boot— housewife, look at those lips," Lala appears to welcome one-time flame Don Lopez into her home before discussing Randall with Lisa.
"I want to know why people are accusing him of the things they're accusing him of," she says through tears.
Also during the trailer, after Schwartz admits that if it weren't for his and Sandoval's new bar, Schwartz & Sandy's, he and Katie "would still be together," Lisa is seen telling husband Ken Todd, "When I saw what it's cost them… It's not good."
Vanderpump Rules season 10 premieres on Wednesday, February 8, on Bravo.