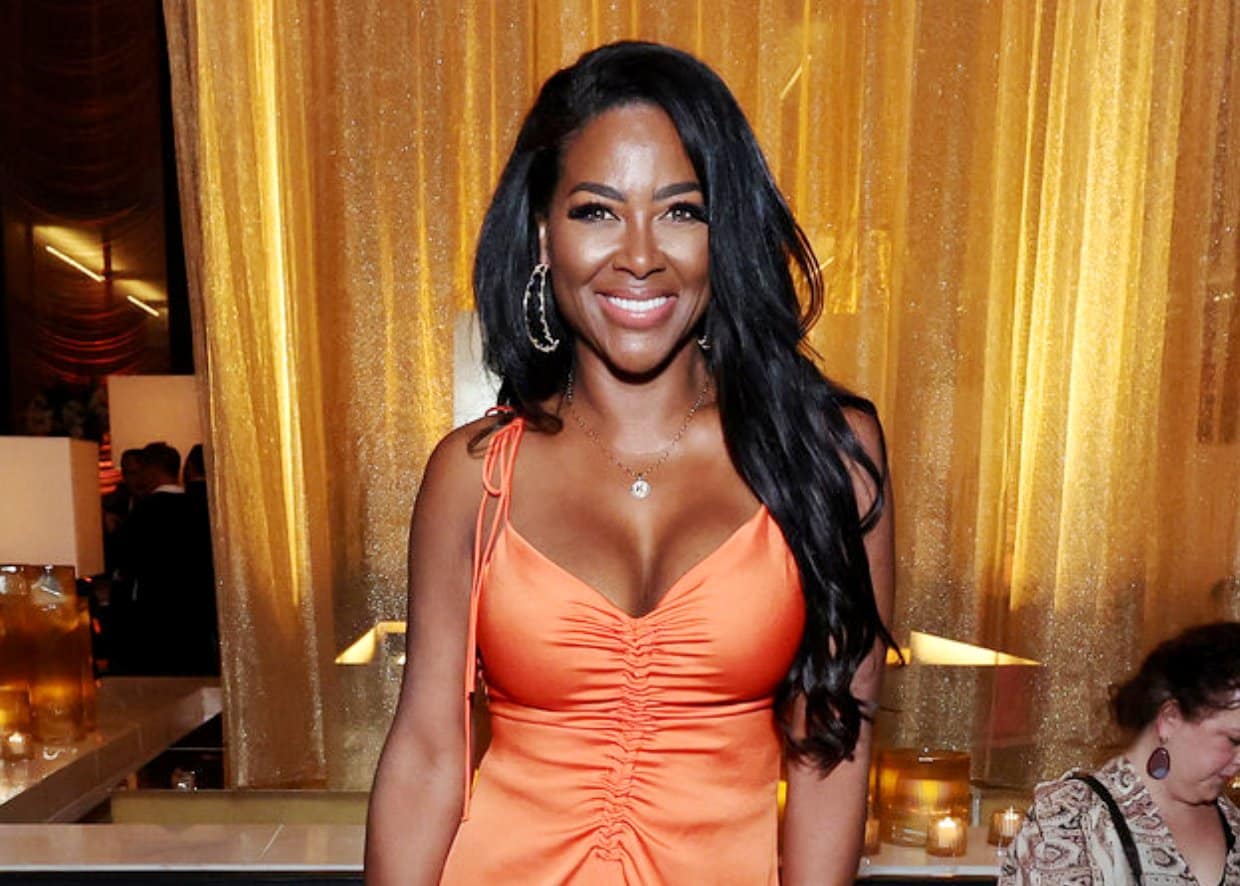 Kenya Moore is setting the record straight about Marlo Hampton's alleged past with her rumored new man, Roi Shlomo, ahead of Sunday's premiere of Real Housewives of Atlanta season 15.
In addition to offering an update on her ongoing divorce from Marc Daly, admitting to needing a break from Cynthia Bailey after their Real Housewives: Ultimate Girls Trip drama, and giving a nod to the Kim Zolciak foreclosure rumors, Kenya admitted she and Sheree Whitfield butted heads over Martell Holt.
"We're in a really good place, and I really care about her, so that's going to be a little tricky to navigate," Kenya told Entertainment Tonight on May 2.
Because Kenya claims Martell tried to court her amid his romance with Sheree, she has felt he has ulterior motives for dating her co-star. And amid filming on the new season, she and Martell, who she says "likes to show his face," were involved in a confrontation that "did not go well."
Looking back, Kenya said she wasn't "surprised" Sheree didn't consider her concerns.
"But, I think that she definitely values my opinion as a friend, as a straight-shooter also," she reasoned. "I think she's a clever girl. I think she'll figure it out."
As Sheree and Martell's relationship heated up, Drew Sidora and Ralph Pittman Jr.'s marriage came to a screeching halt, as fans will see in the final moments of season 15.
"We get to learn a lot more about Drew, and we'll see how that ends," Kenya teased as it was noted that Drew's time with stripper Bolo may come back to bite her.
"They had been working so hard at counseling, and it seemed like they were happier together when they would film, they were more affectionate with one another," Kenya continued. "I felt like it was going, it was turning a corner."
As Drew attempts to move on from her marriage, Kenya hopes to be a "big sister" to her.
"[I want] to walk her through what it might feel like to go through a divorce, and especially with children involved," she said. "My heart goes out to her, and I really hope she comes out the other side a better person."
Although Kenya named Sheree, Kandi Burruss, and Cynthia as the co-stars she's closest to, she said it was Cynthia who is "part of [her] family."
"She will always be a part of my family, and we just have fun. It's like it just never ended," Kenya said of Cynthia.
"We needed it," Kenya went on about the break they took from one another post-RHUGT. "I think we needed it to grow, and to really, actually grow closer and to understand each other more."
Kenya loved seeing Cynthia return to RHOA, but she wasn't thrilled to see Kim back.
"I didn't think much," Kenya said of Kim's return. "I know she's been going through a lot. I wondered if they covered any of that, like did she discuss any of the things that have been going on? Like, with her home and her family?"
Speaking of her own family, Kenya denied Marc, who she's been in the midst of a divorce from since 2021, is trying to take her home.
"The Moore Manor issue is not true, I can tell you that," Kenya clarified. "I'm hoping that we leave the relationship with what we came in with it."
She's also hoping there's a light at the end of the tunnel.
"I feel that there is, we're in a much better place. We have a mediation coming up, and I think that we just both have to come together for the sake of our daughter, so we can just move on to co-parenting and not any drama with us," she stated of her four-year-old daughter, Brooklyn.
"She deserves the very best, the very best father that she can have," Kenya added.
During filming on season 15 of RHOA, Kenya had fun discovering "this new" version of herself as she made room in her life for entrepreneur Roi.
"Roi has been someone that I've known for a while, over a year, as friends and I just think we have a lot in common," she shared. "We have friends in common, likes in common and, if nothing else, a great friendship."
While Kenya played coy about the exact nature of her relationship with Roi, she said Marlo's suggestion that she previously dated him is "not true."
"It's 100 percent not true. She makes up everything. You can't believe a word that comes out of her mouth," Kenya declared, adding that Marlo is always "antagonizing" her.
"She's just not for me," Kenya noted.
And Marlo isn't for Kandi either. In fact, Kandi reportedly brought up Marlo's criminal history amid filming.
"It's brought up, but who knows if it makes the cut? You know, it's been brought up before but somehow it never makes the cut. … Maybe it's just information that the powers that be don't want to discuss," Kenya suspected.
And in addition to her drama with Marlo, Kandi also goes head-to-head with newbie Courtney Rhodes.
"I don't know who you're talking about," Kenya said when Courtney was mentioned. "Sorry, I don't know that person."
Kenya then admitted that Courtney is one of "two" people who targeted Kandi.
"The usual suspect, and one other that you'll come to learn on the show that was just basically a minion of someone else that is always in the mix of trouble," she pointed out, seemingly hinting at Marlo.
The Real Housewives of Atlanta season 15 premieres Sunday, May 7, at 8/7c on Bravo.