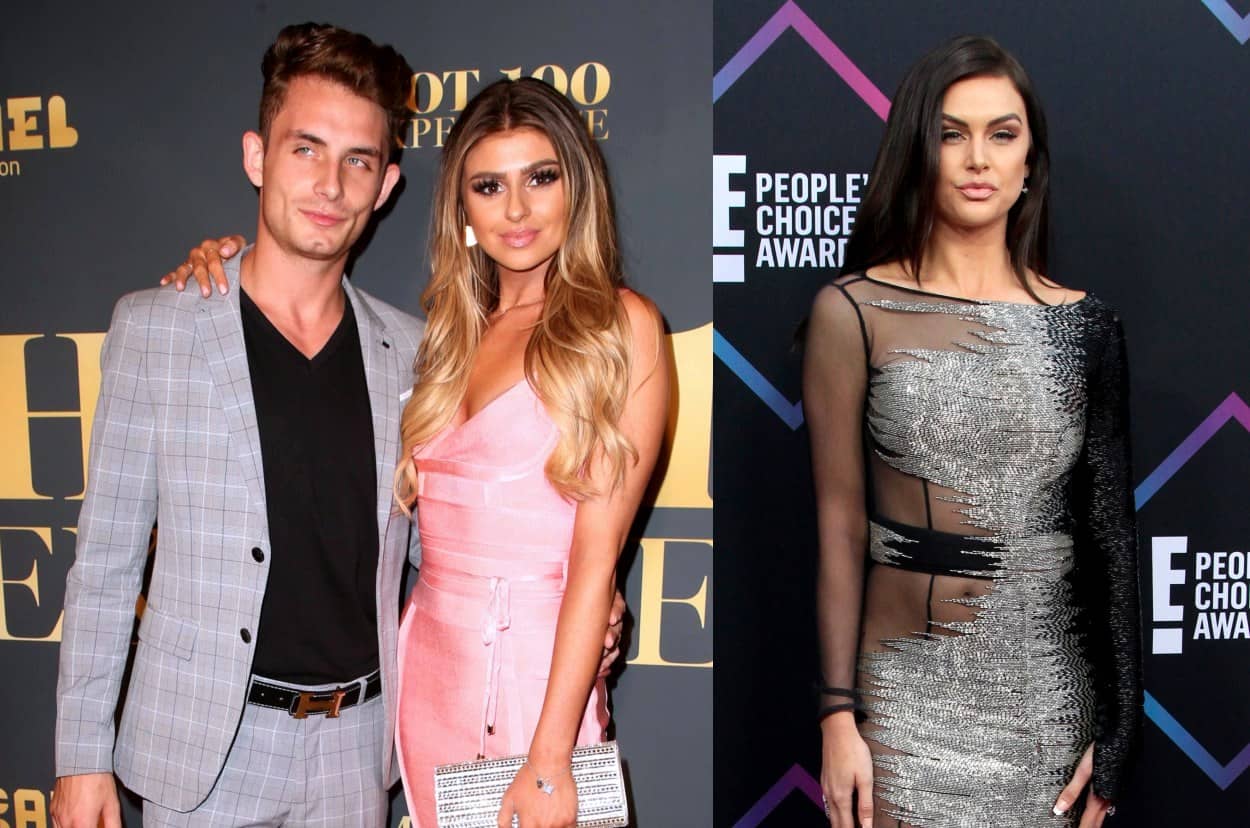 Vanderpump Rules star, and James Kennedy's girlfriend, Raquel Leviss continues to find her voice as she is now calling out the cast of the show for their blatant hypocrisy.
As most fans of the popular Bravo series are aware, the cast calling Raquel "dumb" has been a recurring theme this season after she has continued to stand by James, despite the growing number of people who are claiming to have slept with him during their relationship.
And on the latest episode of Pump Rules, Lala Kent took Raquel to the side and called her a "dumb tw*t" after she defended James. Jax Taylor has also been calling her dumb and even recently lashed out against her on Twitter this week.
Raquel, 24, is now firing back, wondering why it's okay for Jax, Lala, and others to insult her intelligence while blasting James for fat-shaming their co-star Katie Maloney.
"So it's inappropriate for James to tell women to lose weight but acceptable for Jax to call women dumb as rocks… sounds a little hypocritical to me," tweeted Raquel.
And on Instagram, Raquel, who opened up on the show about growing up with a learning disability and being diagnosed with ADD in college, said being called "dumb" was hurtful.
"Tonight's episode was an emotional one for me. Using the word dumb to describe why I choose to stay with James is completely inappropriate. I grew up not knowing I had a learning disability and wasn't diagnosed with ADD until college. Learning was always difficult for me…," she wrote. "However I am NOT stupid. In fact in college I figured out the way I learned best and worked very hard for my degree graduating with honors. Words like STUPID and DUMB are just as offensive as the word FAT."
In more Vanderpump Rules news, Lala is admitting to being confused by Raquel's decision to stand by her man, despite the mounting evidence against him, and said that dealing with Raquel's naive behavior has resulted in the loss of her brain cells.
"I don't know that I feel badly for her anymore because … it's like seeing the murder scene and still needing more evidence," Lala told Us Weekly. "It's like, 'Okay, girl, I can't even deal.' Like, you're killing my brain cells at this point, and I don't have a lot of those to lose."
During a recent party at SUR Restaurant on Vanderpump Rules, Kristen Doute and her friend Hope confronted Raquel with claims of James having slept with Hope. However, while Hope alleged that she and James had been sleeping with one another for three years, including a hookup at Coachella this past April, James denied any wrongdoing.
In addition to Kristen and Hope's claims, Lala also told Raquel she'd been a witness to his cheating.
Months later, Lala believes Raquel and James are "a match made in heaven."
"He is drawn to that because he can get away with everything," she explained.
Vanderpump Rules season seven airs Mondays at 9 p.m. on Bravo TV.
Photos Credit: F. Sadou/AdMedia/ZUMA Wire/Alamy, Kathy Hutchins/Shutterstock.com
TELL US – DO YOU AGREE OR DISAGREE WITH RAQUEL?