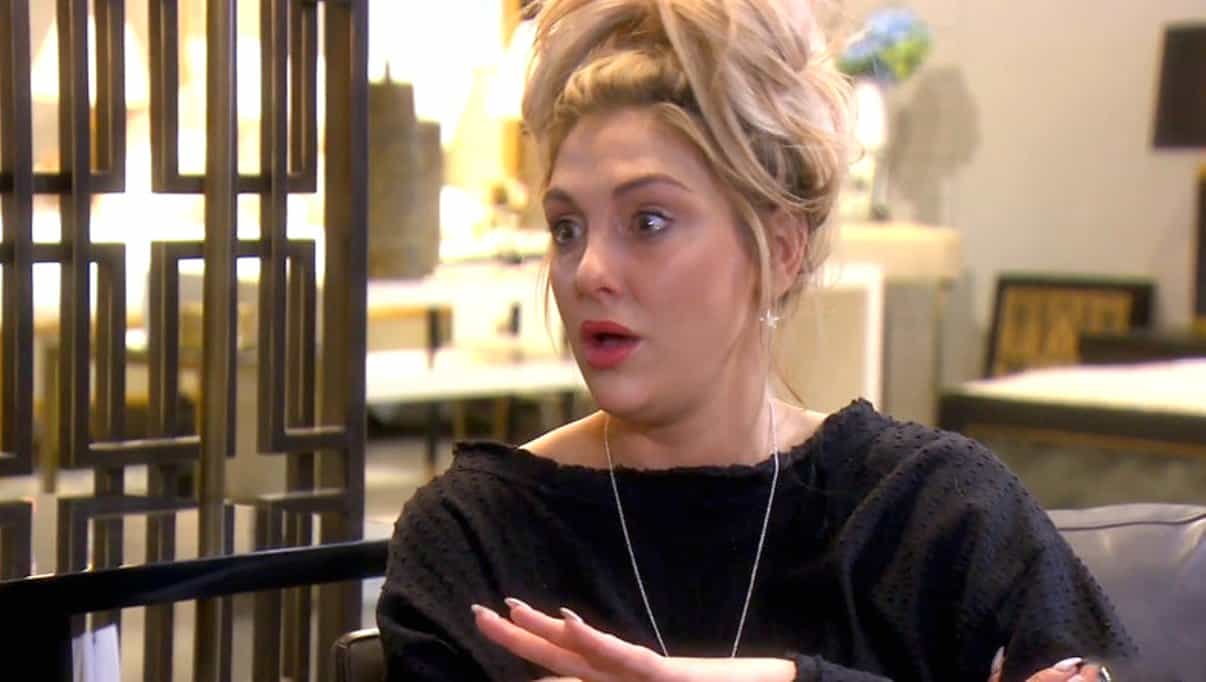 The Real Housewives of Orange County do what they do best on this episode…drag out drama and insert themselves into each other's business.
"Gina told me something came up about Kelly about a train rumor?" Oh, Emily. Always late to the party and always trying to insert herself into the drama. Kelly responds, "This is f*cking absurd." And yes, I agree with Kelly 100%… why are we still talking about this?! In an attempt to lighten the mood, Shannon whips out a surprise. As she puts it, "It's always more fun in costume." That's what she said.
For the final hurrah in LA, Shannon dresses the women in tourist gear (plastic visors and waterproof disposable cameras) and they all board a tour bus. They jump off at the Pig & Whistle, ya know, the place where Braunwyn was raised (so many questions about this, but I digress). Over a few shots, Tamra confronts Braunwyn. "I heard you contacted Lizzie and Gretchen." Tamra begins the whole woe is me thing as she starts describing the terrible things those ladies have claimed, such as Eddie being gay. Tamra is smelling a rat in Braunwyn, as she tells secrets and associates with people Tamra doesn't like.
You can see that Braunwyn is legit confused and had NO idea that there was all this beef, and so she does what anyone would do in that situation. She lies. She says she didn't contact Gretchen and Lizzie, but alas, these women have the receipts…the texts…showing the real story. Braunwyn was the one who texted the ladies—GASP! Who gives a crap who reached out to who and who Braunwyn associates with? Why does Tamra insist on having an army behind her at all times? Braunwyn is a grown a*s woman and can text whomever, whenever.
Poor Braunwyn gets pushed to tears when Tamra shrieks that she's a liar. Braunwyn whips around to apologize by saying, "I didn't lie on purpose." To that, Tamra responds, "So you lied on accident?" After Braunwyn storms off and cries by herself, Tamra tries to smooth things over. Braunwyn has a serious case of new girl syndrome when she pronounces, "I didn't want to get in trouble with them." OMG. They are SO the mean girls.
Naturally, Shannon won't let it go…long after the issue seemed to have blown over. Oh, this oughta be an enjoyable cruise back to the OC now that things are real awkward between everyone. Emily has hopped off the bus because Shane is done with the bar and she wants to head home early to see him. So now, that means the rest of the women are totally going to talk about Emily and her personal life.
What is with the group always making everything about themselves? For instance, as the girls begin discussing Emily's marriage now that she is gone, Shannon gets PTSD and so does Gina. In case you forgot, they both had husbands who cheated on them. I highly doubt Shane is cheating. I mean, I cannot imagine anyone else would ever attempt to jump on that warm and bubbly hottie.
How 'bout that cold embrace/half cheek kiss between Emily and Shane? He is such a strange one, sipping his orange juice and not wanting to talk about himself. Shane cares more about Emily making dinner than catching up with his wife. He does realize he is getting filmed and that the whole world can see his actions, right? I mean, Shane hasn't been with his family for ten days and seriously doesn't seem to care. Instead, he comes clean during his confessional and states, "I don't really cry myself to sleep cuz I miss my family." Holy jerk. At least fake it for the cameras!
Cyndi Lauper? Is that you? Nah, it's just Braunwyn's Rainbow Bright-esque mother, Dr. Deb. Check out her "medicine woman" nameplate. Boy, what a character she is, huh? Braunwyn begins to tell the tale of the LA trip to her mother. She tells her about the whiskey-a-go-go and they reminisce about the good old days. Braunwyn then fills her mom in about the lying saga and states, "Everyone else just believes my bullsh*t."
SO it appears as though Braunwyn is a repeat offender when it comes to lying. She claims she lies to have people like her, and then Dr. Deb asks the heavy question, "Do you think I like you?" To that, Braunwyn replies, "Maybe." Ouch. She blames being shuffled around a lot as kid for all of the walls she has up, but she still lets her kids in. That would explain why she has 178 kids, right? Braunwyn is working on letting more friends in and to focus on herself. Can't wait for that.
Kelly and her boyfriend, Dr. Brian, are heading out for lunch. The couple sees each other three times a week and every other weekend. They kinda sound like children in a divorced family. Kelly puts him on the spot when she starts talking about engagements and states, "I'm in love and ready to lock it down." (Too bad they're already broken up and Kelly has already moved on to a new love of her life!) Kelly tells Brian about the train rumor, and to that, he says, "There was no time for a choo-choo train in one year [that Kelly was single]." He seems completely unphased and gives Kelly some typical advice about ignoring the gossip and keeping her eyes on the prize, whatever that means.
Wait, does Tamra have her nose pierced? Also, why is she going to a hip-hop class with Braunwyn and Shannon? These ladies are so embarrassing in their "hip" clothing…like, why do they always think it's a theme party?
In the meantime, Emily and Gina go for pedicures. I guess Emily doesn't miss her hubby that much…she is out and about while he is FINALLY home. Gina explains that, "Today was supposed to be my court date, but my lawyer filed a continuance." Great. Just drag that out a bit more. Emily confides in Gina that she is falling apart, particularly with her marriage. Gina retorts that she misses her Emily check-ins, but she's happy to be friends with Shannon nowadays. I mean, she buys Gina nicer gifts and full ensembles from Rodeo Drive.
Speaking of Shan, the dance class wraps up and Braunwyn sits down with the bullies. She tells them, "I felt ganged up on a little bit" during the LA excursion. Then, she proceeds to spill about her childhood. Things get personal, fast. Tamra jumps right on this bandwagon, and Braunwyn has decided that Shannon and Tamra aren't just going to be surface friends. Glad it only took a TV show for Braunwyn to realize she should stop lying and be more genuine.
Emily, her daughter, and her mother-in-law, Pary, are visiting the petting zoo. I'm so glad Pary is wearing her furry vest—seems appropriate, no? As her daughter runs off and feeds chickens, Pary (aka Polly Pocket) listens as Emily goes on and on about Shane… who, BTW, is her son. Isn't it a bit weird that Emily is essentially sh*t talking Pary's son? Seems odd to me. Pary shares some wisdom about how to make a good marriage, such as instead of yelling at each other, simply yell your emotions into the toilet. Emily is gonna be spend lotsaaaaaaaaaa time in the bathroom.
Shannon phones Tamra with some serious tea. Gina didn't go to her court date and now there's a warrant out for her arrest. According to Gina, "My attorney did not check to see if the continuance" was accepted. Welp, it turns out that the judge did NOT accept, and therefore, Gina looks like she straight-up didn't show up for her court date. Talk about miscommunication.
Of course, nosey Shannon has to FACETIME Gina. Homegirl is a disaster. She is sobbing and is terrified that she could have gone to jail, and Shannon is suggesting that Gina call her "lawyer friend." Hey…isn't Emily a lawyer? Why is Emily not representing Gina? Hmmm…
The next morning, Gina meets Shannon for some furniture shopping. Luckily, Shannon's lawyer friend hooked Gina up and the warrant has been retracted. To celebrate, she is able to peruse coffee tables and side chairs with Shan. Wooo! Shannon uses this time to find out exactly what happened with Gina's marriage.
Gina opens up to Shannon right there in the model living room. She shares about her ex-husband's affair and that she even had some animosity toward Shannon during her messy divorce. Gina was trying so hard to keep it all picture perfect, but now that it's all out in the open, she has made a new friend. Who would have ever thought that Gina would ever call Shannon her hero? That's like next level friendship…
 TELL US – THOUGHTS ON THE RHOC EPISODE AND BRAUNWYN SO FAR?