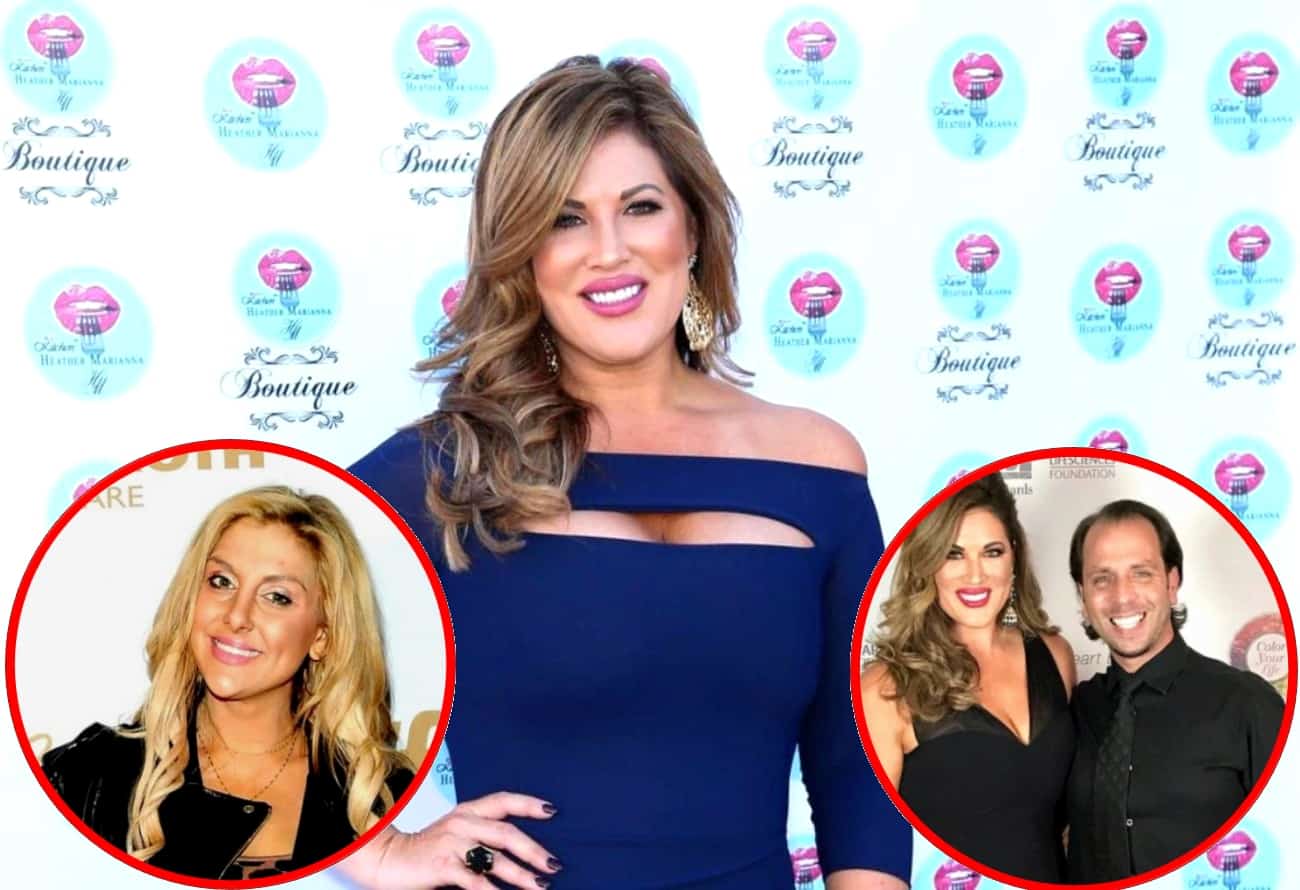 Emily Simpson is opening up about her drama with her Real Housewives of Orange County co-star, Gina Kirschenheiter, and her husband, Shane Simpson.
While chatting with host Andy Cohen during an appearance on Watch What Happens Live this week, Emily explained why she believes Gina has been combative towards her on the show before opening up about her "d**k" husband and addressing the rumors surrounding the potential end of their marriage.
After fans watched as Emily and Gina, who were quite close last year, butted heads with one another on the RHOC after Emily accidentally set Gina up with someone who wasn't actually single, Emily insisted she meant no harm.
"I hate to say she owes me an apology. I think she was upset but there was no intent to do anything malicious," Emily explained. "I mean, I really just tried to do something good. He's the one who didn't tell me he had a girlfriend. I mean, I didn't lie about that."
Because Gina has grown close to the tres amigas, Tamra Judge, Vicki Gunvalson, and Shannon Beador, some have felt that Emily is jealous of her relationship. However, according to Emily, it wasn't Gina's friendships that were the problem. Instead, it was the way the relationships were impacting their own friendship.
"I really didn't get upset but I felt that she was getting closer to them to the detriment of our relationship and that's what bothered me. And that's what hurt me," Emily said. "I have tons of other girlfriends and so does she, so that wasn't the issue."
Emily then suggested that Gina was actually fighting with her in an effort to get closer to the other women.
"I felt like she kept getting mad at me to get closer to them and that's what bothered me," she shared.
Although Emily was accused of failing to show compassion towards Gina as she dealt with the legal issues involved with her January DUI and the end of her relationship with ex-husband Matt Kirschenheiter, Emily believes she was supportive of her.
"I just feel like she was withdrawing away from me and I had a lot of s**t going on too in my life at that point, so I think both of us probably should have done a better supporting each other," she admitted.
During another portion of WWHL, Emily was confronted with a "lowlight reel" of sorts, which featured Shane joking about not wanting to be around her and their kids as she was seen breaking down over their issues. Still, despite Shane's controversial statements, Emily made it clear that she and her husband are not getting divorced, nor is she devastated by things he's said.
"He's a d**k. He's a jerk. I get it. I'm not trying to make excuses for him but I see a side of him that other people don't get to see," she explained. "So, I think that's what makes up for it. I know it sounds awful but I'm the one that goes home with him at night when we are alone and he says nice things and he gets me cards and he writes nice things to me."
When Andy then asked her why Shane hasn't learned to filter himself on the show, Emily suspected that his "d**k side" overruled his smart side.
"He's obviously smart. Like, he has a high IQ. But I think the d**k side takes over," she shared. "I said to him, when someone says to you, 'Do you miss your wife and kids?' The answer is always, 'Yes.'"
The Real Housewives of Orange County season 14 airs Tuesdays at 9 p.m. on Bravo TV.
Photos Credit: Startraksphoto.com, Instagram