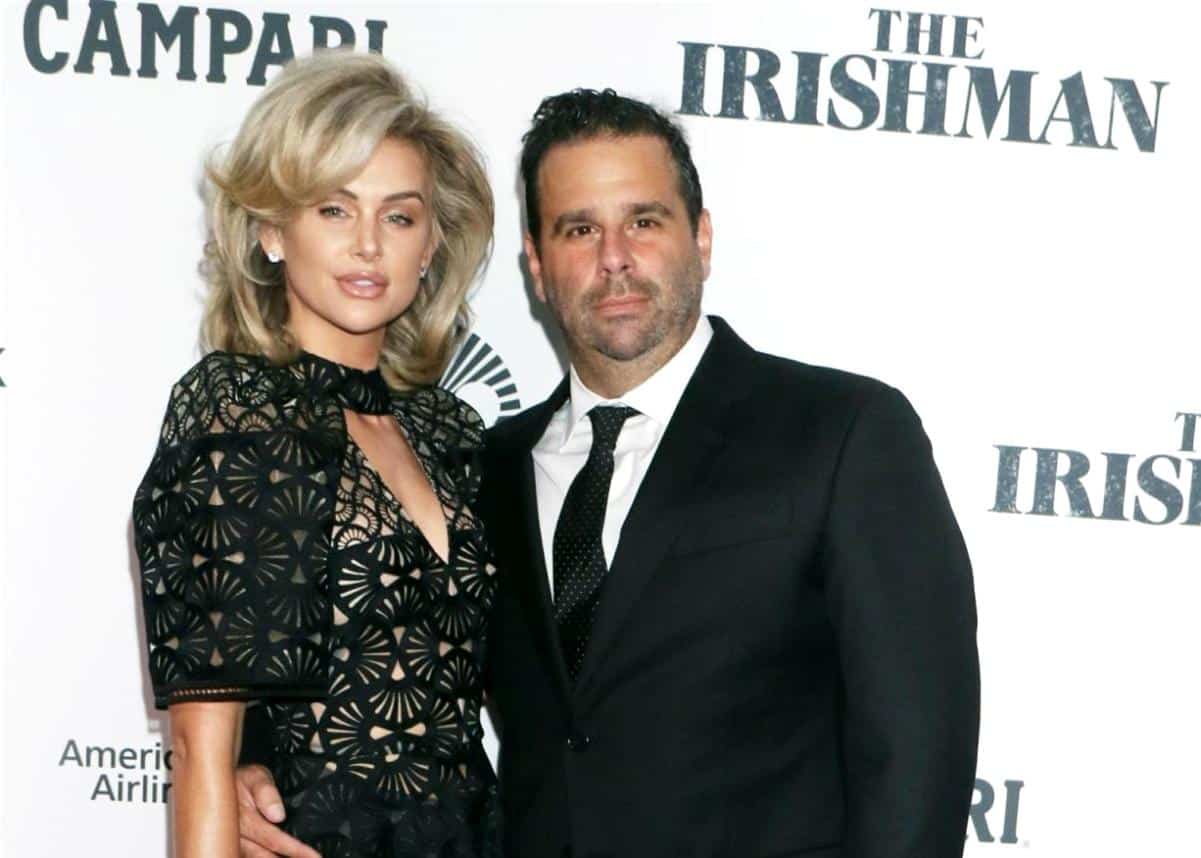 Despite the coronavirus ruining their original April 18 wedding date, Randall Emmett and fiancée Lala Kent are staying optimistic about their upcoming wedding (and baby) plans.
In a recent interview, Randall gave an update on his and the Vanderpump Rules star's nuptials, as the couple still aims to tie the knot this year. The movie producer also detailed his initial reaction to the news of pushing back their original date, revealing how devastated he was.
"I will tell you that we're more ready to get married now than we ever were," he shared with Us Weekly. "It's like, alright, we got robbed of our wedding on April 18. I was on set when she called me [when I was on set] and was like, 'You know we have to push the date,' and I was like, 'I know' and she said, 'Are you okay with that?' and I burst into tears like a little baby. It was heartbreaking."
Randall went on to explain how Lala pulled him out of his tears by noting that they'd still forge ahead with wedding plans — at least some time in the future.
The 49-year-old continued by sharing that regardless of the impact COVID-19 has had this year, they're still planning for an early fall wedding while following California's guidelines and precautions.
"I just got off the phone with our wedding planner, just talking about the new dates. Lala and I are both adamant right now about… early September," he shared. "We haven't told anybody, but we feel like we're listening to California's guidelines… We're optimistic and we've kind of decided that whatever those guidelines are at that point we will respect and abide by and if it means we have to have a smaller wedding, then we're gonna have a smaller wedding. At this point, we just wanna get married and do our thing."
Much like her co-stars, Lala has also been intent on starting a family of her own with Randall for some time. Has the coronavirus pandemic pushed back those plans as well?
"Lala is ready, that's all I can say," Randall laughed. "The thing was, she had a plan. I think COVID definitely changed how we look at life. [She said], 'Okay, I'm gonna take my IUD out, we're gonna get married, and then we'll have babies, we'll go on our honeymoon, blah blah blah,' but COVID hit and it was like, nope, your plans are not happening that way."
Randall added, "I think that because our wedding is contingent upon a lot of factors — safety obviously first — I think that the baby plans are … she's moved those up a little bit. We'll see what happens. She's not pregnant, but we're open-minded to whenever that day comes."
After making his debut on Pump Rules this season, fans have wondered if "Rand" will make a return. With the shocking firings of longtime cast members and production pushbacks, however, it's unclear if the show will be picked up for another season.
Even so, Randall is clear on coming back — mainly in support of his soon-to-be-wife.
"It was an experience that I'm not comfortable doing because I like to be behind the scenes. The plus was that I got to see my fiancée a lot which I never … during the filming I [didn't]," he shared. "I really enjoyed it at the end. In terms of coming back, if they ask me to do this again, I'm sure I'd [return]. You want to support your partner. My fiancée supports all the films I go off and do or when I have to leave, so I feel like it's my obligation to support her career. It was fun and I'll do it again if they want me to."
Photo Credit: ROGER WONG/INSTARimages.com